Charcuterie boards are trendy right now and for a good reason. Who doesn't love snacks? Take a scroll on Instagram or Pinterest and you're sure to come across one. A classic charcuterie board contains meats, cheeses, fillers, fruit, and crackers. It can be a little confusing to know how much meat and cheese to buy. We want to make it easier for you when constructing your snack board by providing you with a little breakdown of the percentages of these elements. Guess what… It's so easy!
Check out this chart: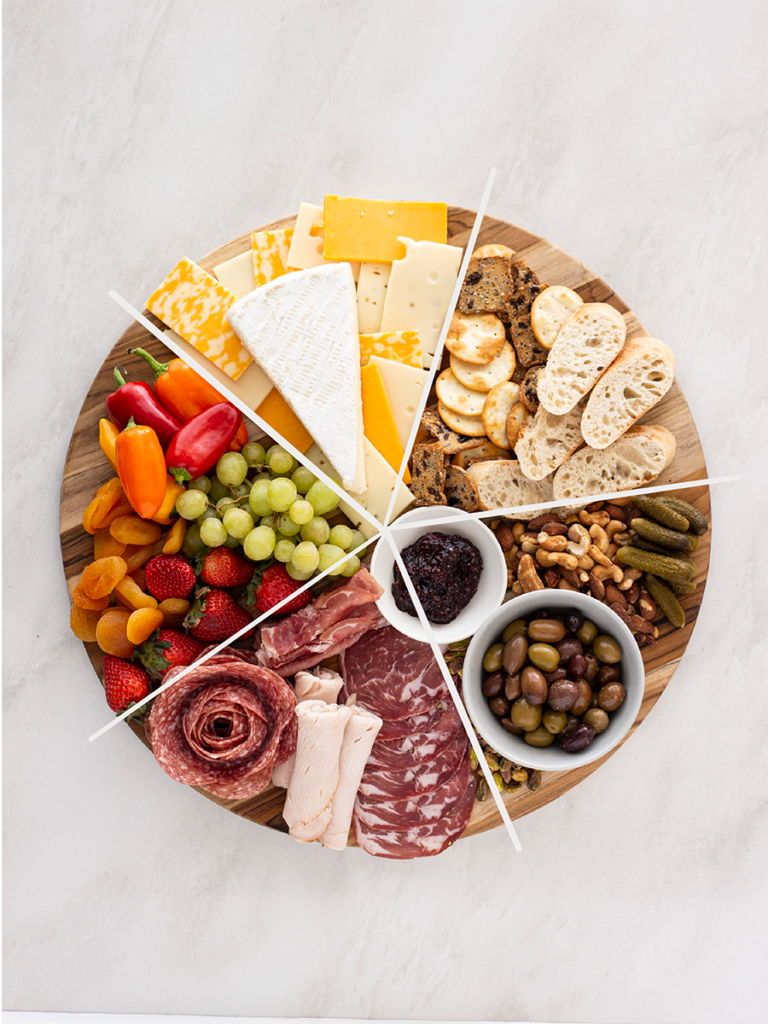 What do I need for a charcuterie board?
The chart above shows that each section of a snack board should be about one-fifth (or 20%.) Here are the basic categories:
Meats: 20% We love including a variety of deli meats and dried cured meats.
Cheeses: 20% Using both hard and soft kinds of cheese means that there's something for everyone. Cheddars are always a safe option but including a soft, spreadable cheese (like goat cheese or brie) gives a nice assortment of flavors.
Fillers: 20% This can be anything including nuts, olives, pickles, a sweet spread like honey or jam, etc. Use both sweet and savory fillers to create a balanced board.
Crackers/Bread: 20% Crunchy crackers and soft bread? Yes, please! We love using a variety of textures. Be sure to coordinate the flavors to complement the meats and cheeses on your board.
Fruit: 20% Fresh and dried fruit are great options to include. Classics like grapes and dried apricots are not only tasty, but they look so pretty on a board too.
There are so many fun types of charcuterie boards. You can do a themed one or stick to a classic board; include fancy imported meats and cheeses, or go with some simple finds at the grocery store; you can even skip the meats and cheeses and do a candy or cookie snack board instead. Whatever you choose, have fun with it! There is no right or wrong way to do a charcuterie board. As long as there is a balance of foods and everything tastes delicious, you'll be a success.
---
Putting the Cute in Charcuterie
We love dressing up our charcuterie boards! You can use a gorgeous cutting board or a cute serving platter to build your board on. Instead of keeping items in their original packaging or just piling it all on, we love taking the time to arrange the food so it looks pleasing to the eye. So, what can you do to take your charcuterie board to the next level? Try including sliced and cubed cheese, and leave your soft cheeses in wedge form. You can roll your meats or make a salami/pepperoni rose.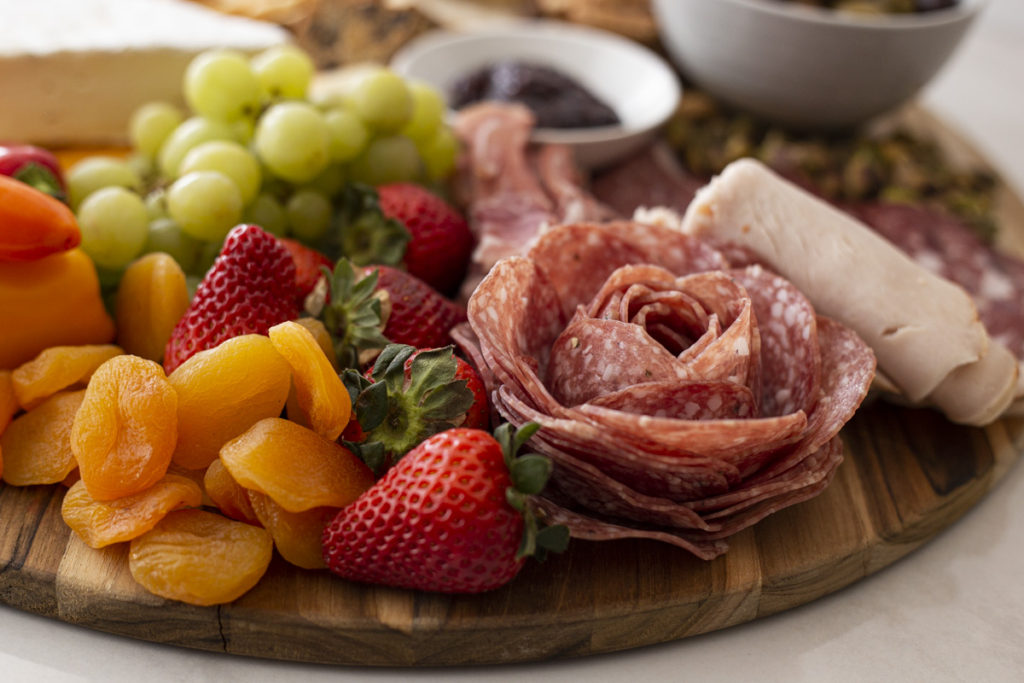 Here's how we made the rose pictured above:
Grab a small goblet, wine glass, or champagne flute. Start folding salami or pepperoni slices in half around the edge of the glass.

Continue adding slices until the glass is filled in (the more meat you add, the more full the rose looks)

Place your hand on top of the glass (or bottom of the rose.) Carefully flip the glass upside down and remove to reveal your beautiful charcuterie rose!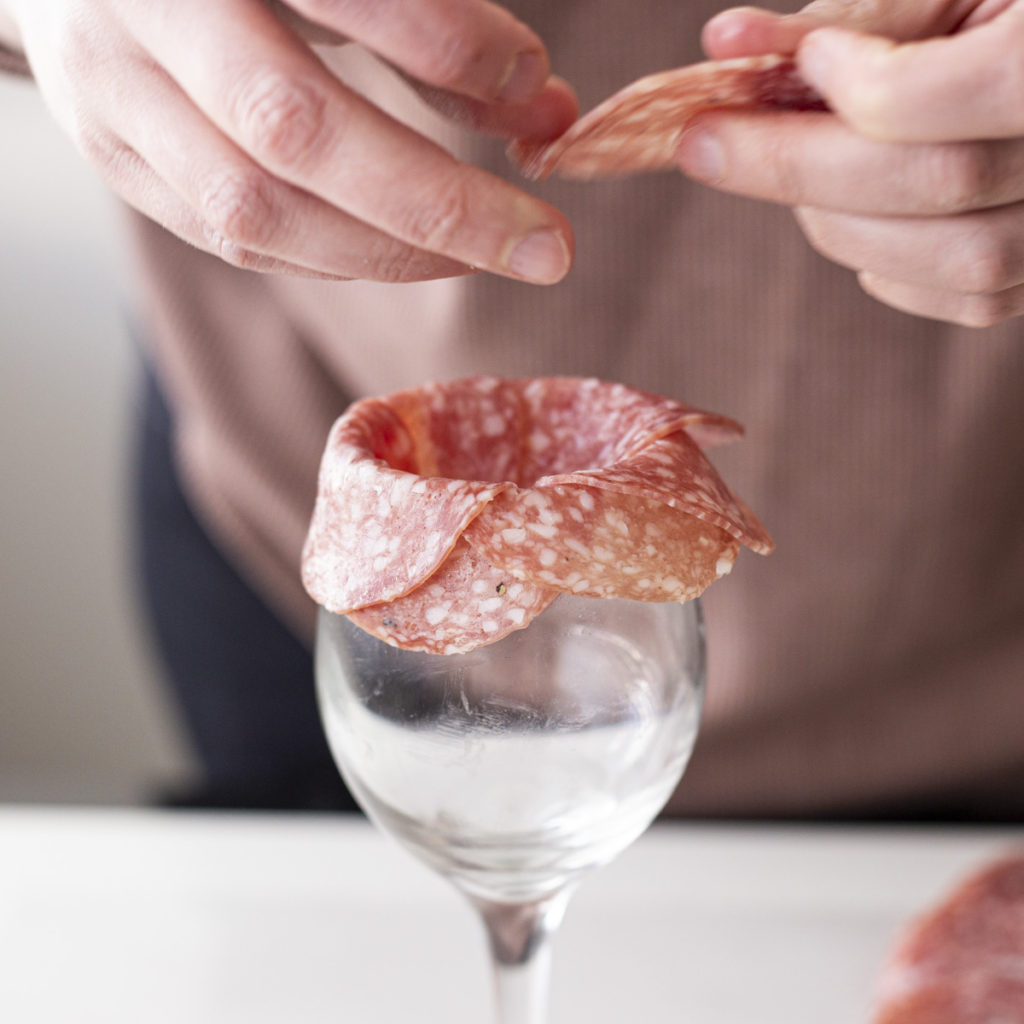 There are so many fun things you can do to make your charcuterie board stand out. As much fun as it is to buy all the food and plan out your board, the best part is sharing all the snacks and goodies with friends and family.
---
Craving a Little More?