If you've ever been to the Gygi Grilling Gala, you've probably met Chef Todd Leonard. As a self-proclaimed cowboy, he knows his way around an outdoor kitchen. Chef Todd was so kind to share his recipe for Smoked Tandoori Style Chicken with us! The smoker makes this meal so easy to cook. You'll love the savory flavor and your friends will be begging for the recipe!
We love pairing this chicken with rice and grilled veggies, topped with Chef Todds Tomato & Date Chutney. The chutney tastes great on anything from chicken to bread and it can even elevate your vegetables. You may want to double or triple this recipe because you might be wanting it on everything!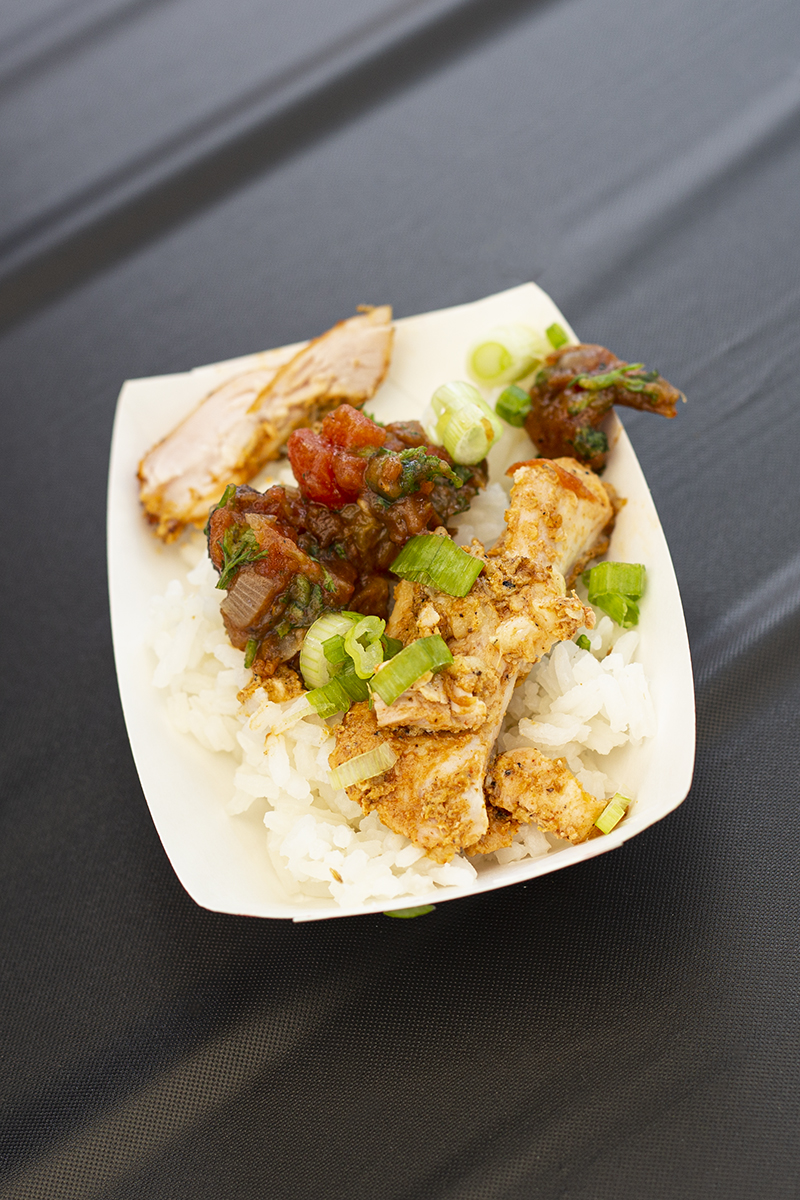 Print Recipe
Tandoori Style Chicken & Tomato-Date Chutney
Ingredients
FOR THE CHICKEN:
6 parts whole chicken, 2 drums, 2 thighs, 2 breasts, if using for kebobs, use thigh meat pieces -- butchered and frenched
2 tablespoons fresh lemon juice
1/2 teaspoon salt (or to taste)
2 tablespoons garlic ginger paste
1/3 cup nonfat plain yogurt -- whisked until smooth
2 tablespoons heavy cream
1 tablespoon peanut oil
1 teaspoon garam masala
1 teaspoon ground dried fenugreek leaves
1/2 teaspoon ground cumin
1 teaspoon ground paprika
1/4 teaspoon cayenne pepper
1/8 teaspoon ground turmeric
1 tablespoon melted butter for basting
1/4 cup scallions -- chopped
lemon wedges as needed
FOR THE CHUTNEY:
1/2 cup onion -- small diced
2 tablespoons ghee - brown butter
1 teaspoon garam masala
2 each dried red chilies -- broken into pieces
2 teaspoons ginger -- grated
2 cups Roma tomatoes -- chopped
2 tablespoons raisins or dried cranberries
1/4 cup dates -- chopped
2 tablespoons sugar
2 teaspoons lime juice
1 teaspoon cumin seeds
2 tablespoons cilantro -- chopped and folded in after cooled
salt and pepper to taste
Instructions
2

Score the chicken by cutting slits into the meat 1/2 inch deep, several over each peice uniformly.

3

Mix together the salt and lime juice and then rub all over the chicken getting into each cut to release the flavor deep, marinated for 2 hours.

4

Mix together in another bowl, ginger garlic paste, yogurt, cream, garam masala, fenugreek leaves and cumin.

5

Heat the oil in a medium sauce pan until almost smoking, remove from the heat and add the paprika, cayenne pepper and tumeric. mix the spiced oil when ccoled into the yogurt mixture.

6

Rub the yogurt mixture all over the chicken and marinate for another 8 hours.

7

Grill over medium heat until chared and cooked through.

8

Baste with melted butter.

10

Stew all ingredients together in a small sauce pot, except the cilantro. Cook until most of the juices have reduced. Season to taste with salt and pepper.

11

Fold in cilantro when room temp or cool. Serve over Tandoori chicken.