What's the key to a great marinade? Flavor, acidity, and fat. Including these profiles in your marinade is essential! Chef Todd has been a part of the Gygi family for years and he was so kind to share his Balsamic Marinade recipe with us! This marinade is great on everything from flank steak, chicken, vegetables, and even game meat! Try it out the next time you're breaking out the grill.
Note: Chef Todd uses his own pit seasoning for this recipe, but after trying it once you'll be using it on everything!
Secondly- we aren't lying when we say that this roasted garlic and grilled tomato bruschetta salsa will change your life. This recipe takes bruschetta to a whole new level! Chef Todd Leonard was so kind to share his recipe with us. In true Chef Todd fashion, this recipe yields about 2 gallons, which makes it great for big gatherings (or you can eat it all yourself, we won't judge).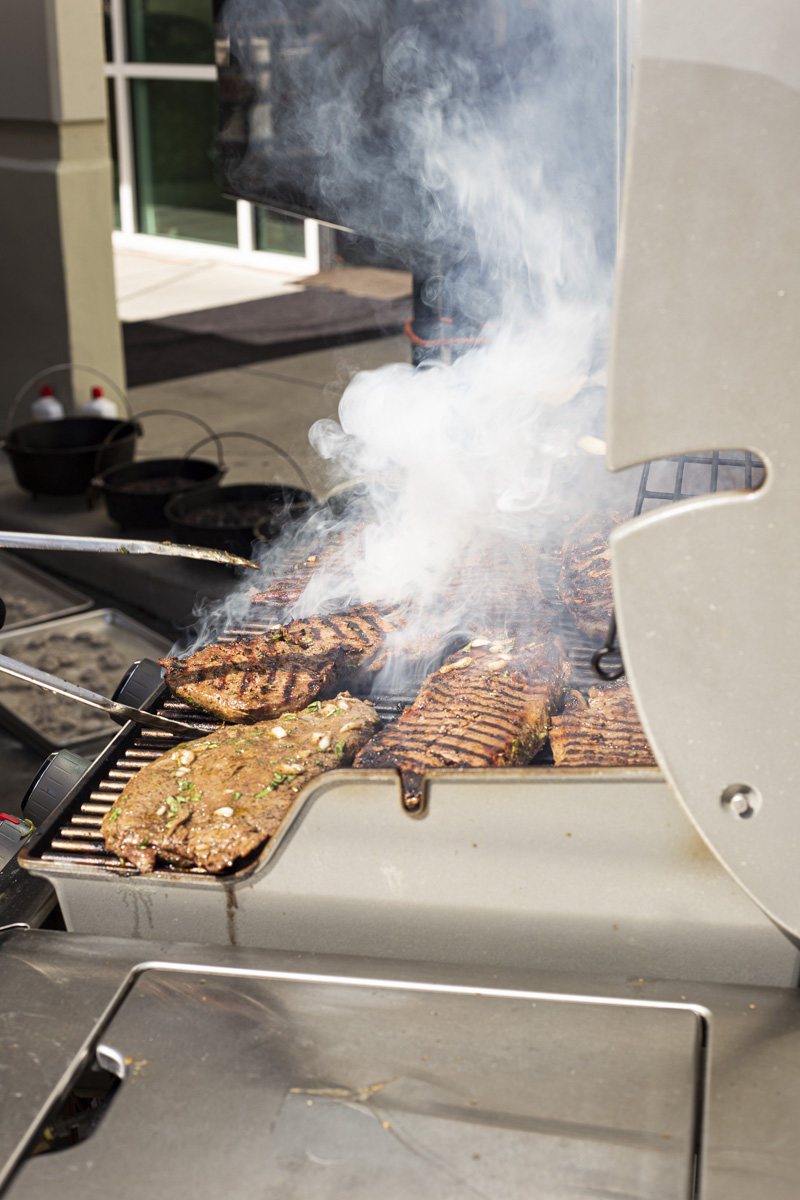 Print Recipe
Balsamic Marinade & Bruschetta Salsa
Ingredients
FOR THE MARINADE:
1 cup Balsamic vinegar
1/4 cup extra virgin olive oil
1/4 cup Garlic -- minced
1 Lemon -- Juice of
2 tablespoons basil -- chopped fine
2 tablespoons parsley -- chopped fine
2 tablespoons chives -- chopped fine
1 tablespoon pit seasoning (Chef Todd has his own pit seasoning and it's DELICIOUS!)
FOR THE SALSA:
6 quarts Roma tomato -- small diced
20 cloves Garlic peeled (2 Tbsp blended oil, 1 teaspoon pit seasoning, 5 sprigs thyme) -- toss together and roast in pan in oven until golden brown, cool and mince.
2 medium Red onions - raw -- small diced
1/2 cup Blue lemon herb mix
3 tablespoons Lemon juice - 2-3 lemons
1 tablespoon Pit seasoning
1 tablespoon Kosher salt
Instructions
1

MARINADE: Mix the chopped and minced ingredients with the seasoning, lemon, and balsamic until well blended. Add the oil slowly while mixing to incorporate an emulsion.

2

SALSA: To roast the garlic cloves, place cloves in saute pan and season with oil, pit seasoning, and thyme. roast in the oven for 10-15 minutes on 350 or until golden brown. Allow to cool and then mince for salsa.

3

Prepare onions and tomatoes by small dicing them. mix all ingredients together after preparation.

4

Store in 2-gallon cambro, label and date. Keep refrigerated.

5

Top grilled baguettes for bruschetta or chicken for the entree.
Notes
Tastes great on mushrooms or any other veg mix!