When it comes to the Chocolate Extravaganza, we have come to expect the unexpected. That is exactly what we have here. We expected a savory type of tamale, but got something more akin to pumpkin pie with a delicious drizzle of cream. It was such a surprise! These pumpkin chocolate tamales would be something fun and interesting to try if you want to branch out from a traditional tamale.
Kitchen tools recommended by Chef Tami include 8 Qt pan with a steamer basket and immersion blender.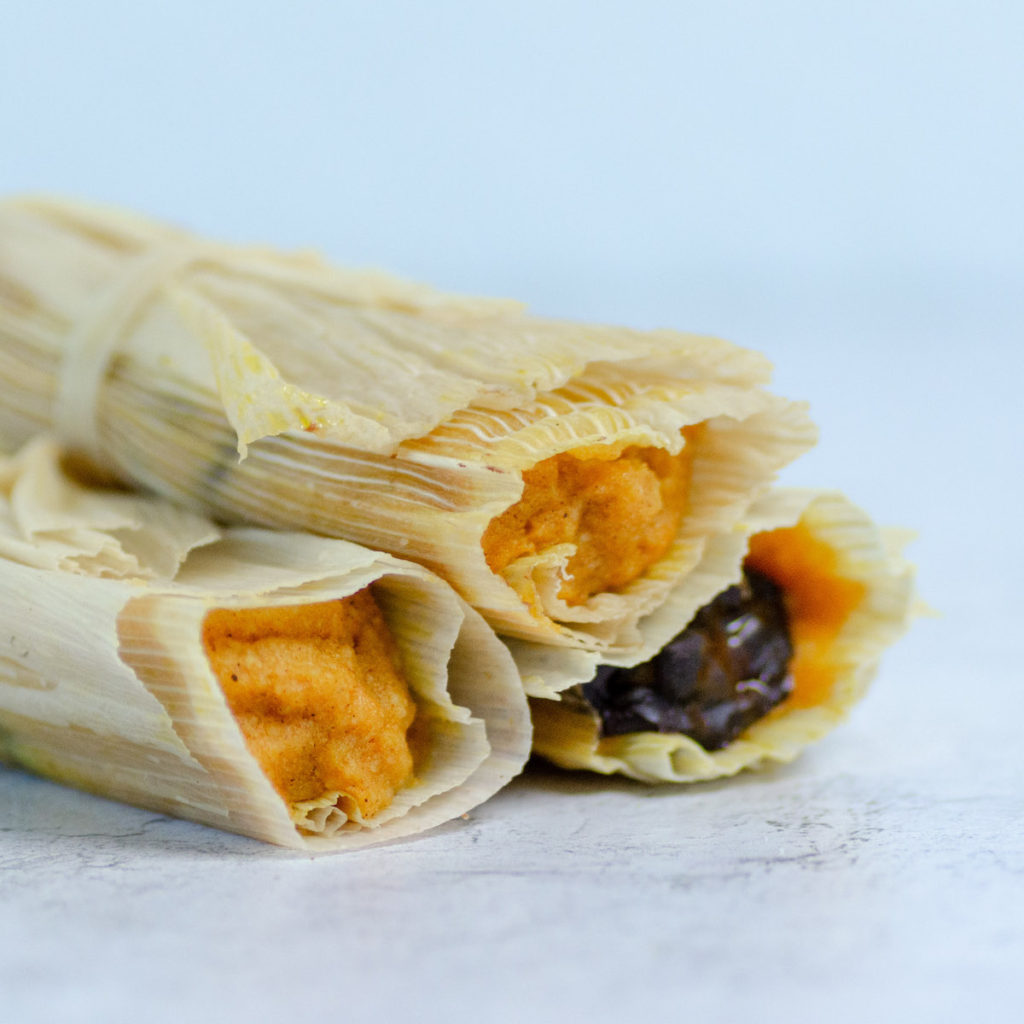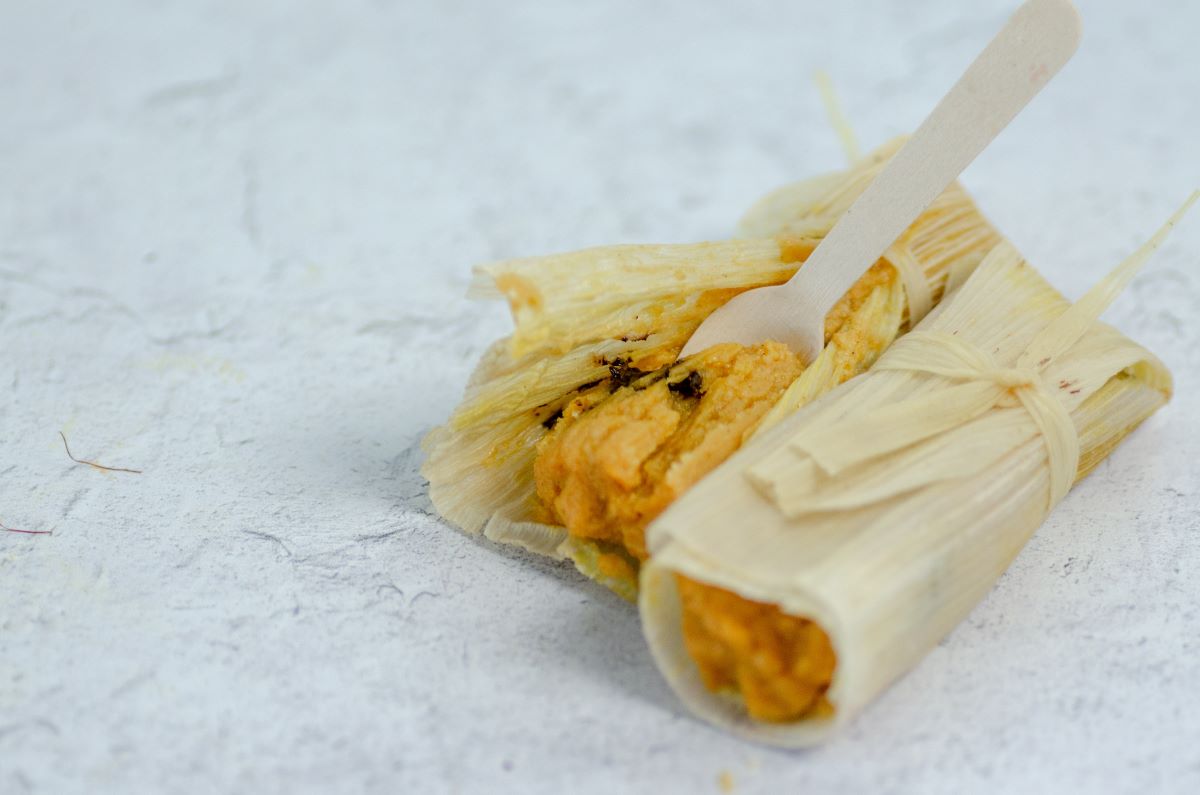 Print Recipe
Pumpkin Chocolate Tamales with Chef Tami Steggell
Ingredients
1 cup butter, at room temperature (226g)
3 cups corn masa, mixed for tamales (680g)
1⁄2 cup granulated sugar (100g)
1⁄2 tsp salt
2 1⁄2 cups pumpkin puree (565g)
1⁄4 cup brown sugar (70g)
1 tsp ground cinnamon
14 dried corn husks, soaked
6 pieces of chocolate (8oz)
Instructions
1

Prepare an 8 Qt. pan with a steamer basket (tamalera) for steaming. Place steamer basket in a tall pot. Pour in water to come just up to the steamer basket, but not over it. Bring to a simmer. Additionally, bring extra water to a simmer and reserve for replenishing the steamer.

2

Prepare pumpkin puree: mix together the puree, brown sugar, and cinnamon.

3

In a medium bowl and using a whisk, whip the butter (manteca) until it is lighter in color and doubled in volume. Using a wooden spoon, mix in the corn masa, granulated sugar and salt until a smooth batter forms. Stir in the pumpkin puree. Finish by using your hand to knead in the bowl, breaking up any lumps of masa, until a soft, spongy batter forms.

4

Meanwhile, soak the corn husks in hot water until pliable, about 10 minutes. Remove the corn husks from the water, and drain, discarding the water. Set husks aside. From one of the husks pull off 12 strips of husk lengthwise along the grain, that you will use to tie your tamales closed.

5

To form a tamal, place a corn husk in your hand, with the bottom (fat end) of the corn husk in your palm. Use a large spoon to scoop about 1⁄2 cup of the tamal batter and place in the corn husk, closer to bottom, and spread evenly upward about half way. Add 1 tbs or 28g of chocolate pieces. Fold both sides of the corn husk over the tamal batter, then fold down the "pointed" top portion, so that the masa is enclosed in the husk, like a neat envelope. Tie the folded tamal with a strand from the corn husk. Continue until all 12 corn husks are completed. From here you can steam or refrigerate until you are ready to steam.

6

Steaming: Stand the tamales, folded bottom down in the steamer basket. Steam the tamales covered for 30 minutes, checking occasionally that there is water in the bottom of the pot. If water is needed, replenish with prepared hot water. After 30 minutes, remove one tamal, test for doneness by seeing if all the batter is cooked. Test doneness by: is the tamal removes easily from the husk, it is done and all the tamales can be removed from the steamer (tamalera). If the test tamal is not ready, return to the steamer and cook 10 more minutes. Remove all the tamales at this time.

7

Serve warm at room temperature. Top with a sweet drizzle (optional), see suggestions below.
Notes
You can purchase prepared corn masa from Rancho Market, freshly made and ready to use. This is customary in Oaxaca to purchase freshly prepared tamale masa in the markets, same as fresh cheese, and so forth. If you can't find it, you can make your own masa base using 2 cups masa harina a.k.a. corn flour and 2 cups whole milk, mix it together and weigh out your 680g.