We love packaging up our treats almost as much as we like making them. There is something so satisfying about watching all those little imperfections disappear as soon as your chocolate or candy goes into the candy cup. It is real-life magic! Then placing them in a box and tying them with a cute bow – obsessed! And at our specialty kitchen store, there is no shortage of packaging supplies. From candy packaging boxes to twine to tags – you can find everything you need to perfectly present all your homemade goodies. Here is a breakdown of some of the packaging items you might want to pick up on your next jaunt to Gygi.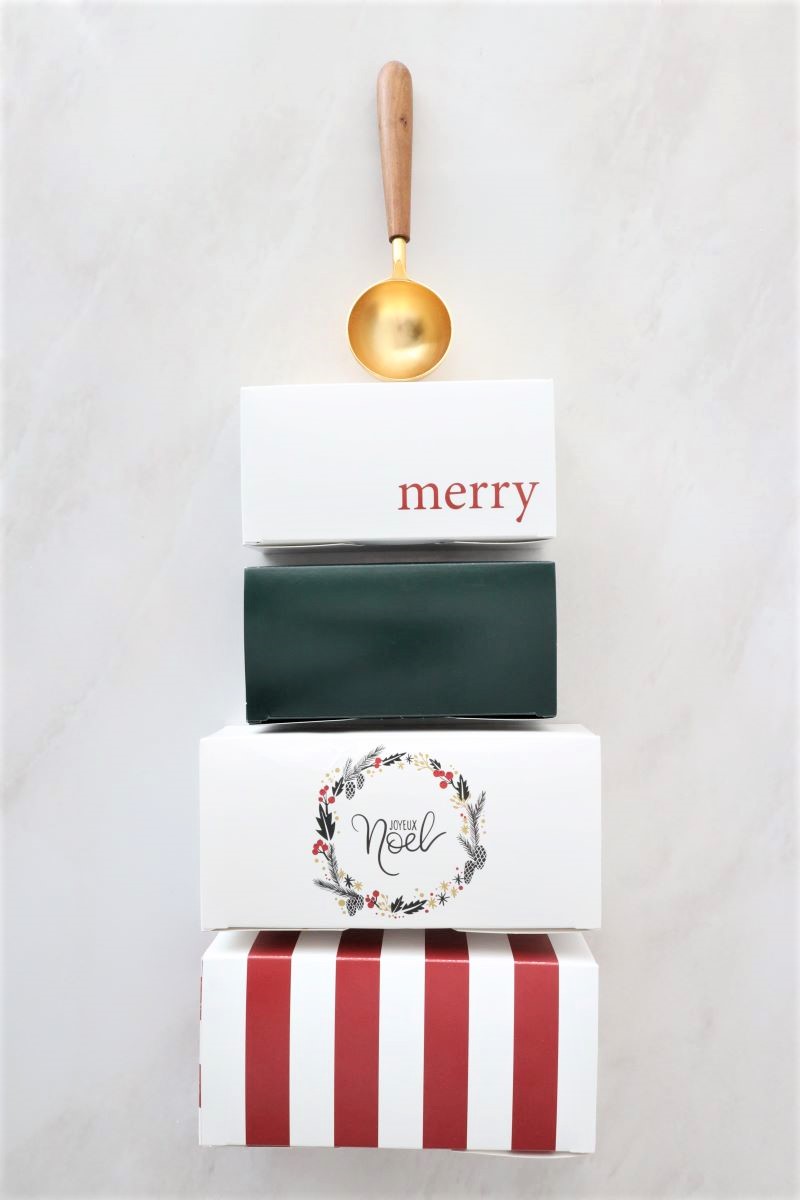 1. Candy Boxes
The first thing you will need is your candy box. They come in so many different sizes and cute designs. How do you choose? We suggest you start with the size and go from there. The half-pound boxes can squeeze about eight of the 1" candy cups inside. And for the full-pound boxes, you can fit approximately 16 of the 1" candy cups. Some people even go as far as stacking them, if the shape of the candy allows.
2. Candy Cups
Candy cups also come in so many cute colors, patterns, and sizes. The #4 candy cups are the smallest we have and they are 1" at the base. The #5 cups are the next size up and are 1 ¼" at the base. You are sure to find a paper cup for any treat and any occasion.
3. Stretch Loops
These are the epitome of chocolate boxing – the cute, stretchy strings. We carry specific sizes of stretch loops to fit our candy boxes and they also come in different colors. They will help glitz up any package and provide the functionality of holding down the lid on the candy box – win, win.
4. Ribbon
Looking for something a little more unique? You can't go wrong when you choose to package your chocolate box with a classic ribbon. It adds a little touch of luxe and polish. And who doesn't love the anticipation that comes with untying a bow on a perfectly wrapped present?
5. Twine
Craft twine and baker's twine are also options to use when wrapping up candy boxes. The simplicity of these details makes your homemade treats the focus of the presentation. And the tiny little strings are so cute when you are attaching a tag or other tiny decoration to your box of sweets.
6. Gift Tags
Ready to address those candy boxes and start handing them out? Gift tags are the perfect, personalized addition. These are especially useful when you curate certain boxes for certain people. You can keep everything clearly labeled and avoid any awkward mixups later.
See what we mean? Packaging up your confections for delivery can be so much fun when you have all the right supplies. It starts with candy packaging boxes, but there is so much more you can do to create and curate a beautiful presentation and delicious display for your homemade sweets. Here you can find all of our packaging and accents to scroll.