While life may be like a box of chocolates, sometimes it is nice to know exactly what you are going to get. And that is what we were after when we decided to make our own chocolate box. No more unpleasant surprises! Just our most favorite candies and chocolates, beautifully packaged, and ready to hand deliver or hide away for our own personal stash. What could be better to close out the year?
For our chocolate box, we wanted a variety of textures, finishes, and flavors. We also knew that candy-making was no easy feat. So along with some of the trickier recipes, we decided to mix in some easy-peasy treats we wouldn't be able to mess up. Thus, after much deliberation, for our box of chocolates, we narrowed things down to include: 
Salted Caramel Molded Chocolate 
Some of us grew up with candy-making as a huge part of our holiday traditions. We remember grandmothers, great-aunts, and aunts spending hours in the kitchen prepping, tasting, caramelizing, and dipping while all the cousins would run in and out to sneak little tastes. Now we wished we would have paid more attention to the process! Because it is one thing to tackle this tradition with an experienced candy maker in the kitchen, but a whole other adventure attempting to make some of our favorite candies and chocolates all on our own. As you might have guessed, things didn't always go according to plan.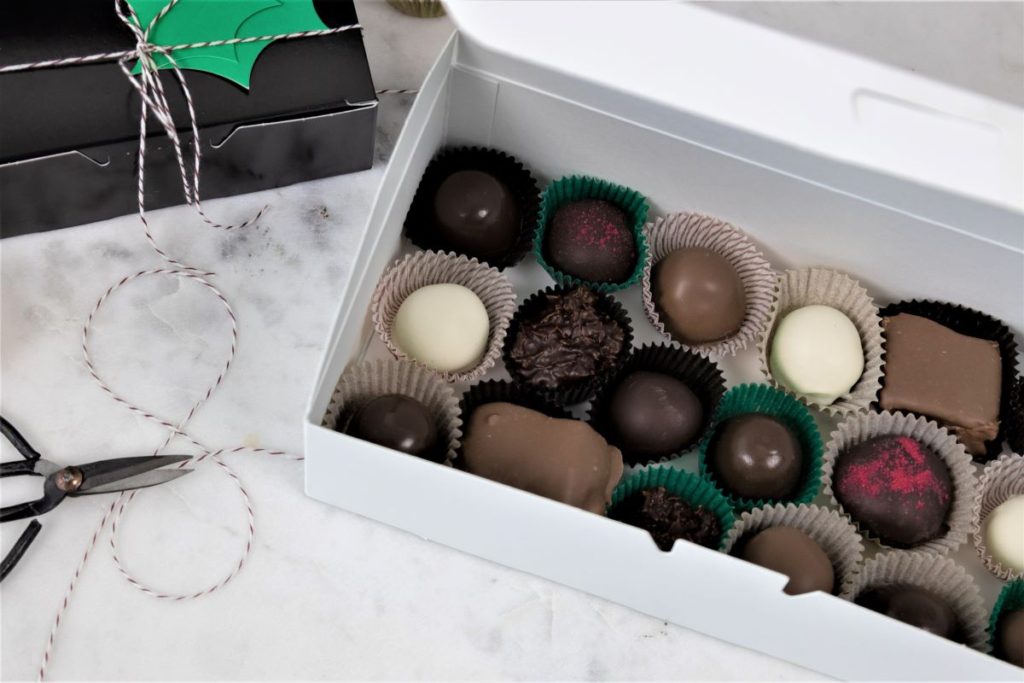 Even with grandma's famous recipe card in hand, we discovered that candy-making is not as forgiving as some other culinary endeavors. We had a couple of batches of candy that refused to set up properly. And the caramels, buttercream centers, and penuche weren't nearly as effortless as our grandmothers made them appear. What were we doing wrong? Luckily, with a little more research and some tips from our on-hand experts, we were finally able to get some of the trickier recipes to come out perfectly. And now, all of those little handwritten notes and personalized adjustments made a whole lot of sense. And we were so grateful for our candy making essentials from the store. Some of these tools really helped to streamline the process.
Through this process, we not only developed a greater appreciation for the matriarchy of generations past and all they accomplished in the kitchen, but also came away with a few tips and tricks for the ultimate candy-making success. Now, even if you have absolutely zero experience, we are ready to help you create your very own beautiful chocolate box. Because truly, this is one legacy we want to ensure lives on.