Linda has been tweaking and perfecting this English Toffee for 50 years, and over the Holidays and David says she makes batch after batch to share with family and friends. This English Toffee has a layer of chocolate and almonds on both the top and the bottom. And it sets up with the perfect crunch. Not hard enough to break a tooth and not soft enough to pull out a filling – but just right. And we thought it was so fun that she won a couple of blue ribbons at State Fairs when her husband submitted the recipe without her knowledge. It is that good!
Just as a tip, get all the prep work on this recipe done first because once the sugar mixture reaches the proper temperature you have to work fast. So chop up all your almonds and shave up all your chocolate first, set up the first two layers in the baking tray, and then get ready to mix your toffee with a flat wooden turner while it heats up so you can continuously scrape the sides and bottom of the pot.
For this recipe, we tried out a couple of different ways to chop the almonds and the chocolate. We thought the food processor would speed up and simplify the process, but it didn't really meet our expectations. We liked the coarser texture of the almonds when we used the NorPro Stainless Steel Chopper. And while chopping the snaps in the food processor worked just fine, the chocolate comes out with a smoother finish if you manually shave it off of a bar. So sure, using the food processer did save time, but in this case the toffee just comes out better when you do it the old fashioned way.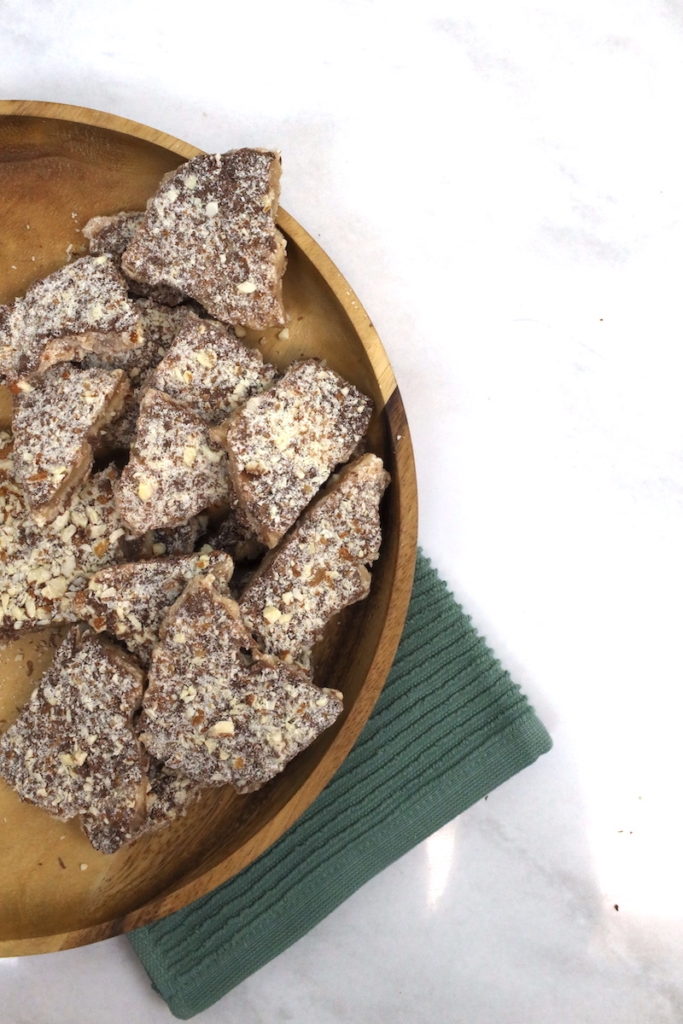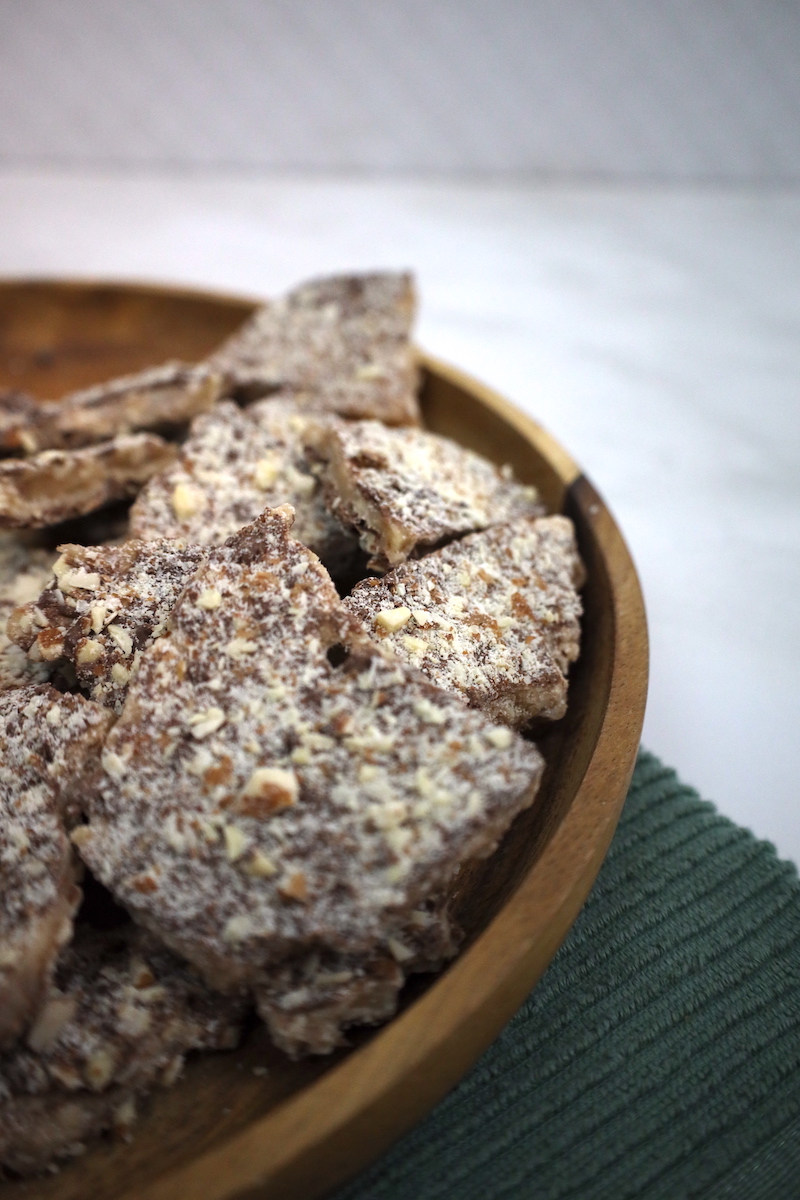 Print Recipe
Blue Ribbon English Toffee by Linda Latimer
Ingredients
1 lb butter
2 ½ cups white granulated sugar
1 cup water
3 Tbsp corn syrup
2/3 cup chopped almonds
1 lb Van Leer milk chocolate snaps
2 cups chopped almonds
Instructions
1

Chop almonds into coarse chunks.

2

Chop up chocolate snaps in the food processor until fine.

3

Cover bottom of a half size baking sheet with chopped almonds then add a layer of shaved chocolate. (No need to butter or use parchment paper in the pan).

4

Heat butter, sugar, water, corn syrup, and 2/3 cup chopped almonds in a 7 quart, heavy bottom pot over medium heat. Continue stirring and scraping until mixture reaches 290℉ (this is for Salt Lake City elevation and should take about 25-30 minutes).

5

As soon as mixture reaches temperature, pour it over the middle of the almonds and chocolate in the baking sheet. Use a spatula to spread mixture evenly over the top.

6

Quickly add a layer of chocolate shavings to the top and then a final layer of chopped almonds.

7

Allow 5 hours to cool and set up before breaking up with a knife.