When we want delicious chocolate flavor for our cakes, brownies, and cookies we turn to cocoa powder. Because it is made primarily of cocoa solids it packs the most flavor in the smallest amount of product. But which cocoa powder is the best for baking? We wanted to find out. So we decided to do a cocoa powder showdown.

At our kitchen supply store, we are lucky enough to have a vast selection of cocoa powders right at our fingertips. How does each cocoa powder impact the rise and crumb? Does it really matter if we use an acidic or an alkaline cocoa powder? Does the fat content change the taste and texture of the finished product? Boy did we have questions! And to figure out as much as we could, we decided to do a cocoa powder showdown and test out each different type of cocoa powder using this recipe for The Best Chocolate Chocolate Cake from Cake by Courtney. Want to know how many types of cocoa powder we have? Nine! And even more shocking, they really are all different. Are you ready for the results?
The Cocoa Powder Lineup
1. Guittard Organic Cocoa Powder
The first cake in our testing was made with organic, natural cocoa powder from Guittard. This cake came out with the lightest color. And while it baked up pretty high in the oven it eventually sunk in the middle when we pulled it out and let it cool. And when we tasted it, this cake had the bright and intense flavor of organic cacao beans. It was definitely the most bitter and natural tasting of the bunch–which if that appeals to you, then hooray! If not, don't worry, there is still plenty to go.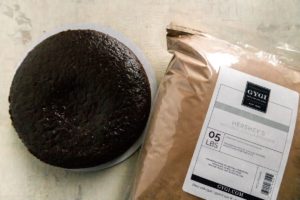 2. Hershey's Natural Cocoa Powder
This is the next cake in our lineup. The cake itself was relatively light in color, baked up high in the oven, and again sank when it came out. The main difference here was the flavor. This cocoa powder has that classic chocolate flavor. It is often described as "tinny" and is everything you crave from your grandma's chocolate cake recipe. For so many people this is their favorite cocoa powder because it reminds them so much of their favorite treats from growing up.
3. Ambrosia Amber Cocoa Powder
We almost didn't test this for our cocoa powder showdown but figured if we were going to do a job we might as well do it right. So we pulled every cocoa powder from the shelf, including this Ambrosia Amber. And we are so glad we did. It tasted so good! Like the other cakes made with natural cocoa powder, this one baked up tall in the oven but collapsed a little in the center when it cooled. This one had a darker color and looked visibly similar to other cakes made with Dutch-processed cocoa. But it was the taste that sold us on this one. This cake was fudgy, chocolatey, and so delicious. When we had some of the employees sample the cakes, this one made it into the top three.
4. Guittard Cocoa Rouge
This cocoa powder is a favorite for many professional pastry chefs and is an excellent general-purpose cocoa. It is Dutch-processed but comes away with a deep-red color. Initially, the coloring was more noticeable in the batter than it was in the final product. But when stacked against the other cakes, you could barely tell which one was cocoa rouge. This was the first cake that didn't collapse after baking in the oven (phew! It wasn't just us). And the flavor was pretty good–the perfect bittersweet blend of earthy and sweet flavor. It wasn't our favorite, but maybe it will end up being yours.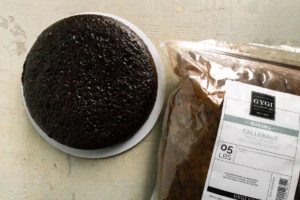 5. Callebaut Royal Dutch
This Royal Dutch was also in the top three and is a tried-and-true Gygi favorite. In fact, we wouldn't be shocked if our long-standing kitchen helpers could pick it out of the lineup. The cake was tall and firm. It didn't collapse as it cooled on the counter and the color gradient came out right in the middle of our stack. So what makes this cocoa powder so good? It has a higher fat content which makes for a smoother and more fudgy texture. And the Dutch processing helps tone down the bitter notes to produce a more solidly pleasant chocolate taste. This cocoa powder was the crowd favorite for our employees during the blind taste test, which is why we continue to recommend it. It has been sold out in our store for a few months, but we are happy to say it will be making a reappearance very soon!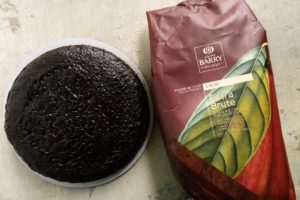 6. Callebaut Extra Brute
Here we start getting into the darker cocoa powders that have gone through a little extra alkalization to lower the acidity. This is also the cocoa powder Courtney typically uses for this recipe, so you know it is going to be good. The Extra Brute has a much darker color and that showed up in the bake. Additionally, this cake did not sink. It had a good height, structure, and crumb–perfect for stacking tiers. The higher fat content gave it that smoother mouthfeel and the flavor was unlike all the other cocoa powders. To be honest, we can't say it tasted like chocolate. It has a more mild flavor–just the right amount of sweet and bitter–which is perfect for so many people. This is probably the reason why this cocoa powder also made it into the top three.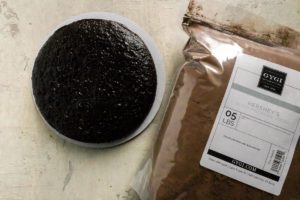 7. Hershey's Dutch Processed
This cake had a darker coloring in both the batter and the bake. This one had plenty of height, but the crumb felt a little dry. This was probably a result of the fat content–a meager 10-13% cocoa butter. And this cake, unlike Hershey's natural, was not one of our favorites when it came to taste. Compared to the other cakes in the lineup, there just wasn't enough flavor for it to stand apart. It was also a little chalky and instead of sedating the craving it left us wanting more.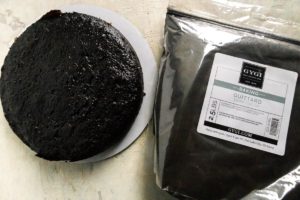 8. Guittard Dark/Black
This black cocoa powder is something to behold. This product undergoes extra alkalization which removes almost all of the acid from the powder. It is the cocoa powder of choice for bakers looking to get the blackest of black for their cakes without an entire tube of food coloring. During our testing, the cake still baked up really tall and the crumb was so smooth. But the unique flavor was unlike any of the other cakes we made. Not chocolate exactly, but not NOT chocolate either. It is so hard to explain! But think of the flavor of an Oreo cookie–just the cookie part without the fluff–and that is probably as close as we can get to describing it. That is because Oreos get their iconic look and flavor from black cocoa powder.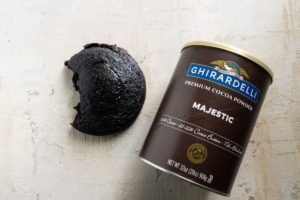 9. Ghirardelli Majestic
Oops! After we did all our testing we discovered one more type of cocoa powder tucked under the shelf that we mistook for hot cocoa mix. But it turns out it is a baking cocoa and we needed to add it to our cocoa powder showdown. So we quickly threw together a little cake to test and taste. This had a good rise, didn't sink, and the crumb was just like the other Dutch-processed cocoa powders. There was a slight difference in the texture and consistency because of the fat content, but there is no way to notice it if you aren't tasting the products side-by-side. Unfortunately, this one fell a little flat when it came to flavor. It was more on par with Hershey's Dutch cocoa in that it tasted fine, but didn't have the richness or depth of flavor to truly set it apart.
Wildcard Cakes
During this testing, we decided to have a little fun and throw in two wildcard recipes–one with melted chocolate and one that was a combination of all the other cake batters.
For the first one, we knew that instead of using cocoa powder, a lot of people choose to melt down chocolate for chocolate buttercream frosting. We wanted to know if we could do the same thing for cake. So we measured out ¾ cup of Callebaut Callet dark chocolate, melted it down, mixed it with some water to create a sauce, and used that as our flavoring. Shockingly, the cake came out of the oven intact. But it did not look like a chocolate cake. It looked more like a very spongy honey cake. And the flavor was definitely not there. In fact, if you told us we were eating a honey cake, we would have believed you. So sure, it worked, but it would definitely take more testing and tweaking to get this substitution to work the right way.
Then for the final cake, we ended up combining all of the different batters from the other cakes into one big Cambro container. We mixed it up, measured out the right amount, and baked it up just like the others. And if we are being honest, it was amazing! It had the best flavor and texture! The combination of all the features and characteristics of all the cocoa powders ended up being the perfect blend–not too sweet, not too bitter, not too fudgy, not too crumbly. An all around Goldilocks cake that ended up being just right. Too bad there is absolutely no easy way to duplicate it.
In Summary
The first thing we noticed in our cocoa powder showdown results was that all of the natural cocoa powders ended up being a little sunken in the middle. We found out this was because the recipe called for both baking soda and baking powder. The acidity in the cocoa powder most likely overreacted with the leaveners, causing them to rise too rapidly while baking and then collapse when they cooled. So if you are subbing in natural cocoa powder for Dutch-processed, it might take some adjustments to the leavener and additional testing to get the cakes to come out just right.
Another thing we noted was that all of the high fat cocoa powders tended to produce a moist, dense crumb. It was delicious and soft on the palette, but some of them were a little too soft. They would not likely hold up with multiple tiers. Unfortunately, the results on this were a little more hit and miss and harder to decipher. So it might simply be a matter of tweaking the baking times and temperatures for the right level of stability. Or it might mean adjusting the amount of leavening agents and cocoa powder.
But perhaps the most important thing we wanted to know when testing these cakes was the flavor. Which one tastes the best? In our kitchen, Callebaut Royal Dutch is a favorite for its amazing texture and a classic rich, sweet flavor. But if you are looking for a more nostalgic chocolate taste you should go with Hershey's Natural. It has higher acidity, sweeter flavor, and more metallic zing. Want a dark chocolate color, but a more mild chocolate flavor so the sweetness doesn't get out of hand? We suggest using the Callebaut Extra Brute. It would be perfect for those lush dark cakes or brownies. Looking to try something completely different? We have to say, the Ambrosia Amber cocoa powder surprised us. The flavor and texture were both there, and it only edged out of the top three by the smallest margin.
If you are serious about baking with chocolate, then you will want to have two or maybe three different types of cocoa powder in your pantry. They really are that different! And we hope this information from our cocoa powder showdown can guide you through your cocoa use. To find out more about cocoa powder you can learn the proper terminology in this cocoa powder glossary or check out this article about the different types of cocoa powder.