Any good brownie recipe should start with a quality baking pan. It is the tool you can reliably use to bake your brownies to perfection, whether you are partial to fudgy, cakey, chewy, or crispy. Pan size, structure, and material will all play major roles in the bake and texture of your brownies. And there are brownie pans to fit everyone's taste. With so many to choose from, it can be tricky to narrow down which type of pan is right for you. So here is a basic breakdown of all our brownie pans and what kind of brownies they typically make.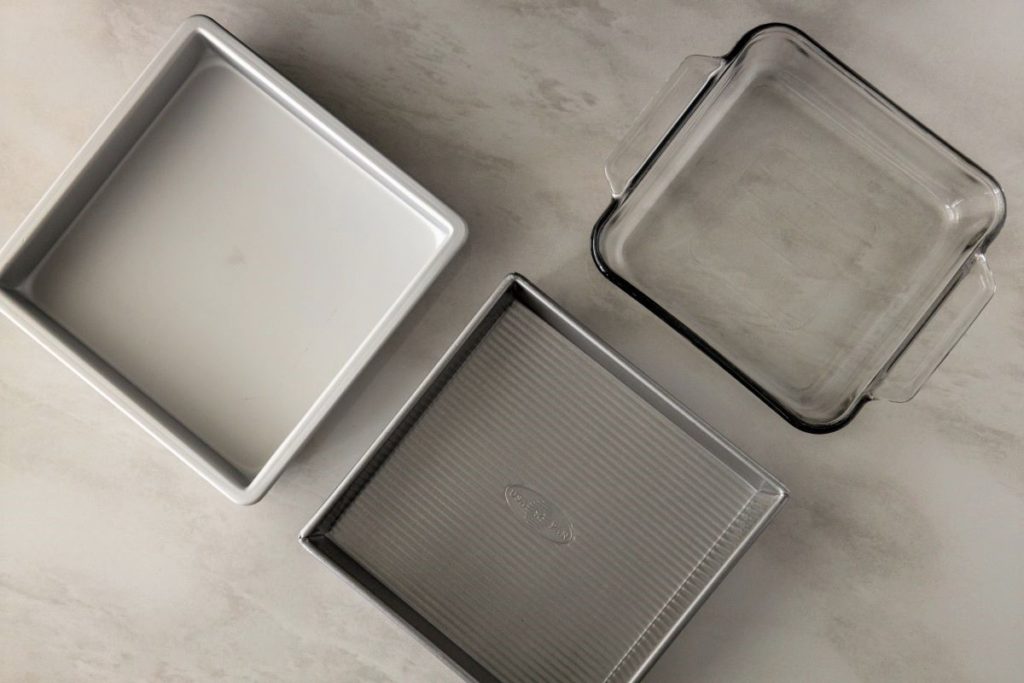 Anodized aluminum pans are popular for most home bakers and we still love this one from Fat Daddios. This pan is made from extremely strong anodized aluminum and the seamless anodized finish enhances the baking process and performance. It was made with safety in mind. Nothing will transfer, peel, flake, pit or rust into your baked goods. Also, this pan will heat up quickly and hold an even heat for baking while in the oven. It will also cool down quickly on the rack, giving you just enough of the carryover heat to make your brownies fudgy delicious without over-crisping all the edges. With this aluminum pan, you have a lot of control over your bake. For softer brownies, pull them at about 190℉. For crispy brownies, you can bake to 220℉ or more.
Looking for a pan to last through the years? This USA Pan is such a great option. This brownie pan is another classic that never disappoints. It is sturdy and made of aluminized steel that will not warp with heat. It will heat up quickly in the oven and carry an even heat throughout for the most predictable baking. But because of the material, this pan will retain a little more of the carryover heat for a bit longer. The most distinguishing feature of the USA pan is the rigid surface. The rippled structure improves airflow for an even bake and a more efficient release. So sure, you will not want to cut and serve directly from this pan, but you can easily turn your baked goods out as soon as they cool.
Glass
Glass pans are also super common in the kitchen, but should you use a square glass pan to bake your brownies? Sure! Absolutely! But you have to understand that glass is way more insulating than metal. As far as brownie pans goes, it will take longer for this pan to heat up in the oven. It will take longer for baked goods to fully cook. And it will retain the carryover heat for much longer too. For brownies, this often translates to gooey in the center and extra crispy on the edges–a little something for everyone. And while you can easily put glass pans in the washing machine, you have to wait for the pan to cool completely before trying to wash it, otherwise, it might shatter.
Ceramic
Ceramic is very similar to glass. It is also a more insulating material and takes longer to heat up and will retain the heat for a lot longer once the pan is out of the oven. These properties will be even more augmented with ceramic, and most baked goods take much longer to cook than you might think. And the lingering heat from the carryover cook while the pan cools will often end up overbaking the contents of the pan if you are not careful. When baking in a ceramic pan you will want to keep your thermometer handy and pull the pan out of the oven just as soon as it reaches the right temperature. You may even want to turn your baked goods out of the pan onto a cooling rack just as soon as they have cooled enough for the structure to handle it.
So many people hesitate to bake in silicone pans, not knowing what to expect. Well, we are here to tell you these pans can work just as well as any other baking pan–as long as you know what you are in for. Silicone is flexible, which is why we recommend getting the highest possible grade if you plan to use it for baking. We also recommend a silicone pan with an integrated steel rim to help the top of the pan hold the right structure. Otherwise, the cook times and the cooling times don't need too much adjustment when you are making brownies. Just note, you should not use cooking spray on silicone pans, because it can leave a sticky residue and cause staining.
Stoneware Pan
Stoneware baking pans are not as common as they used to be. While they provide superior heat conductivity and even baking, these products require a bit more care when it comes to use and cleanup. And everyone knows easy cleaning is a key feature for modern bakeware. You have to hand wash all stoneware in warm water with mild detergent and rinse and dry thoroughly before storage. It is not dishwasher safe. And to prevent breakage you have to allow the pan to completely cool to room temperature before cleaning. Stoneware is also more prone to chips and cracks when dropped or jarred. And you should not use cooking spray on your stoneware. So no, not the best when it comes to brownie pans, but still doable in a pinch.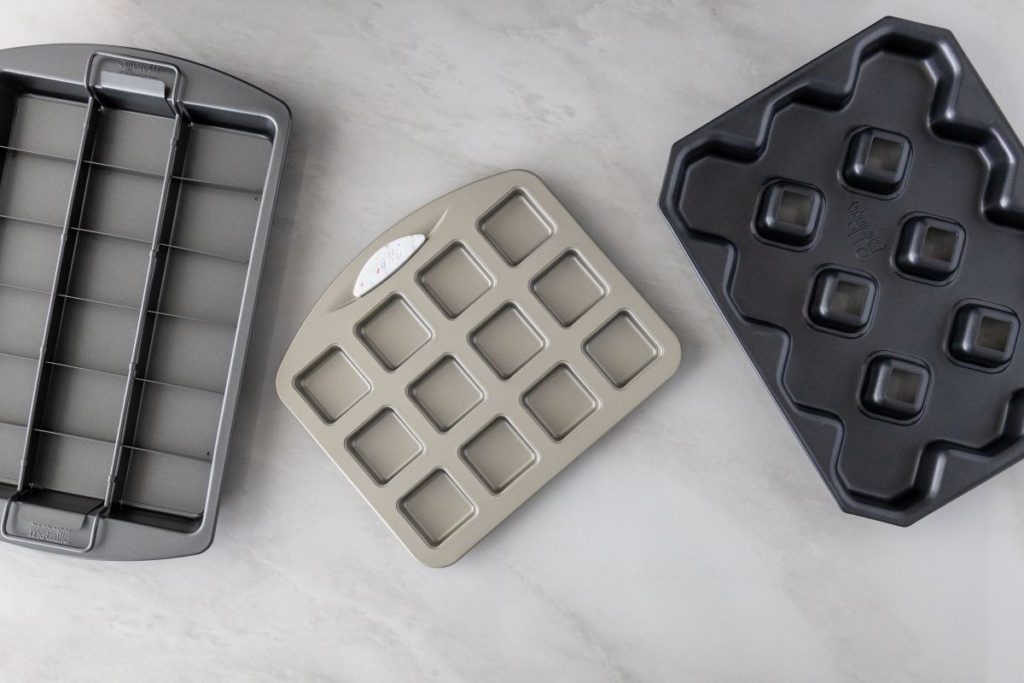 For this brownie pan, you can pour all of the batter into the pan, insert the divider, and then bake to create delicious brownies that are crispy on all sides. Or you can pour in the batter, bake the brownies, and then insert the divider once the brownies are cooled. Each will yield unique results. Inserting the divider before baking will give you brownies with crispy edges on all four sides. Looking for some chewy edge pieces and some gooey middle pieces? Then you will want to hold off and use the insert to cut your brownies into portioned pieces instead. Win-win! This pan is really fun and versatile. You can even use it for baking individual cornbread, cutting rice krispie treats, and more.
This is such a popular baking pan if you are looking to get those perfectly proportioned bakes with smooth sides every single time. Just be sure to pay close attention to the instructions and the internal temperature because brownies in this pan will cook up real fast. The Wilton pan is dishwasher safe, but as with most metal pans, we still recommend you handwash to preserve the finish and prolong the life of your pan.
Are you always leg-wrestling your other family members for those crispy edge pieces? Then this brownie pan will be a game changer in your home. It is made of nonstick carbon steel. It heats up quickly and the posts help distribute heat evenly in the middle of the pan. This ensures that all four sides of every single brownie bake up tall, crispy, and delicious. If you are looking to enjoy endless brownie edges then this is the pan for you.
Finding the right pan for your brownies can be a real game-changer. Whether you are team edge pieces, team middle pieces, or just team brownies–you can use this guide to choose the best brownie pans for any kind of brownie. Let us know in the comments which brownie pan you choose and how your brownies turned out!