Summer should always mean fingers dripping with melon juice–at least when you're a kid. As adults, we crave something a little less messy. Enter the Melon Appetizer Skewers. This is an end-of-summer appetizer you can have ready in minutes. It combines all the goodness of watermelon, cantaloupe, and honeydew with some refreshing lime, honey, and mint. And it makes the perfect appetizer or addition to a cocktail with way less mess.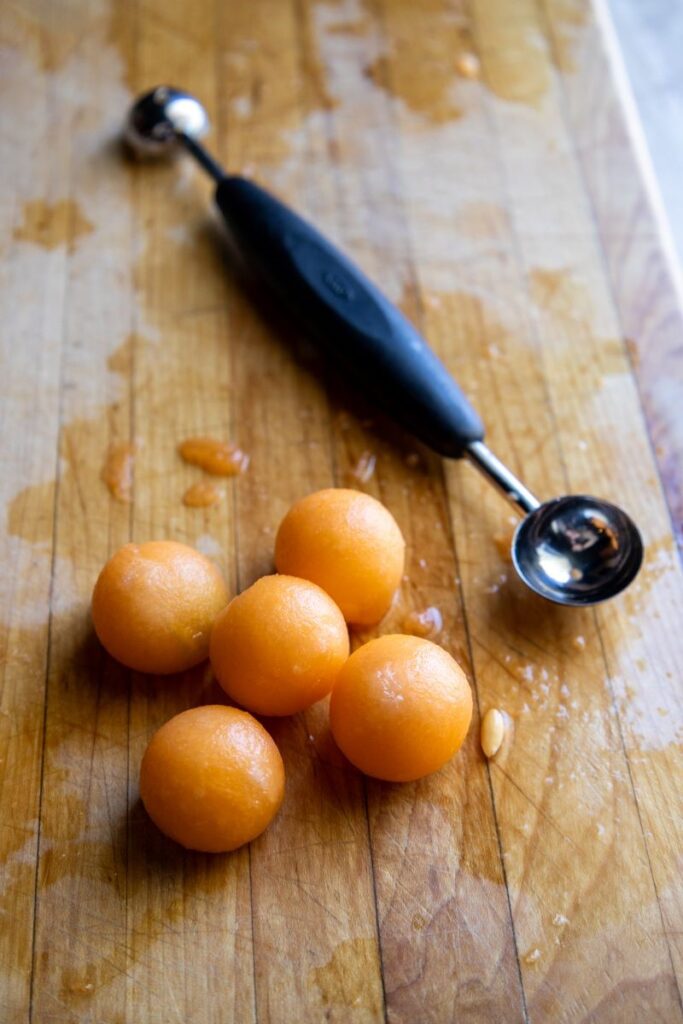 First, you scoop some watermelon, honeydew, and cantaloupe balls using the melon baller. Still not sure if a melon baller is really worth it? Take this as your sign that it definitely is. Those bite-sized pieces of melon are the perfect size and shape for the most delicious skewers, salads, and even drinks. And the tool is plenty small, not taking up a ton of space in your kitchen drawer. The edge is slightly sharper than that of a food scoop, and you can cut the perfect sphere. If you are on the fence, we all agree this is a great tool to have in the kitchen–especially if you like to eat a lot of melon.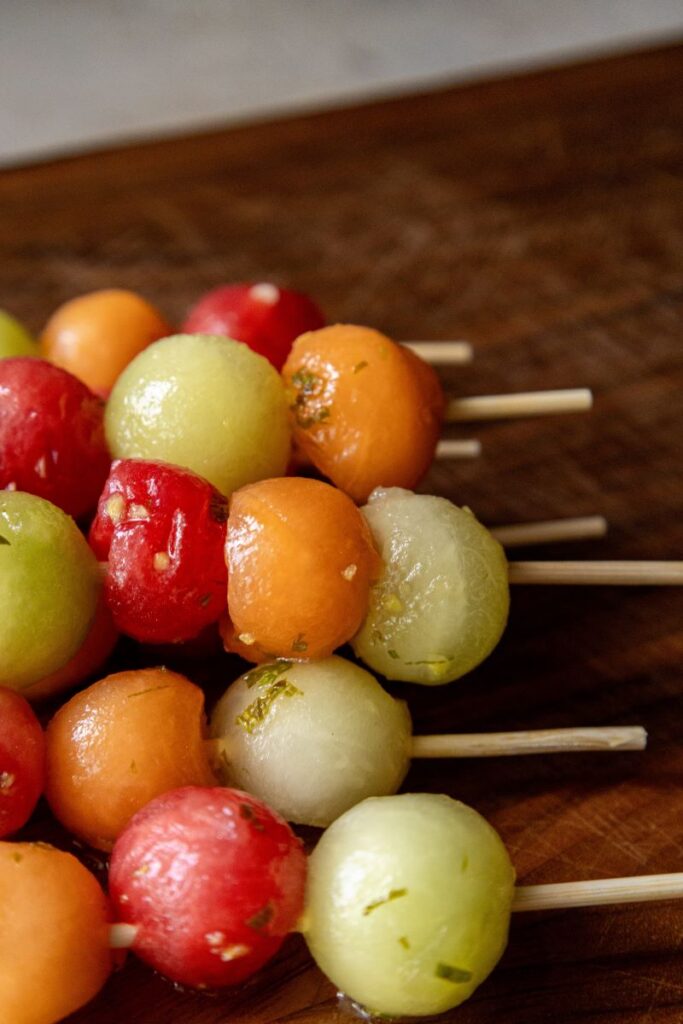 Once you scoop out as many balls as you can, slide them onto long skewers (like these) and put them on a rimmed baking sheet in the fridge so they stay firm while you whisk up the dressing. Now for the easy part–the marinade. The combination of honey, lime, ginger, mint, and salt is perfect. It pairs so well with the sweetness of the melon, making each bite so delicious and refreshing.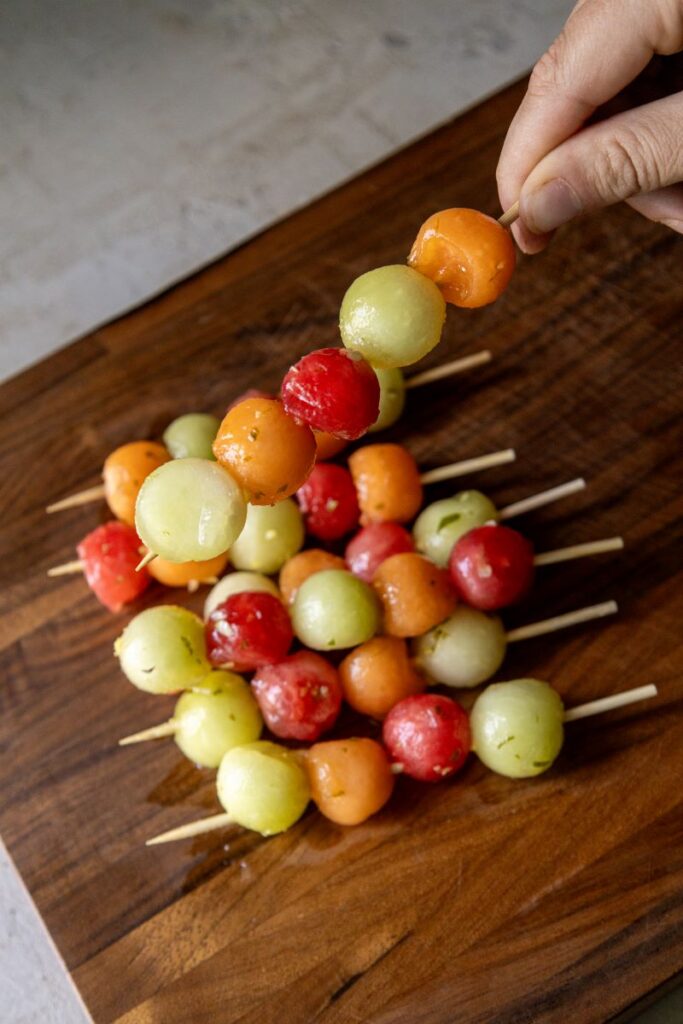 Other great fruit tools we love are this citrus juicer and a really good microplaner. These need to be staples in your kitchen. We grab them from ours all the time and cannot be without them. The shape of the juicer is perfect. It squeezes out all of the juice from lemons and limes while keeping all the seeds trapped inside. And this zester has the perfect grate for citrus, cheese, etc. And, bonus, both of these tools are great for getting kids more involved in the meal preparation.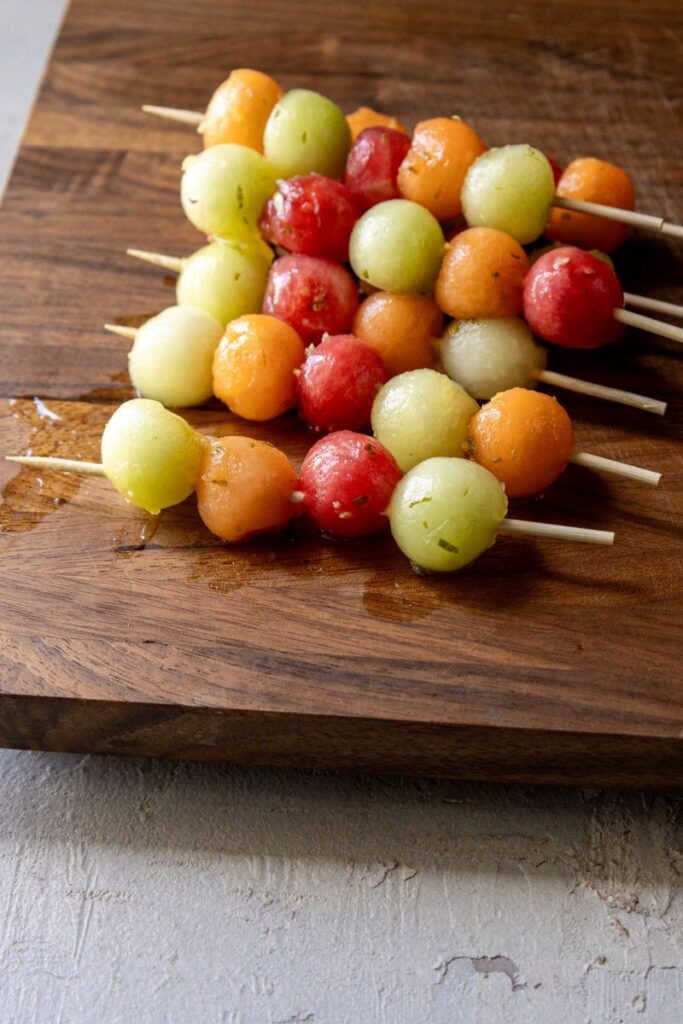 If you, like us, want to soak up every last bit of summer–then this recipe for marinated melon appetizer skewers can get us there. It's colorful and delicious. It's perfect for backyard picnics, after-school snacking, end-of-summer barbecues, etc. Want to mix things up? Try making this recipe into appetizer skewers! It is so, so good–you don't have to take our word for it.
Print Recipe
Marinated Melon Appetizer Skewers
Ingredients
1 small seedless watermelon
1 medium cantaloupe
1 medium honeydew
¼ cup honey
¼ cup lime juice
¼ cup fresh mint
2 tsp fresh ginger (chopped)
½ tsp kosher salt
Instructions
1

Use the small end of a melon baller to cut out as many melon balls as you can from watermelon, cantaloupe, and honeydew.

2

Slide melon balls onto skewers (fitting 6-8 per skewer).

3

Arrange skewers on a rimmed baking sheet and place in the refrigerator.

4

In medium bowl, whisk honey, lime juice, mint, ginger, and salt.

5

Remove melons from fridge and pour half of the marinade over the skewers. Let sit 2-3 minutes.

6

Turn the skewers over and pour the rest of the marinade over the skewers, allowing it to soak for 2-3 more minutes. Then serve.