For our next experiment in Bundt baking, we wanted to try something completely different–enter the Matcha Swirl Bundt Loaf. You don't need to be an expert baker to pull this off. In fact, you can nail it on your first try. The cake is stunning! And the flavor is delightfully mild and very reminiscent of springtime. This is a must-try recipe if you have any kind of love for Matcha.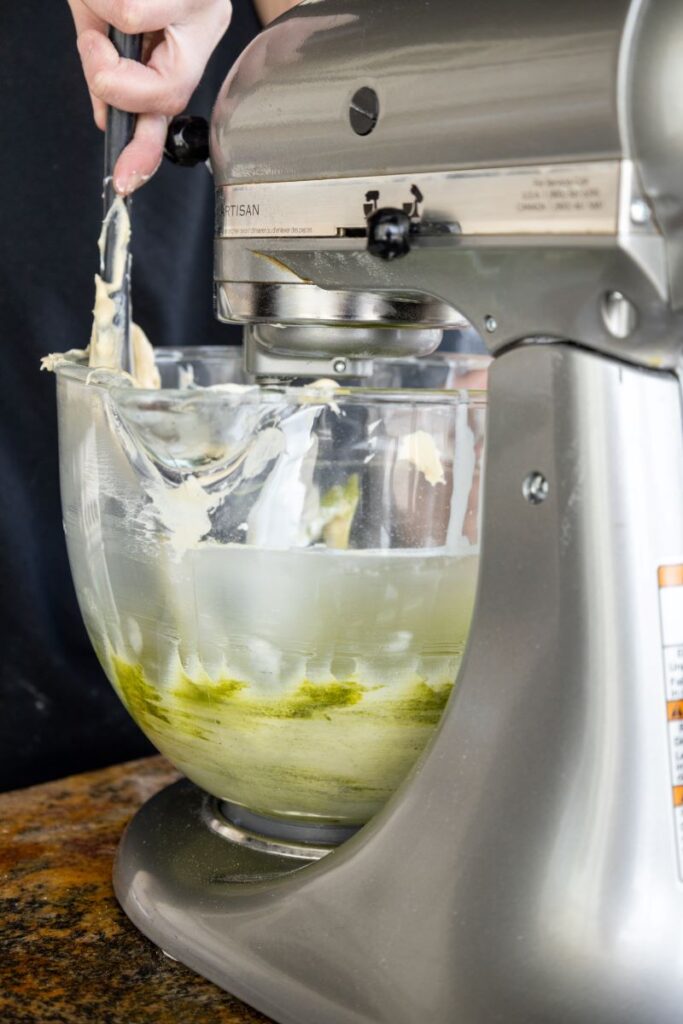 We were so excited to slice into this beautiful cake. Instead of a full swirl, it came out more like cow patches because we didn't swirl deep enough, but still, the contrast of the bright green with the light vanilla was incredibly satisfying. And the execution of this recipe was so easy. The stunningly beautiful Wildflower Loaf Pan does all the work for you!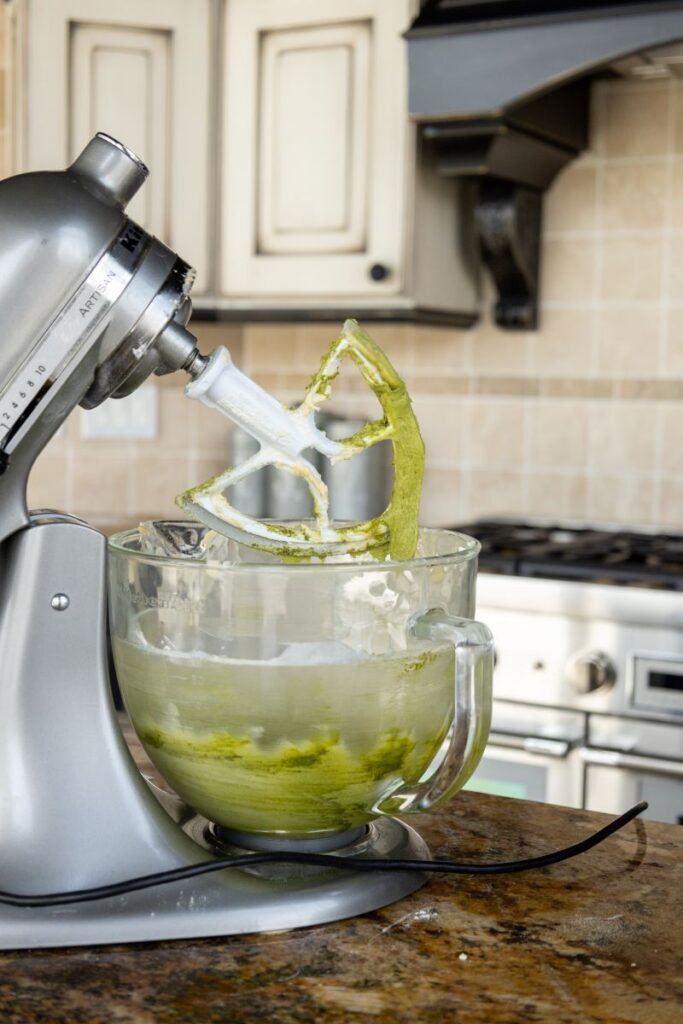 All you have to do is combine the ingredients for your batter, divide it in half to add the Matcha powder to one portion, and then pour alternating scoops of batter into the well-prepared pan. Swirl the batters around with a wooden skewer and bake for about an hour. Cool for ten minutes, then pop it over onto a cooking rack. And instead of topping this with a glaze or powdered sugar, we did a simple sprinkling of the Matcha powder. Mwah! Stunning!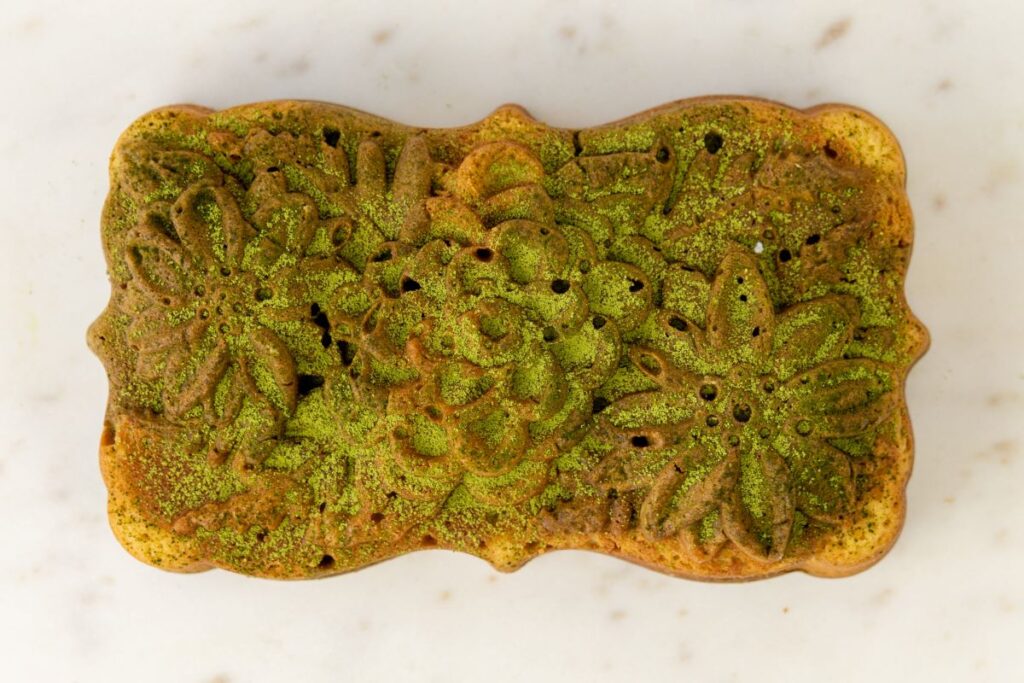 Best of all, you probably already have all of the ingredients you need on hand–except for maybe the cooking-grade Matcha. But trust us, it is super easy to find. And once you have everything ready, you can't mess this up. Sure, every cake will be different, but that is the beauty.
The Matcha swirl Bundt loaf is buttery, tender, and bursting with a unique green tea color. It would be the perfect addition to any little garden party or tea party. 
Print Recipe
Ingredients
For the cake
¾ cup unsalted butter
¾ cup granulated sugar
3 eggs (room temperature)
½ tsp baking powder
¾ tsp salt
1 ½ cup flour
1 ½ tsp vanilla extract
½ cup buttermilk (room temp)
1 Tbsp cooking-grade matcha powder
For the glaze (optional)
3 cups powdered sugar
¼ cup milk
2 tsp. vanilla extract
1 ½ Tbsp cooking grade matcha powder
Instructions
1

Preheat oven to 350℉. Prepare a 5-7 cup loaf pan.

2

In a stand mixer, fitted with a paddle, beat butter until smooth and scrape down the sides of the bowl. Add sugar and beat 1-2 mins until light and fluffy. Add eggs one at a time, beating well after each addition.

3

In small bowl, combine baking powder, salt, and flour. Add half the dry ingredients to the mixer and mix on low speed until just combined. Add vanilla and buttermilk and mix to combine. Add remaining dry ingredients and mix until incorporated. Remove half the batter from the bowl and set aside. Add matcha powder to remaining batter and mix until combined.

4

Fill Bundt pan using alternating schools of matcha batter and vanilla batter. Gently use a knife or wooden skewer to swirl the batters together, but be careful not to overmix or you will lose the distinct patterns.

5

Bake 40-50 minutes, until tester inserted into the middle comes out with just a couple moist crumbs.

6

Remove from oven and let cool 15 minutes in the pan. Invert onto a wire rack to remove from pan and cool entirely.

7

Once the cake is cool, make the glaze. In a large bowl mix the powdered sugar, milk, and vanilla with a hand mixer until smooth.

8

Scrape the edges of the bowl and add the matcha powder and mix until combined. If the glaze seems too runny add a ¼ cup powder sugar or if the glaze seems too thick, add a splash of milk until you reach the right consistency.

9

Use a small spatula to drizzle the glaze gently over the top of the cake, letting it drop down the sides.

10

Cake is best served the day you make it. If you are not serving it right away, wrap the unglazed cake in plastic wrap to help keep it fresh. Then, apply the glaze just prior to serving.