Ok, so you just used this recipe to make this delicious pulled pork in the Traeger. Now, what are you going to do with all this meat? You could try and feed your family pulled pork sandwiches for days on end, but that would never fly in our kitchens. So, when presented with this question, we decided to incorporate three flavor profiles–BBQ, Southwest, and Asian. We weren't sure we could pull off these completely different profiles with the same slab of smoked meat–but it worked! Each item was totally unique, flavorful, and delicious. You would have no idea you were eating the same meat for each meal. Ready to see the ideas we came up with for pulled pork 3 ways? Here they are!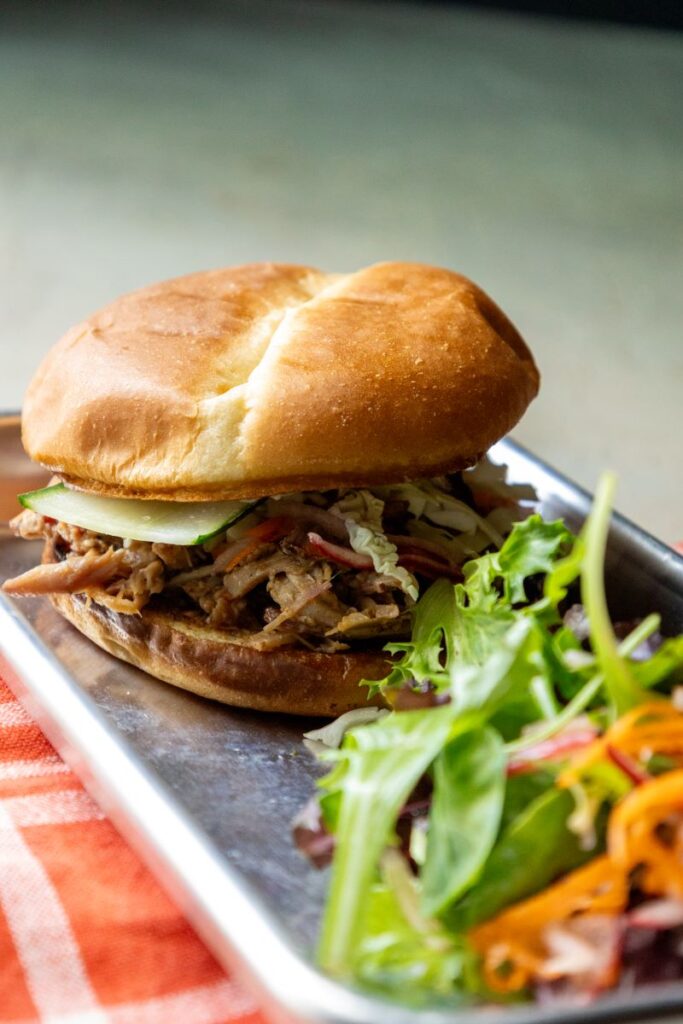 Pulled Pork Sandwich
This traditional option is probably the first thing you think of when it comes to pulled pork. Just grab a few buns, your favorite BBQ sauce, and this saucy coleslaw recipe. Now you have everything you need for the perfect pulled pork sandwich combo. Mix some of the BBQ sauce into your shredded pork and layer it onto the bun with the coleslaw. Add pickles or pepperoncini if you so choose. Then pair the sandwich with chips and a pickle spear or your leftover potato salad. Fast, easy, and delicious! The perfect meal to feed a crowd, or an easy, last minute dish after a long day at work.
For the Coleslaw Dressing
1/4 cup mayonnaise
1 Tbsp lemon juice
2 Tbsp sugar
1 tsp horseradish (to taste)
1 tsp garlic salt
1 tsp season salt
½ tsp smoked paprika
2 bags shredded cabbage
Combine all ingredients except for the cabbage in a bowl. Whisk until smooth.
Add cabbage to a large bowl and pour the dressing over the cabbage and mix to coat.
Refrigerate at least 30 minutes before serving.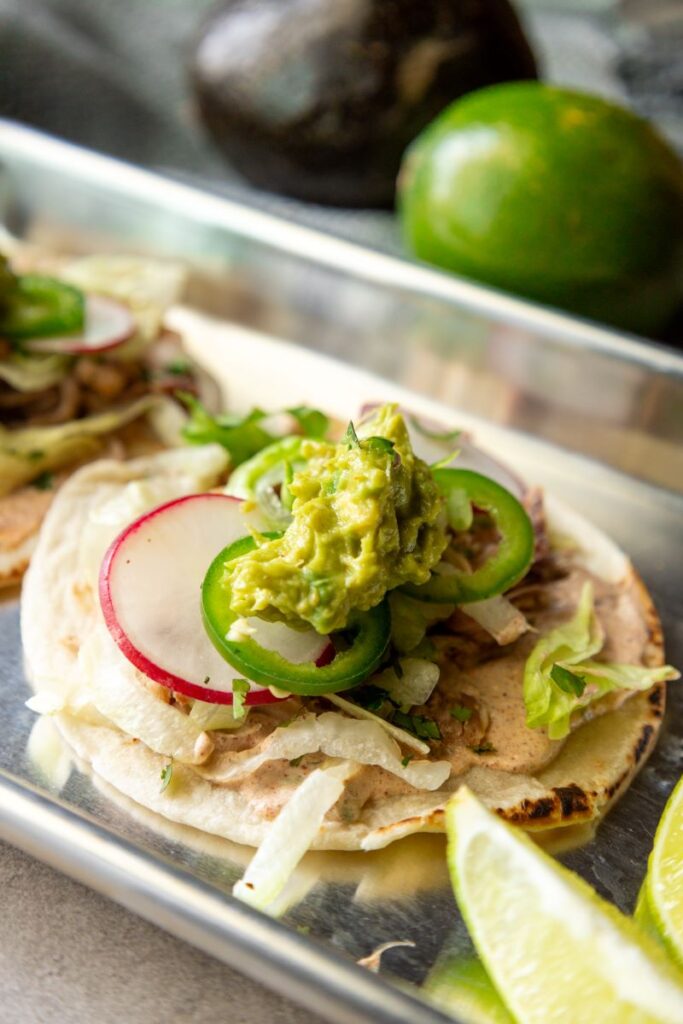 Southwest Tacos
Tacos are another great way to use up some of your pulled pork. We wanted to take things to the next level by pairing the pork with some creamy, southwest dressing full of smoky, zesty flavor. Prepare the small corn or flour tortilla with a little bit of the dressing, then layer on the pork, some shredded lettuce, sliced radish, and fresh jalapeño. Top with a dollop of guacamole, squeeze some fresh lime juice over the top, and you have–chef's kiss–perfection.
Southwest Dressing
¾ cup sour cream
1 tsp dried cilantro
2 tsp chili powder
1 tsp smoked paprika
½ tsp cumin
½ tsp garlic powder
¼ tsp cayenne
Salt and pepper to taste
Combine ingredients in a bowl and whisk until smooth.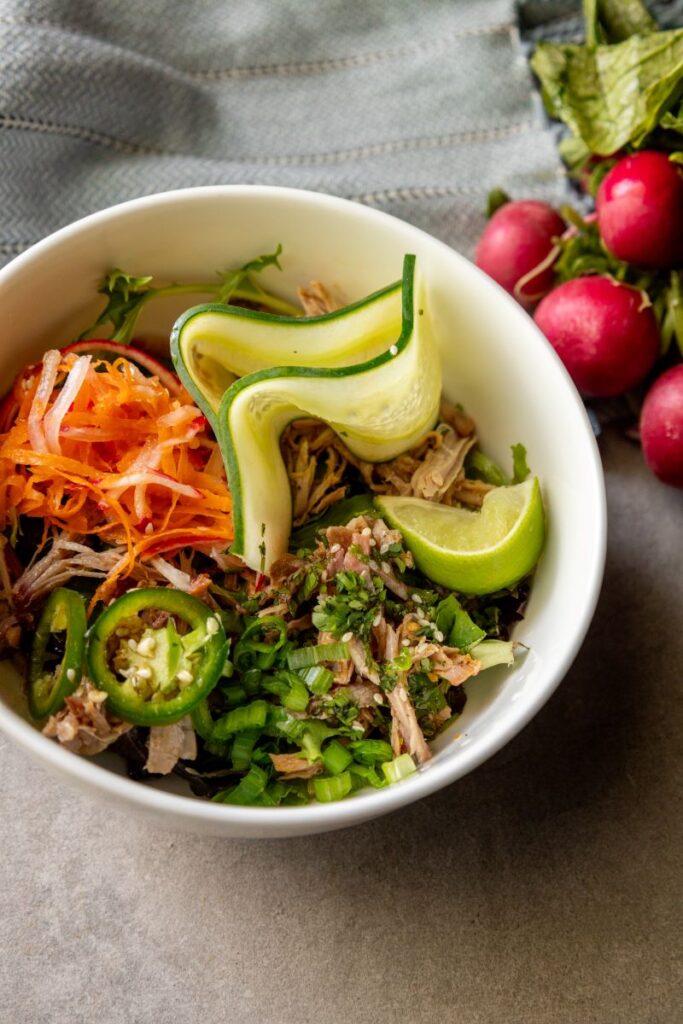 Bahn Mi Salad
We had some doubts, but this combination ended up being our favorite! It was great as a salad, but would also work as a Bahn Mi sandwich or Asian inspired tacos. You just can't go wrong with soy sauce, ginger, and sesame oil. We made our salad from fresh spring mix, pickled carrots and radishes, some thinly sliced cucumber, and fresh jalapeño. We added the pork and then topped it with the dressing and some chopped cilantro. Yum! It was incredible.
Bahn Mi Dressing
2 Tbsp light soy sauce
½ cup vegetable oil
3 Tbsp rice wine vinegar
1 Tbsp sesame oil
1 Tbsp fresh lime juice
1 clove garlic (minced)
3 Tbsp honey
1 Tbsp fresh ginger (grated)
1 tsp Sriracha to taste
1 tsp sesame seeds (optional)
Combine ingredients in a bowl. Whisk until smooth.
This was a huge success. We had so much fun making pulled pork 3 ways. And the best part was you could mix and match a lot of the same ingredients. For example, get the cabbage to use for the coleslaw, then set some aside to use in the tacos or the salad. The same goes for the cilantro, lime, radish and cucumber. Mix and match any way you like and still have a variety of delicious meals all from the same slab of meat. Dinner prep has never been easier!