In the baking world, there are recipes that require exactness and precision. One should not attempt to improvise their way through choux pastry or the finicky french macaron. It will lead to disaster. But fortunately, this recipe for caramel apple crisp, is not one of them. This is something you can fumble your way through and still serve confidently to your unannounced dinner guests. Using staple ingredients from your pantry and fridge, you can usually pull this together when the shelves are otherwise rather bare.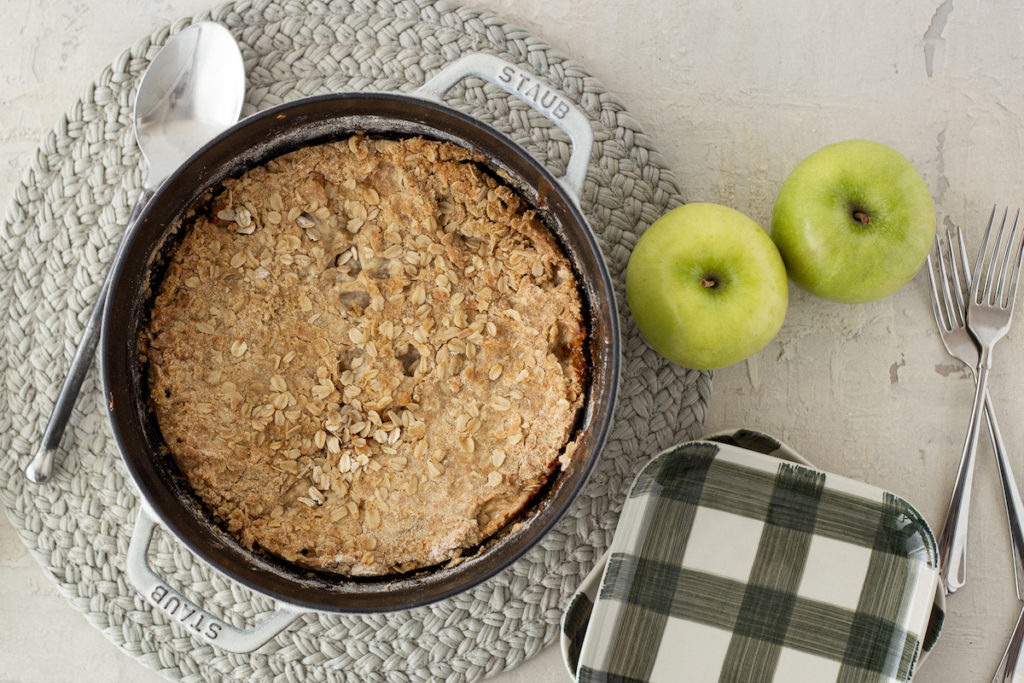 Here's wherein the fun lies; just about every ingredient in this recipe can be substituted or left out entirely, and the result will still be delicious. Let me explain…
The topping needs a few things: some sort of flour, some sort of sweetener, and some sort of fat. Gluten intolerant? Use rice flour. Avoiding sugar? Use honey or maple syrup. Vegan? Use earth balance or your favorite spread. Want a little extra crunch? Finely chop some nuts. Just don't forget the cinnamon. You'll definitely miss that.
The filling is equally exciting. Apples are a common fruit, meaning most homes have a few lying around in their fruit bowls. But pears are equally delicious. If you're lucky enough to have peaches in abundance, use those. Fruit crisp won't judge. It doesn't care. And you can play around with the spices too. We always add cinnamon, but a ginger pear crisp just might have to be on the menu soon. Nutmeg on hand? Clove? A dash of either one will liven up any recipe. And our favorite thing to add? A handful of Gygi cinnamon chips can take this to the next level. Experimenting is definitely encouraged.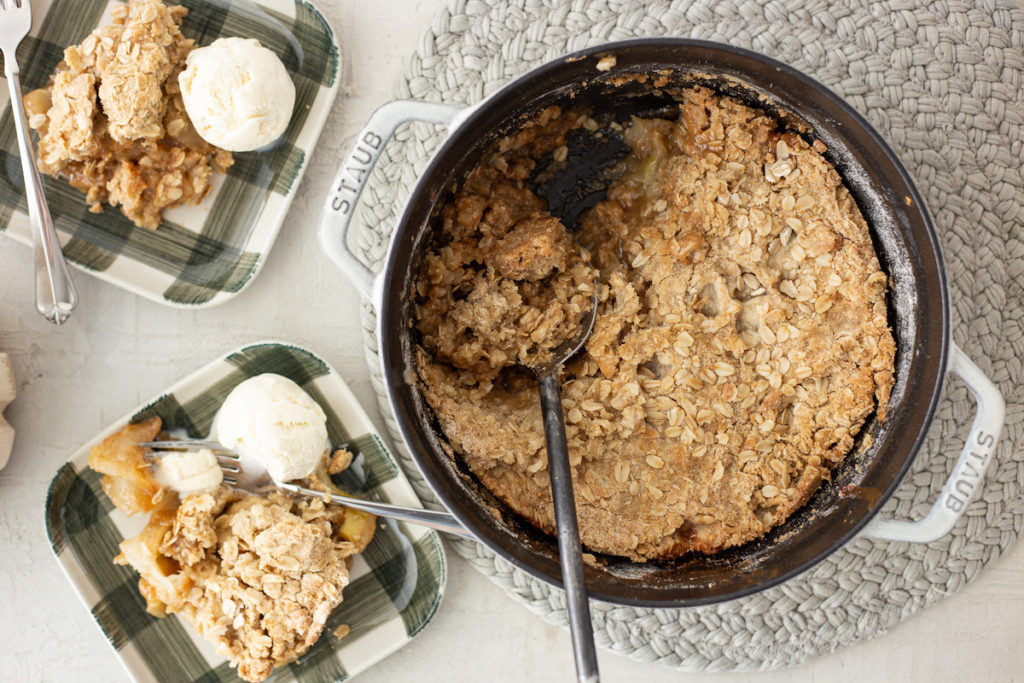 At Gygi, a 5 pound block of Peter's Caramel is practically an institution in and of itself. We use it all the time around here. And I mean, throwing some caramel into virtually any ol' recipe is simple when you have a big hunk of it in your cupboard! Making apple crisp is a deliciously easy decision. Adding caramel is even easier. We hope you'll make this delicious caramel apple crisp next time company calls. You'll like it. We promise.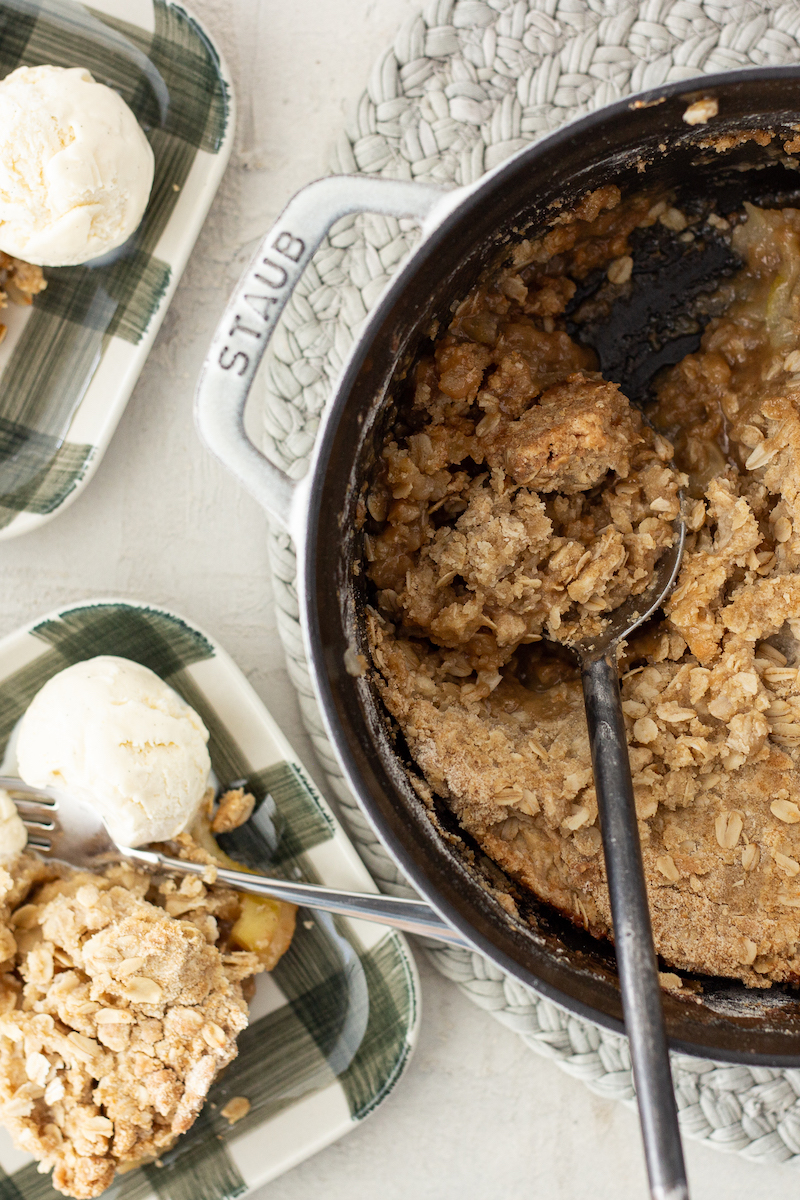 Print Recipe
Caramel Apple Crisp
We put the Gygi twist on traditional Apple Crisp by adding caramel in and out and all around!
Ingredients
Crumble:

2 C Rolled Oats

1 C All Purpose Flour

1 C Brown Sugar

1 tsp Salt

1 tsp Cinnamon

1 C (2 sticks) Cold Butter, cut into cubes

Apple Filling:

4-5 Medium Apples (Granny Smith is preferred), peeled, cored, cut into thin slices (we love to use this tool)

½ C Flour

½ C Sugar

2 tsp Cinnamon

1 C Peter's Caramel (melted)
Instructions
1
For the Crumble: Combine oats, flour, brown sugar, salt, and cinnamon in a large bowl.
2
Add the pieces of butter and rub them into the flour mixture to bring together.
3
You should have some large chunks but the mixture won't be fully combined.
4
Place the mixture into the freezer while you prepare the apples.
5
Apple Filling: Peel and core your apples. Cut the apples into the thin slices and then in half again; You are looking for 1-inch apple pieces.
6
If you are using an apple peeler, cut the apples in half after peeling them.
7
Place the apples in a bowl. Add the flour, sugar & cinnamon, and toss to combine.
8
In a separate plastic bowl, melt the Peter's Caramel in the microwave for about 60 seconds. Continue in 30 second increments until melted, stirring between cycles.
9
Once the caramel is melted, add the caramel to the apples and toss together.
10
Place the apple mixture into a Cast Iron Dutch Oven. Sprinkle the crumble on top of the apples.
11
Place into the oven and bake for 40-50 minutes. The top will be golden brown, and the fruit will be bubbling. Allow to cool for 15 minutes before serving.
12
Serve with ice cream, whipped cream, or more melted caramel!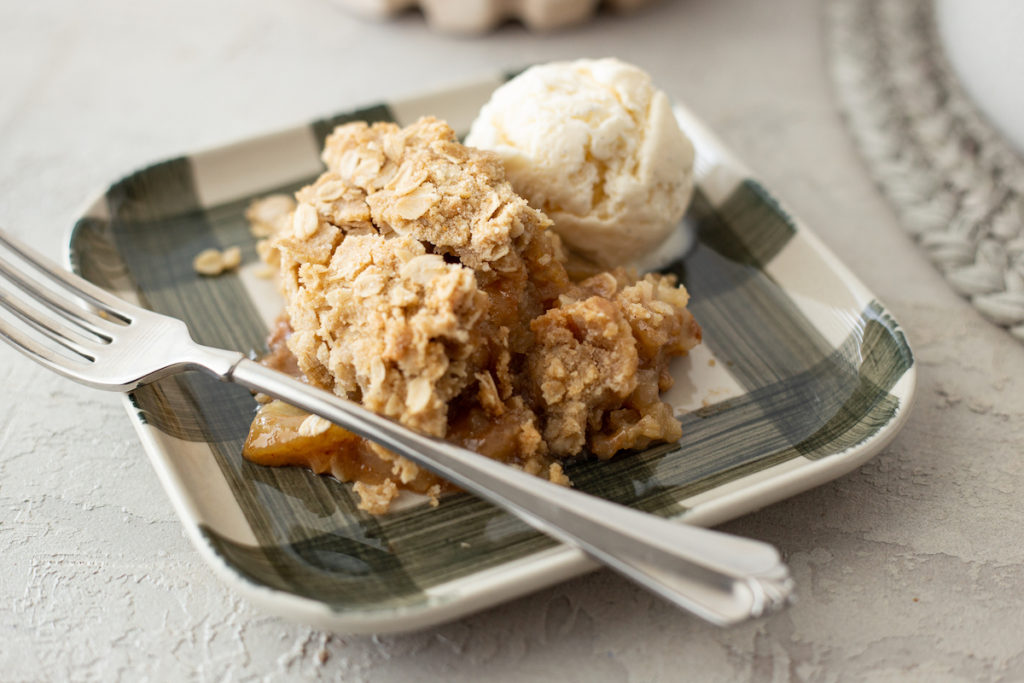 PSST… We topped our warm apple crisp with a scoop of vanilla ice cream (which was a divine addition, TBH) but it is also amazing topped with whipped cream or more melted caramel!
Want to learn more about this cozy little pot we baked our crisp in? Read all about the Staub pans we love. Here we used the 4qt Staub.