The weather is cooling down a little and we are so ready to get back to baking in our kitchens. And we hope you have room for dessert! Classic fried donuts are very hard to resist–even more so when they are made completely from scratch, fresh in your home. Have you been brave enough to make deep-fried donuts yet? There are a variety of ways to make it happen. And it can be so fun and rewarding! But we get it, the process can be a little intimidating if you haven't ever done it before. But before you get started, you need to make sure you have all the right tools ready to go. Here's a breakdown of the donut tools and gadgets we would recommend to help make the process easier and get that batch of donuts to come out perfectly on the first try. Let's do this!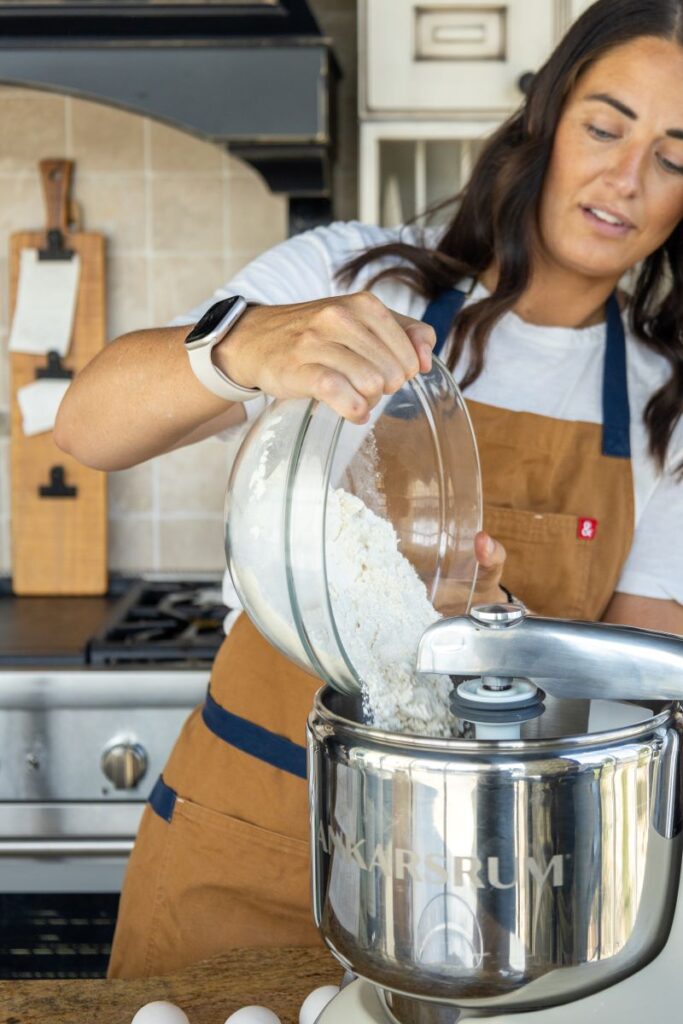 Stand Mixer
Most donut recipes will make about 2 dozen donuts. That is a lot of dough. And you want a stand mixer that can handle the load. A lot of different mixers will work just fine. But you know us–we will take any and every opportunity to pull out the Ankarsrum (pst. If you ordered one on the waitlist they are all in stock!!!). It was able to hold all of the dough easily. And, because we were supposed to gently knead the dough for eight minutes it was nice to be able to simply set the timer and walk away. Bonus points for being able to just pop on the lid on the mixing bowl and let the dough sit for the first rise.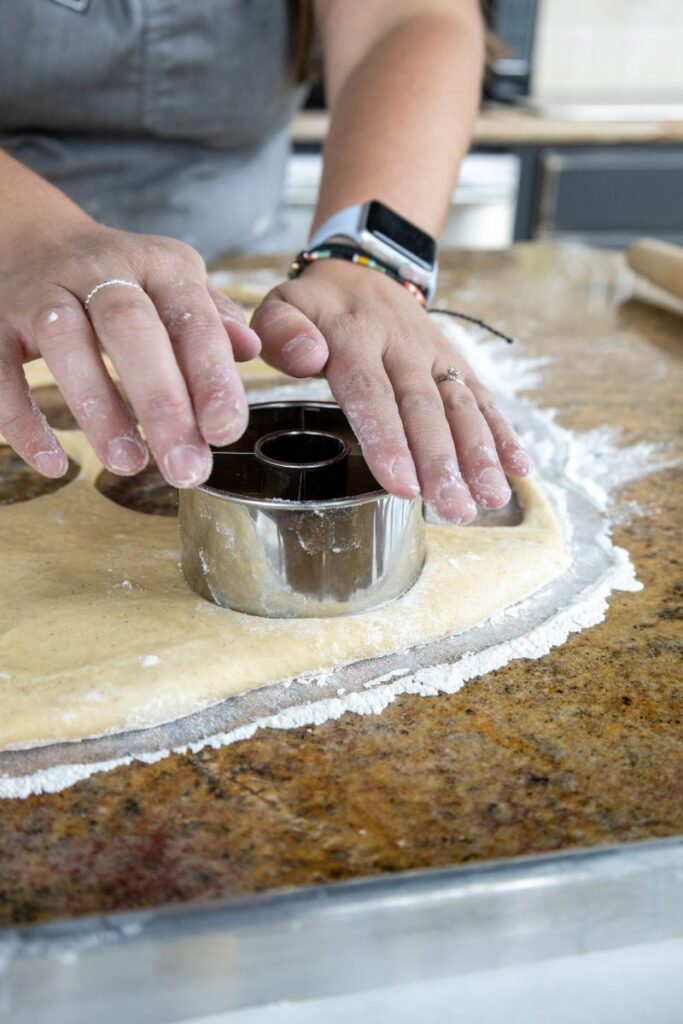 Donut Cutter
Now, you absolutely can use a cup and a shot glass, or whatever similar items you might have on hand, to cut out your donut shapes. Cookie cutters can work as long as they are not too detailed. But we do have to say, the metal cookie cutters performed way better than plastic. However, for the classic "ring" shape, we preferred the actual donut cutters. They were the perfect size and shape. And they cut right through to the bottom without ripping.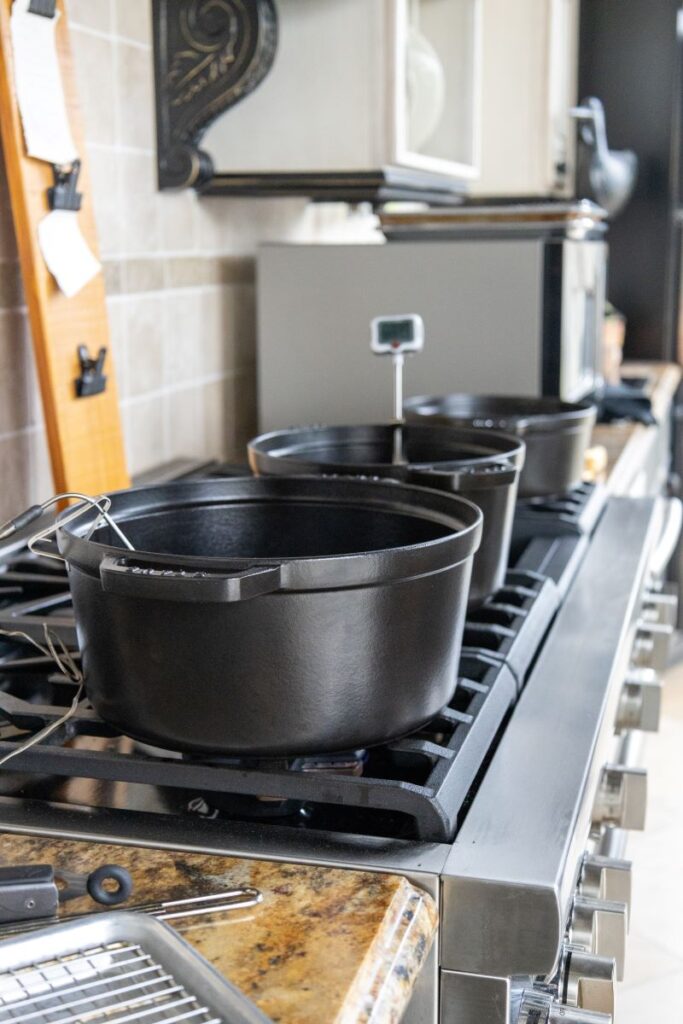 Heavy-Bottomed Pot
You can fry a donut in basically anything that holds oil. But the pot you choose can make or break this process. The safest and easiest option is a pot with a heavy bottom and high sides that can hold about two to three inches of oil in the bottom. And the larger the diameter, the more donuts (up to 4 or 5) you can make at a time. We decided to pull out the Staub 7qt. Cocotte. It's the perfect pot for the job. It is large enough to fry several donuts at once. It also heats evenly and then holds the heat. But this means you will absolutely want to keep an eye on the temperature. Another solid option would be a cast iron Dutch oven.

Deep Fry or Candy Thermometer
The temperature of the oil is everything. You need it warm enough to fry the dough, but not over fry the outside before the inside finishes. This means getting an accurate reading on your thermometer so you can keep the temperature between 300℉ and 350℉. We love the ChefAlarm thermometer to help keep us on track. You can also use any candy/deep fry thermometer. Just know before you get started that you will have to adjust the burners throughout the process to keep the oil in the right range.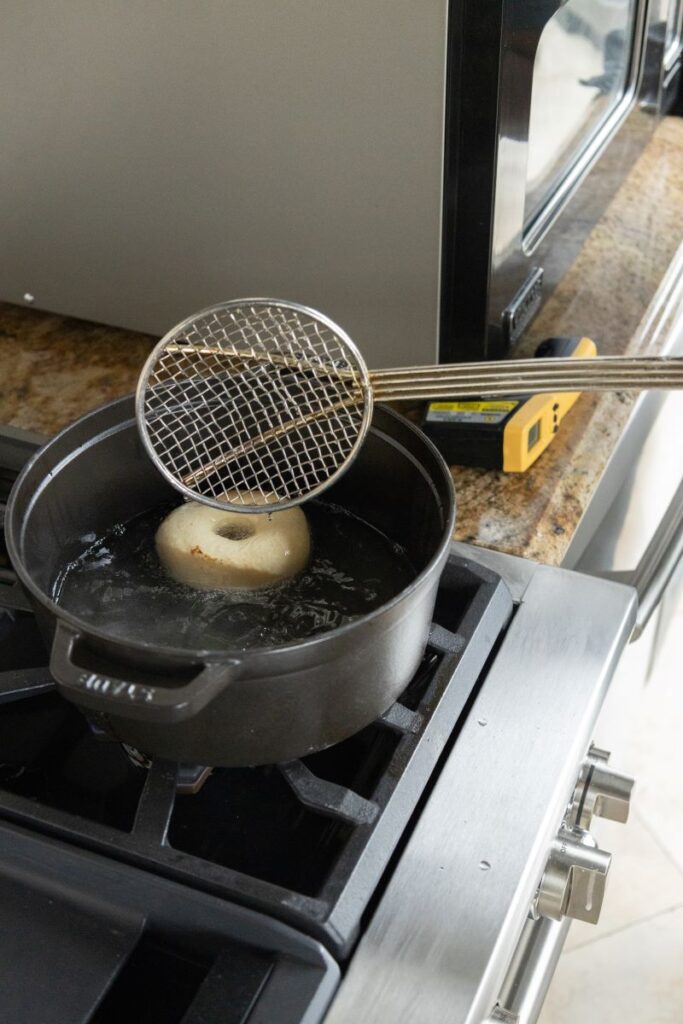 Skimmer
When making donuts, it is important to be gentle with the dough after the second rise, otherwise, you could deflate your donuts. So for putting the donuts in the oil we highly recommend a wire mesh skimmer. This allows you to gently scoop and transfer your donuts without pinching them. It also means you can remove them from the oil and let some of the excess residue drip off before transferring them to the cooling rack.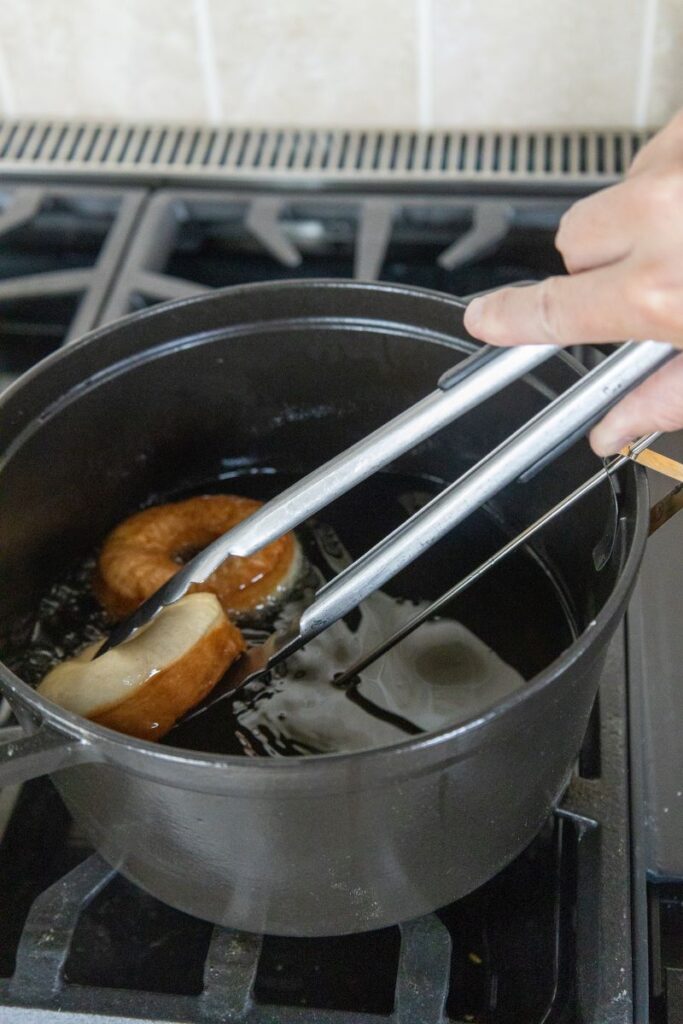 Tongs
If you don't have a wire mesh skimmer, then at the very least you will want some heavy-duty, long-handle tongs. These will allow you to place, turn, and remove the donuts while keeping your fingers far, far away from all that scorching hot oil. Jus make sure you are gentle, or you might accidentally deflate your dough. We chose tongs with 12″-16″ handles.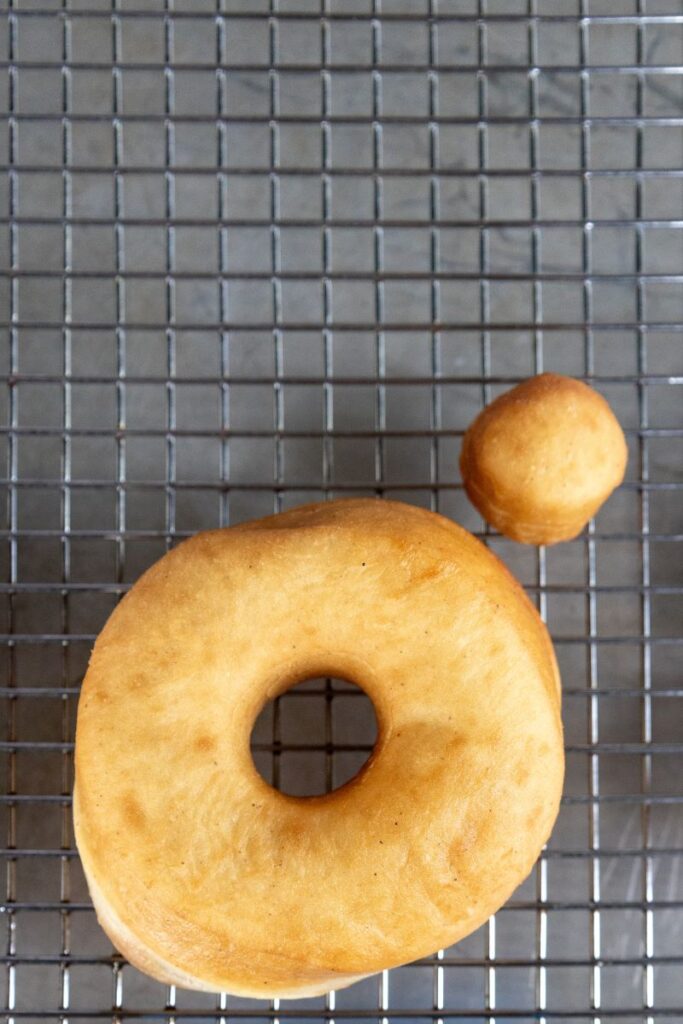 Sheet Pan & Wire Cooling Rack
We are all for containing the mess. And donut-making can take up a lot of counter space. This is why we love using our half-size sheet pans and cooling racks. You can line some paper towels on the bottom to sop up the extra oil and collect all the scattered toppings. Then just use the mesh skimmer to place the donuts on the wire racks. The mess gets contained and the clean up could not be easier.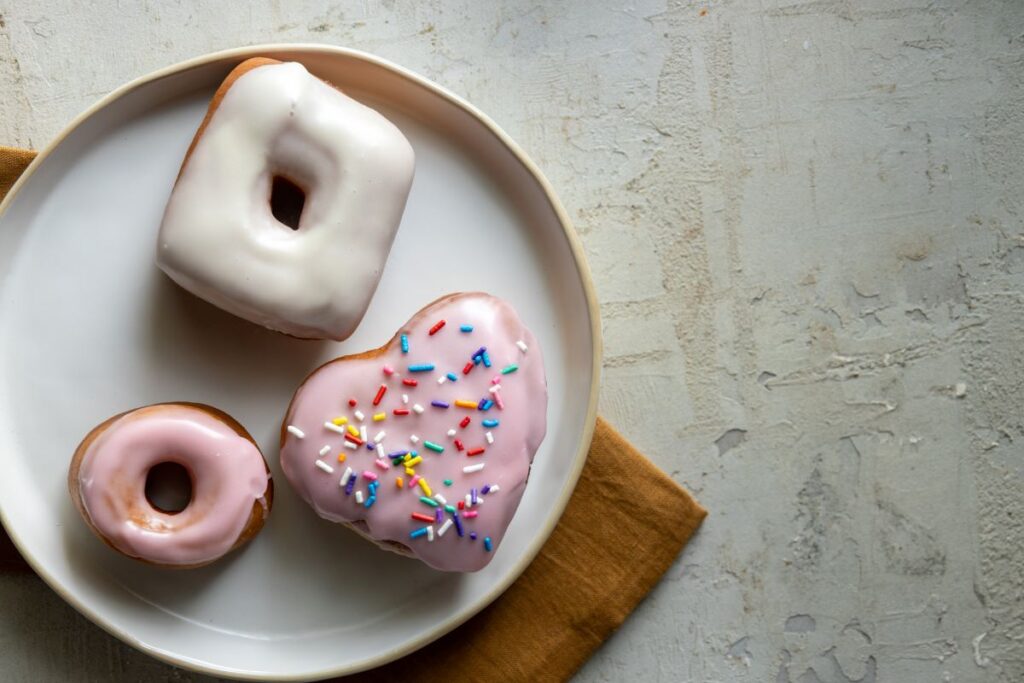 Garnishing & Decorating
These are all the extra donut tools. This list could be as simple as a sifter because sometimes all a good donut needs is a dusting of powdered sugar. But if you want to go all out and fill or fully glaze and top your donut, then you might need a few more things. For donut filling, you will want to check out the Bismark Pastry Tip or Bismark Tube. Then you can pair this with a piping bag and any one of these delicious pie fillings for some truly decadent donuts. If you want to fully glaze your donuts you will need a good whisk for whipping up the glaze and some chopsticks for dipping your donuts. Then, once the glaze sets up, you can top it with chopped nuts, sprinkles, or the icing of your choice. Yum!