Josh from Guittard delighted us with his take on one of our favorite cookies. The dark chocolate outside and white creamy filling on this chocolate peppermint sandwich cookie are perfection. We couldn't wait to get this recipe up so we could try our hand at making these at home.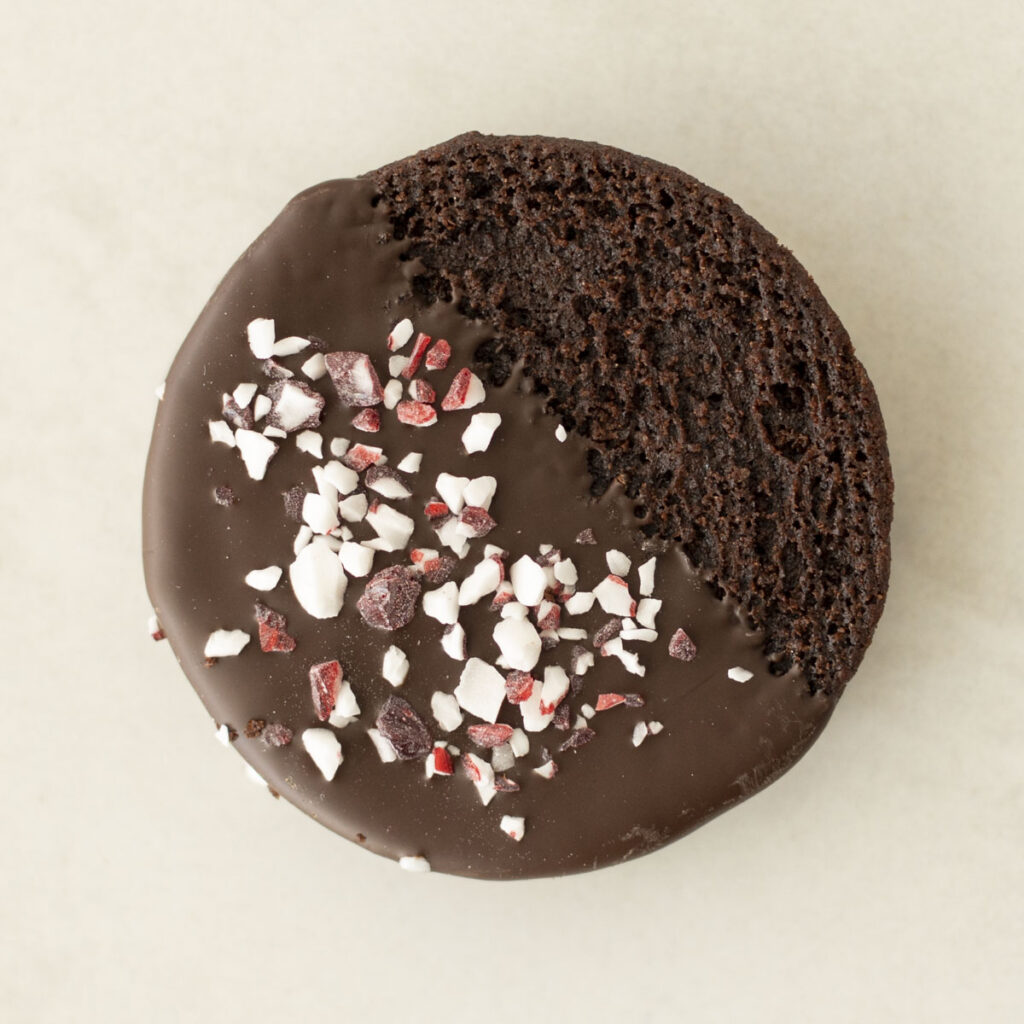 The little chocolate cookies that make the outside of the "sandwich" are meant to be thin and crispy. So Josh used a silicone mat and placed the cookies onto the cookie sheet before baking. When they finished cooling he showed how the flat side of the cookie had a fun little texture from the mat and that is what he used as the outside of the sandwich to make the cookies look more uniform–like our favorite Oreo Cookies.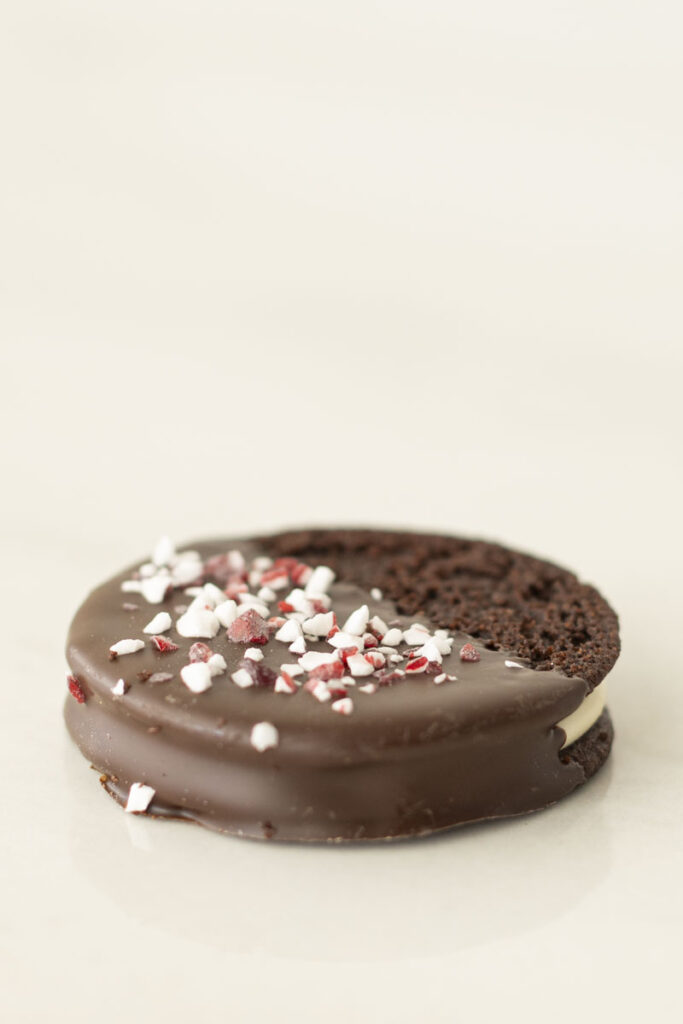 There are also two ways to assemble this cookie. For the most perfect presentation you can roll out the filling between two parchment sheets, freeze it, and then cut out the filling for the perfect shape and thickness. Or, if you aren't too concerned with how it looks, you can just scoop the filling into a piping bag and pipe it right onto the cookies.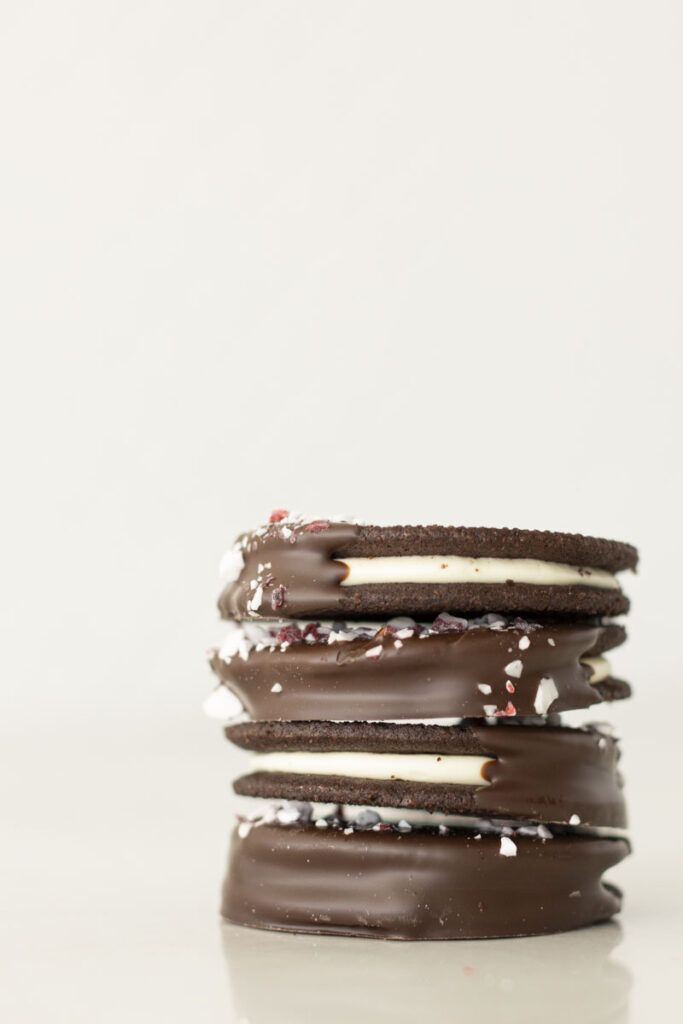 Josh highly recommends using an 1/8″ rolling pin when rolling out cookies and filing for that uniform thickness. He also suggests finding an using a microscale or precision scale that gives you more control over ingredients like salt and baking soda that can significantly impact the flavor of your confections.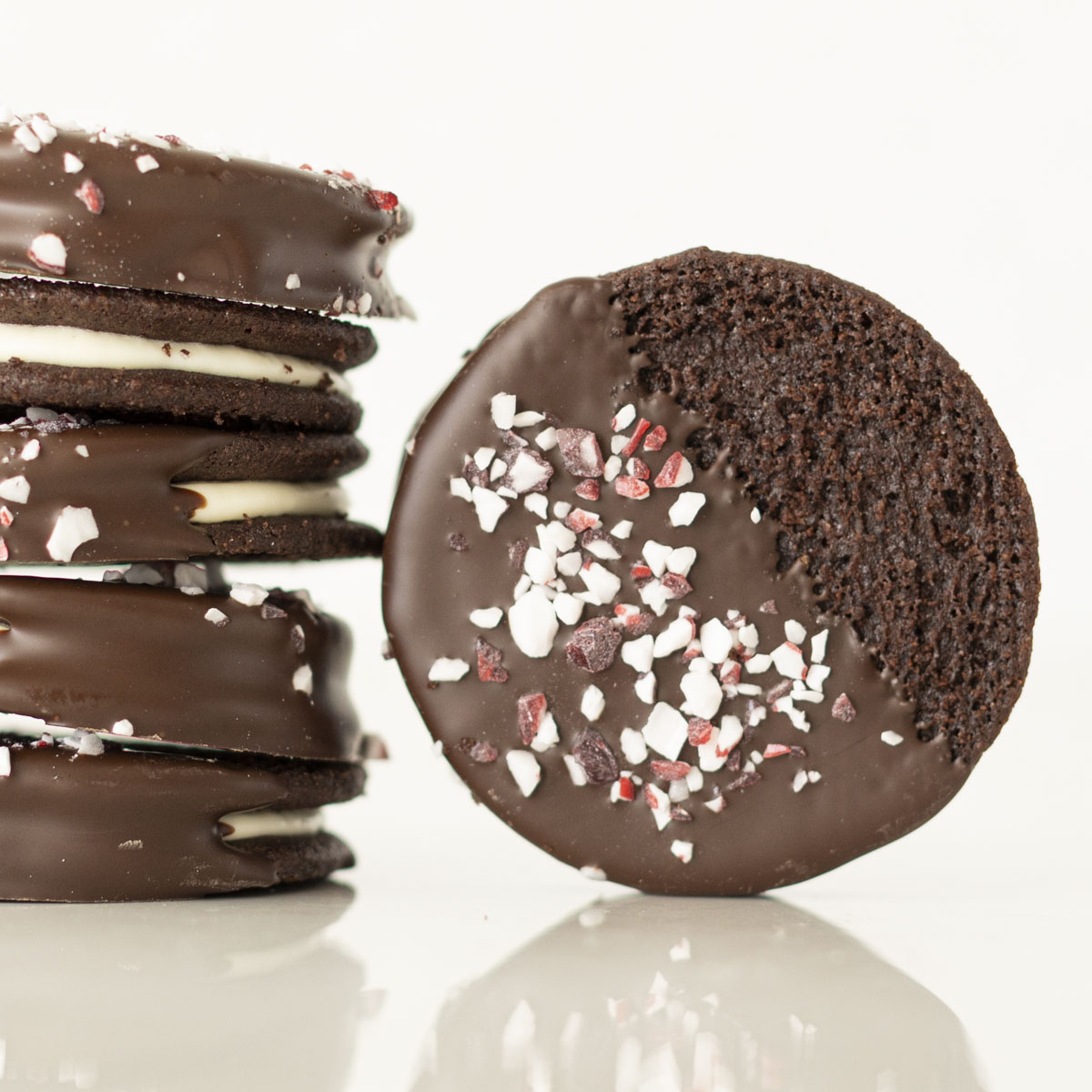 Print Recipe
Chocolate Peppermint Sandwich Cookie with Chef Josh from Guittard
Ingredients
For the Cocoa Rouge Wafer Cookie
86 g unsalted butter
3 g salt
240 g sugar
82 g vegetable oil
60 g whole egg
186 g all purpose flour
54 g cocoa rouge cocoa powder
4.5 g baking soda
1 g baking powder
For the Dark Chocolate Filling
140 g Unsalted Butter
185 g sugar
0.5 g salt
160 g bittersweet couverture wafers (72% Coucher du Soleil, melted)
For the White Chocolate Filling
140 g unsalted butter
20 g sugar (pulverized in blender)
20 g corn syrup
.75 g salt
220 g white couverture wafers (31% Creme Francaise, melted)
Instructions
1

For the Cocoa Rouge Wafer Cookies

2

Cream together butter, salt, and sugar until well blended.

3

Slowly add oil and mix until fully incorporated.

4

Slowly add eggs until combined, scraping the bowl as needed.

5

Roll dough between two pieces of parchment until about 1/8" thick.

6

Freeze until firm enough to cut.

7

Cut desired shape. If difficult to remove from parchment, place back in the freezer to harden.

8

Bake on a silicone mat at 340°F 15-20 minutes until the tops appear dry. Allow to cool fully before removing from the mat.

10

Combine butter, sugar, and salt. Beat with a paddle attachment until light and fluffy.

11

Add melted chocolate (don't need to temper), stirring and scraping the bowl well until fully emulsified (mix in oil if using).

12

If fluffy you can scoop into a piping bag and pipe directly onto the cookies. Or roll between two pieces of parchment and freeze until firm enough to cut.

13

Pipe or cut a shape that matches the cookies. Assemble the cookie sandwiches.

14

Optional: dip the cookies in tempered chocolate and sprinkle with crushed peppermint candies.