There is something about the combination of lemon and chocolate that just hits the tongue a little different. The bitterness of the chocolate with that tart zing of lemon–yum. So when Josh came with this recipe for Chocolate Lemon Verrine we were all very excited. As his usual recipes go, this is made up from different components you can use in a variety of ways to make a cup, a tart, a custard. You can also make the jelly and the cremeux in different flavors. There are just so many fun options to choose from.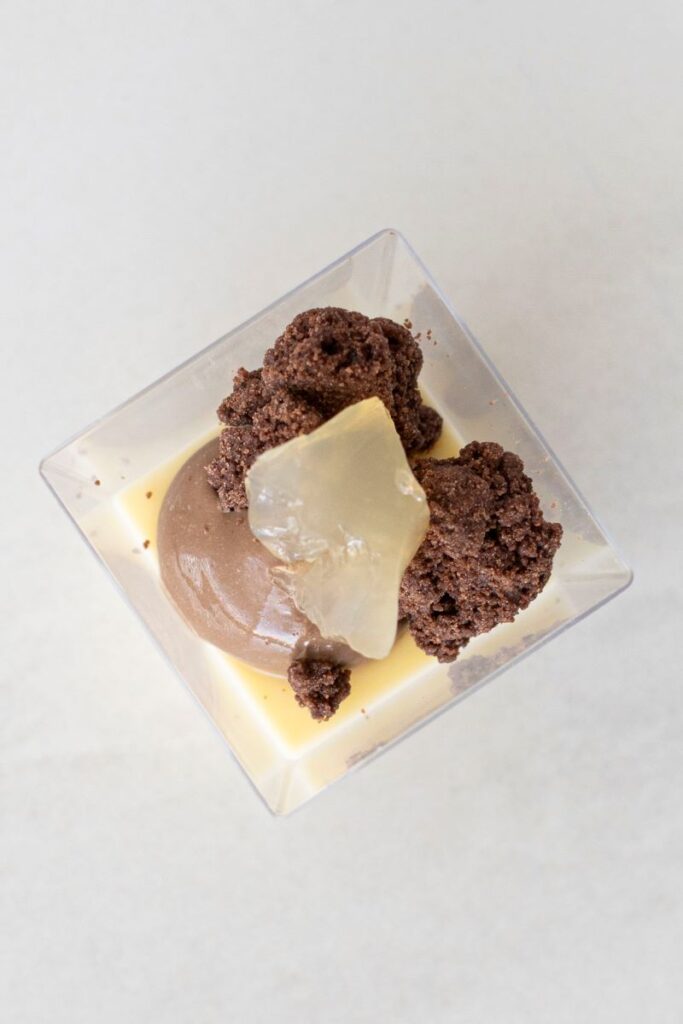 Our favorite part? Probably the chocolate streusel. It is that good. The cocoa rouge cocoa powder is what makes it so spectacular. We want to put this as a type of crumble on top of everything–or just eat it by the handful. Combine it with the soft verrine, the chocolate cremeux, and that little slice of lemon jelly and you have a truly exceptional dessert.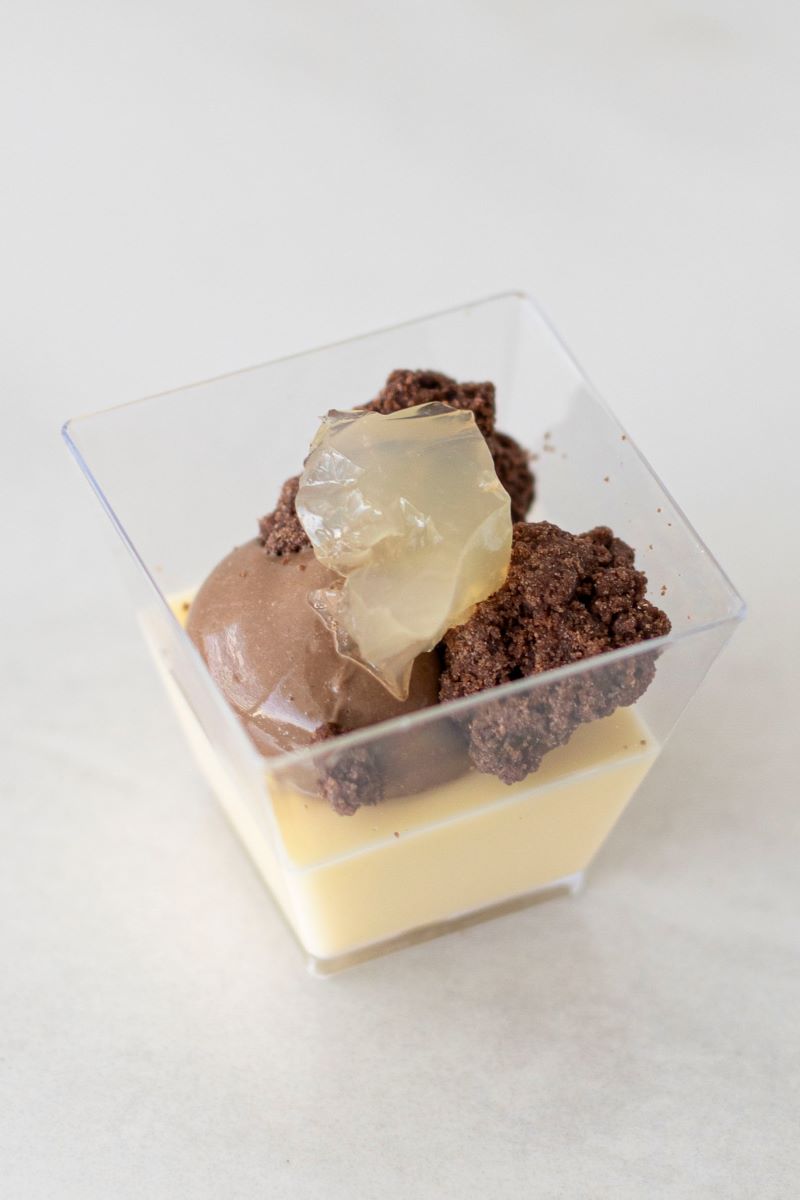 Print Recipe
Chocolate Lemon Verrine with Josh from Guittard
Ingredients
For the Chocolate Cremeux
300 g cream
300 g milk
40 g sugar
120 g yolks
260 g semi sweet couverture chocolate (64% L'Etoile du Nord)
For the Lemon Curd
105 g lemon puree
72 g sugar
164 g whole eggs
72 g sugar
206 g cubed butter
For the Chocolate Streusel
210 g all purpose flour
121.8 g sugar
26 g cocoa powder (Guittard Coco Rouge)
0.7 g salt
125 g cubed butter (room temp)
For the Lemon Jelly
2.5 g sheet gelatin
12.5 g water
100 g lemon juice
20 g sugar
Instructions
1

For the Chocolate Cremeux

2

Combine cream, milk, sugar, and yolks into a saucepan.

3

Cook on medium heat to 180℉.

4

Pour over chocolate wafers and allow it to sit for 1 minute.

5

Emulsify with a rubber spatula.

6

Finish with hand blender until smooth.

7

Cast into desired dish or mold and refrigerate until set.

9

Combine lemon juice with first amount of sugar into saucepan; bringing to a simmer.

10

Combine eggs with second amount of sugar.

11

Add half the lemon juice mixture to the egg mixture; return to saucepan.

12

Carefully cook mixture to 165℉ while stirring constantly.

13

Remove from heat and pour into mixing bowl.

14

Once cooled to approximately 110℉.

15

Blend with immersion blender until smooth and chill until set.

16

For the Chocolate Streusel

17

Combined dry ingredients. Add cubed butter and cut until pea sized pieces form.

18

Spread mixture evenly onto parchment lined baking sheet.

19

Bake at 340℉ for 18-20 minutes. A test piece should be crunchy when it cools.

21

Bloom the gelatin with the water, set aside.

22

Heat the lemon juice with the sugar until sugar is fully dissolved.

23

Add the gelatin and stir until it is fully melted.

24

Pour into a shallow pan to set.

26

Layer the lemon curd into a cup or dish and top with the chocolate cremeux, a dash of the streusel, and a slice of the lemon jelly.