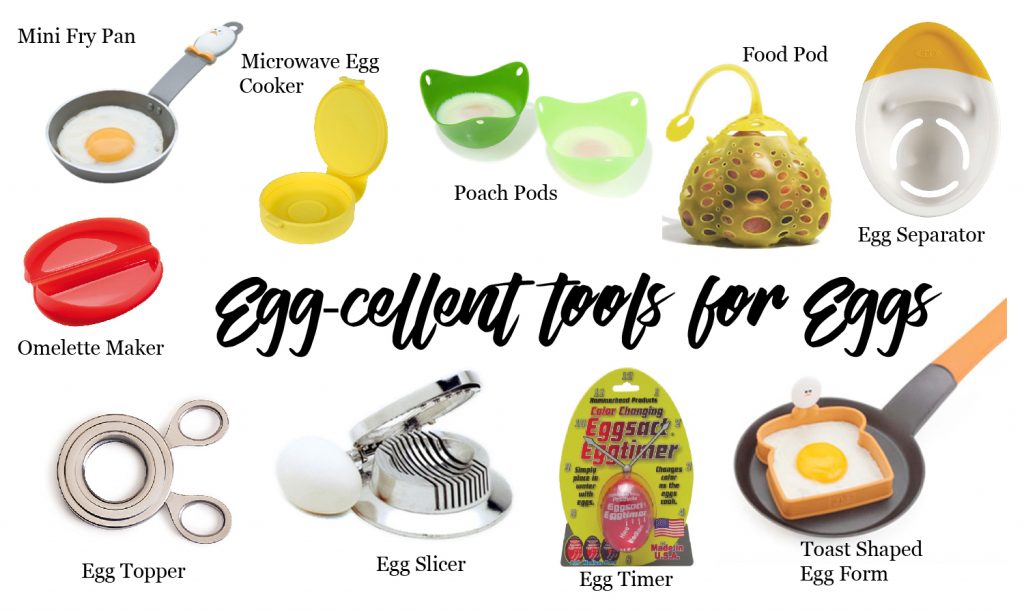 Can you believe Easter is just around the corner? And since Easter and eggs go hand in hand, I've put together a group of tools for egg that I think are fantastic!
If you are like me, then you think that separating egg whites from egg yolks is a pain. I tend to get more on myself than wanted. But using an egg separator makes separating super easy! It clips onto the edge of your bowl, giving you two hands to crack the egg into it. Watch as the whites slip into the bowl leaving the egg yolk behind. I promise you'll love it!
#2: Poach Pods
Poached eggs has never looked so good. Not only do I love how simple these are to use, but the design is quite sleek. And did you know that you can use these rounded silicone pads for more than just eggs? You can use them to shape other food. It would be so easy to make chocolate bowls for desserts in them. Paint chocolate inside the bowl, chill, and then bend the pad away from your chocolate bowl. (My mouth is watering just thinking about it!)
#3: Easy Egg Timer 
Not how long your eggs have been cooking? Or do you want to achieve the perfect medium set yolk, just not sure how long to cook it for? This egg time is always in the pot when we make hard-boiled eggs. Takes away all the guessing and give you confidence before you even crack open that shell.
#4: Egg Topper
This tool cuts the top off of your soft boiled egg with ease. If you've ever struggled cutting the top off, then you will understand why this tool is so necessary.
Cooking for one? Then this is a must. Quick cook, quick clean-up, quick way to go when you are just needing one egg.
#6: Food Pod
I love, love, love this tool. And if you love hard boiled eggs, then I think you will too! Simply place the eggs inside of the food pod and then the food pod inside of a pot of water. Cook your eggs. After they have cooked, just take the food pod out of the water and watch the water drain out of it. No more broken eggs trying to get them out of the hot water! Try it for veggies and shellfish too!
This is a fabulous tool for slicing, wedging and piercing hard boiled eggs. You get 10 uniform slices, 6 equal wedges and piercing the egg before boiling prevents the egg from cracking. It's ideal for mushrooms too and is safer and faster than using a knife.
This is such a fun tool for kids and is ideal for making breakfast sandwiches! And who doesn't love those? Yum!
You can have a tasty omelette in minutes with this nifty tool. Just whisk an egg with some milk, pour it into the mold, and pop it in the microwave. Add any mix-ins to make your weekday morning breakfast even fancier with very little effort.
Your breakfast routine has just been simplified with the MicroEgg.  In less than a minute, you can cook the perfect egg!  Simply place one large egg inside the MicroEgg (sunny side up or scrambled). Place in your microwave and cook in 20 sec increments, until you've reached the perfect egg!
Well that completes the list. Did I miss anything? Do you have a favorite egg tool?