Michelle Lowry has a new caramel recipe to share this year! Remember Carameled Frappelstein she shared with us last year? Well, it's still all about caramel, but it's a recipe for Caramel Apple Pizza Pie!
Caramel Apple Pizza Pie: Brought to you by Michelle Lowry of Design on a Dollar
Ingredients:
1 single-crust pie pastry
Topping:
1/2 cup All purpose flour
1/2 cup pecans (chopped)
1/2 cup light brown sugar
1/2 teaspoon cinnamon
1/4 teaspoon table salt
4 tablespoons salted butter (1/2 stick)
Filling:
3 apples (Golden Delicious)
1/8 cup granulated sugar
3/4 teaspoons cinnamon
2 tablespoons salted butter (melted)
1 1/2 tablespoon Flour
2 splashes lemon juice concentrate
Instructions:
1: Adjust rack to the middle rack and heat oven to 350 degrees. Combine flour, pecans, oats, brown sugar, granulated sugar, cinnamon, and salt in medium bowl. Stir in melted butter until you have a nice crumbly texture. Set aside.
2: Roll out pie dough round onto pizza pan (store bought or home made). Flute edges or fold edges under for the edge of the crust. I poked holes, but don't know that it is necessary
3: Combine in a quart-size Ziploc bag: apples (chopped in 1/2 cubes), sugar, cinnamon, lemon juice, butter, and flour. Shake it up to coat apples well. Arrange the apples in a single layer atop the pie crust.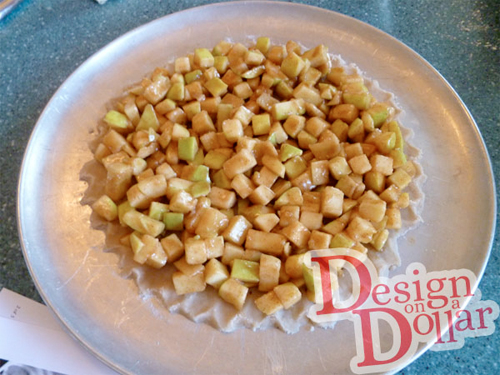 4: Sprinkle topping evenly over apples.
5: Bake at 350 degrees for 35-45 minutes. Remove and drizzle with caramel topping. Serve cold or warm, with or without ice cream. It's good any way you like!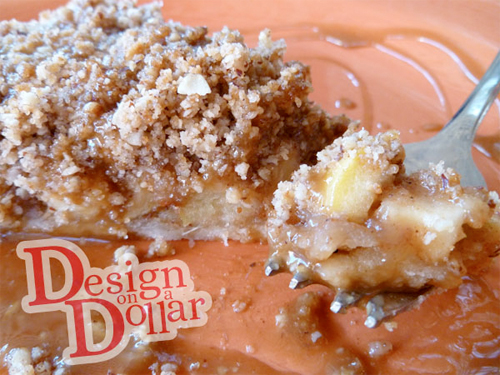 Notes from Michelle:
Most recipes say that you should peel the apples. I forgot and thought I had ruined it; however, to my surprise, I couldn't even tell the peelings were there when consuming! So I guess the choice is up to you peeled vs. non-peeled apples, but I like anything that makes things easier and less time consuming!
I tried to make the topping step faster (always in a hurry) by combining everything with a food chopper which resulted in a crumbly topping lacking in texture. Also, I didn't add all of the butter which resulted in a dry crumbly topping which would have been nicer had I not cut corners! 🙂 Do it how the recipe directs…why did I veer from my own recipe? Good question! Picture a more beautiful topping with whole oats, visible pieces of pecan, and clumps rather than crumbs and you will get the idea…
Thanks for sharing with us Michelle! Be sure to check out Michelle's blog: Design on a Dollar