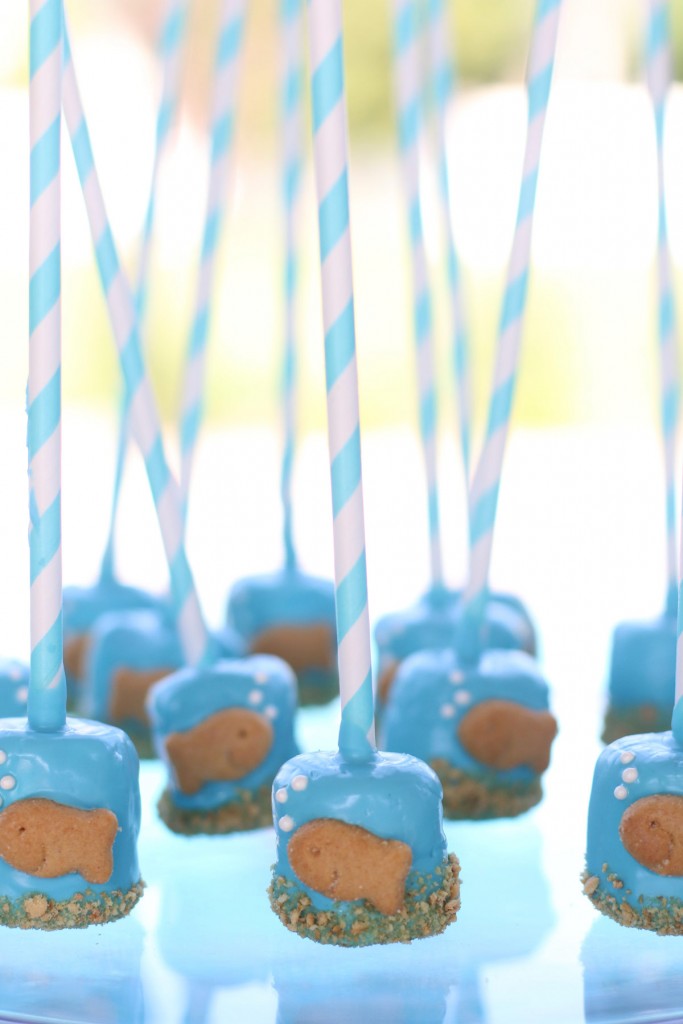 We love chocolate dipped marshmallows because they always add that extra touch of uniqueness to your party. We love these Under the Sea Chocolate Marshmallow Pops.
One part dessert and one part decor, these Under the Sea Chocolate Marshmallow Pops are bound to add a splash of cuteness to any beach themed party! They look adorable, yet they are still simple enough so you can avoid creating a terrible "pinterest fail." If you can melt chocolate made for melting and dip food in chocolate, they you are good to go. Perfect for kiddos with simple tastes, these treats will add fun diversity to your dessert bar while showing off some creativity. If you need a quick summer activity for the little ones, we recommend having them help with this easy dish. The most difficult step of the Under the Sea Chocolate Marshmallows is placing the non-pareils sprinkles and fish crackers and you might want to do that step yourself. Making the marshmallow pop, dipping it in chocolate and then dipping it again in crushed graham crackers is simple enough for your little helpers to do. This is also one treat that can be made in advance, just place in the refrigerator after your done with them and you're all set to go! Tip: Depending on the condensation of your refrigerator or humidity your home, your fish crackers might loose their crunch. If that happens, replace the fish cracker by carefully removing the cracker from the marshmallow, dipping the back of a fresh fish cracker in melted chocolate, sticking it on the marshmallow and letting it try. You can also try corn syrup or another sticky, edible adhesive.
Shop this post:
Under the Sea Chocolate Marshmallows
Ingredients
Blue chocolate buttons
Crushed graham crackers
Fish crackers
White non-pareils
Paper straws
Directions
Melt the chocolate on half power in one minute increments until melted. Stick one paper straw into one large marshmallow. Dip the marshmallow into the melted chocolate and dip the bottom into crushed graham crackers. Place one fish cracker onto each marshmallow and a couple white non-pareils for a bubble accent.