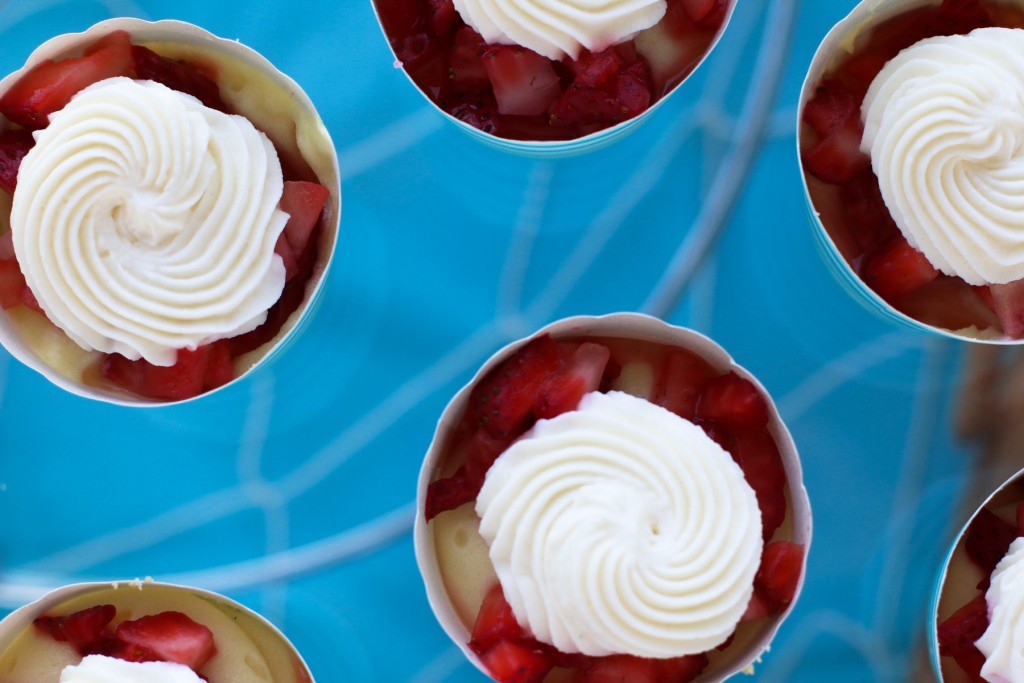 These no-bake strawberry cheesecake cups are simple, delicious, and a must try for your next party.
Okay, we'll admit it – just about anything you put in our baking cups will look like a million bucks! However, we love filling them with the classic favorite No-Bake Strawberry Cheesecake Cups. Not only are these sweet treats effortless, but you don't have to heat up the kitchen in the summer or you can reserve the oven for other baking treats like pina colada cupcakes.A must for every summer party host is to serve low-maintenance treats. You deserve to enjoy the party and venture off into the pool and hang out with your friends. You don't want to be that host that spends the entire party hanging around the cake, dishing out reasonably-sized pieces of cake or scooping out 30 servings of ice cream until you develop a case of carpal tunnel syndrome. No thanks! That's why we recommend single serving dishes – pre-measured and perfectly dished, this will calm your neurotic self down enough to enjoy your guests. Save the hassle-filled parties for the holidays and make your life as easy-breezy as a summer party is supposed to be with No-Bake Strawberry Cheesecake Cups!
Shop the post:
No-Bake Strawberry Shortcake Cups
Ingredients
8 ounces cream cheese, softened
1/3 cup sugar
1 cup sour cream
2 teaspoons pure vanilla extract
8 ounces prepared whipped topping, thawed
For the graham cracker crust combine 1 1/4 cups graham cracker crumbs with 1/4 cup sugar and 1/3 cup melted butter. Press the mixture into bottom of cups.
Directions
Beat the cream cheese until smooth with an electric mixer. Gradually beat in the sugar. Beat in the sour cream and vanilla until just combined. Fold in the whipped topping. Pour the mixture into the cups. Chill in the refrigerator for 4 hours. Add some fresh strawberries, hulled and diced. Top with whipped cream