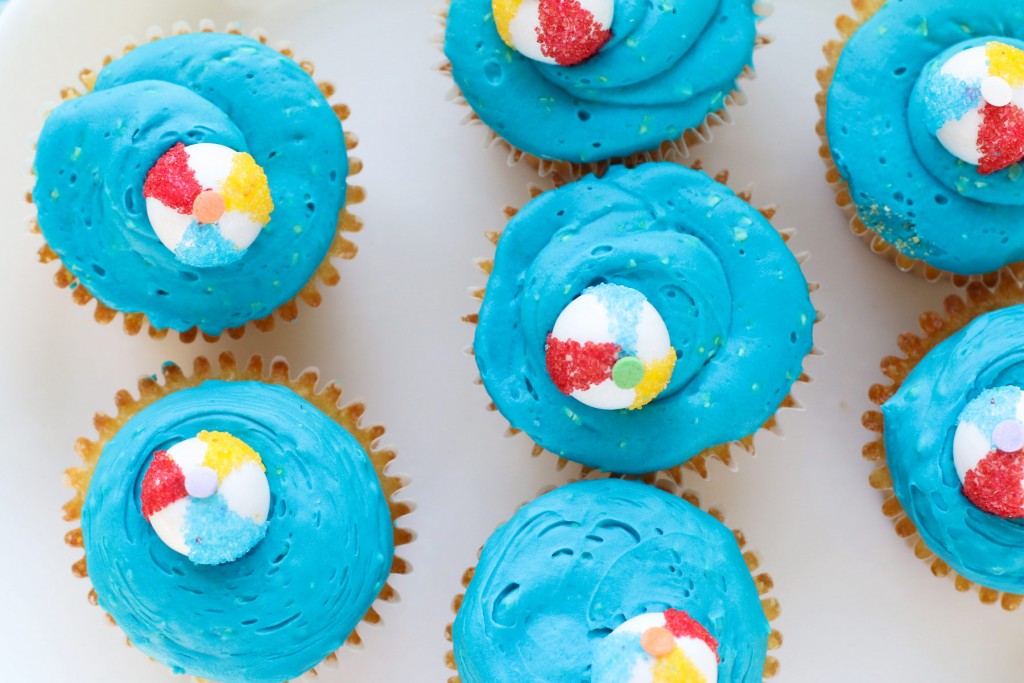 These adorable beach ball pina colada cupcakes are the perfect summer treat. Make DIY beach ball toppers from gumballs and try out our recipe for mouth-watering pina colada frosting.
We're trying to make the most of the warm weather and long days with a summer party! Nothing is more iconic of an endless summer than the ubiquitous beach ball. The classic white plastic ball paneled with vibrant colors inspired our adorable cupcake toppers. Matching the summer vibes of our beach ball cupcake toppers are some delicious pina colada cupcakes. The pineapple and coconut flavors conjure up images of a tropical beach vacation. Get your own party started and try out our Beach Ball Pina Colada Cupcakes!
How to Make DIY Gumballs:
Start by using white gumballs. Paint some light corn syrup in stripes to get the sanding sugar to stick. Use different colors of sanding sugar to create the beach ball look. We found that applying one color at a time to all the gumballs made the process a little faster.
We made our own cupcakes from scratch and added the secret ingredients of coconut cream instant pudding mix and pineapple oil. If you want to change up the recipe with cupcakes from the box, or other coconut and pineapple flavorings (or even pina colada flavoring), we won't tell! Just make sure the killer combo of coconut and pineapple are represented for a tropical taste!
Ingredients
2 cups flour
2 teaspoons baking poder
1 1/2 teaspoon salt
1 package coconut cream instant pudding mix
1 cup butter
2 cups sugar
4 eggs
1 1/2 teaspoon vanilla extract
1 tablespoon pina colada flavor
3/4 cup milk
1 cup boiling water
1 (16-ounce) tub of Cool Whip or fresh whipped cream
1 package coconut cream instant pudding mix
1 can crushed pineapple, drained
Shredded coconut
Directions
Preheat the oven to 350 degrees.
In a medium bowl mix flour, baking powder, salt, and coconut cream pudding mix. Set aside.
In a large bowl cream together the butter and sugar until light and fluffy.
Beat in the eggs one at a time and add vanilla extract and pineapple oil.
Mix in the flour mixture, alternating with the milk. Mix until smooth. Add boiling water and mix thoroughly.
Bake for 40 minutes and let cool before frosting.
Empty Cool Whip/whipped cream into a large bowl and add package of pudding and crushed pineapple. Mix well then stir in the coconut.