It seems like sometimes we are a little reluctant to try our favorite ethnic foods at home. The ingredients and instructions seem a bit overwhelming and takeout is just so easy! Surprisingly, a lot of Chinese recipes are easier than you'd expect. Enjoy Lettuce wraps in the comfort of your own home with this simple recipe.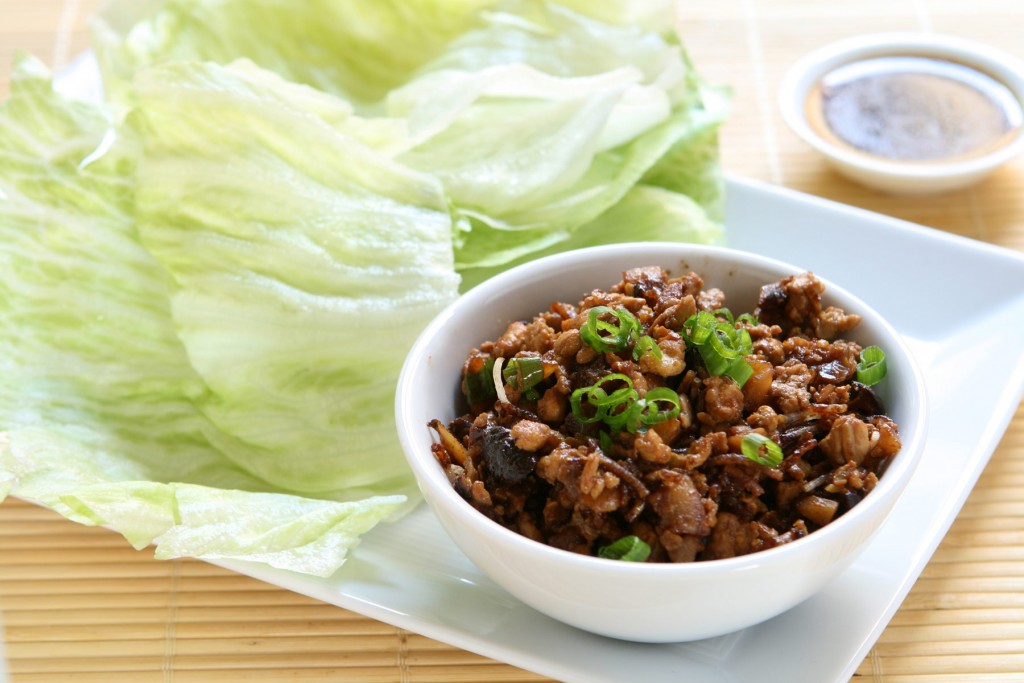 Lettuce Wraps
Not only is the contrast between the crunchy lettuce and savory chicken refreshing, but even your gluten-free friends can enjoy with delicious appetizer! The recipe we are using comes from one of our favorite chefs, Meiling Dawson. Watch out for her classes and sign up! 

For sauces, we recommend a small white bowl that's easy to dish out liberally.
Ingredients
1 lb ground chicken or ground pork
2 tablespoon canola oil
4 green onions, finely chopped
2 cloves fresh garlic, minced
1/2 c or 8 dry shitake mushrooms, soaked in hot water for 30 minutes (drained and squeeze the mushroom, then finally chop)
1 8oz can water chestnuts, chopped
3 T. soy sauce
3 T. Hoisin sauce
3 T. Sugar
fresh ground black pepper
1 head of lettuce, washed and cut into large pieces (about 8-12 pieces)
cooked puff rice noodles (optional)

Sauce

3. Tablespoons Hosin sauce
3 T. Rice Vinegar
1 T. sesame oil
1/2 teaspoon Sambal garlic chili sauce or 1/2 teaspoon chili oil
Directions
Cook the ground chicken or pork until done and no longer pink.
Remove from the skilled and set aside.
Heat the skilled until it's hot and add 2 tablespoons of canola oil to it. Add the chopped green onion, garlic, and mushroom to it and stir fry for about 3 minutes on medium heat. Place the cooked chicken, water chestnuts, soy sauce, sugar, and hoisin sauce into the green onion mixture. Stir fry and mix well together.
To serve, put some puff rice noodle on center of the lettuce and add the meat mixture on top.

Sauce

Mix all the ingredients together in a small bowl and serve with lettuce wraps