Making edible neighbor gifts has been a favorite of ours for many years. Getting friends together to whip up some delicious treats, packaging them up in beautiful boxes or bags, and then taking them door to door to let those around you know that you have been thinking about them—- it's a perfect way to celebrate Christmas.
Chocolate Bark has been one of my favorites to give because they are easy, delicious and everyone loves them! We have gathered a few of our favorites from the past just for you. For each recipe listed you really just need basic ingredients: chocolate and toppings. From there you can have some fun and experiment with flavors and types of chocolates.
#1-Peppermint Bark
This is a Christmas classic. The mix of two chocolates with the peppermint screams Christmas time, and truthfully I wouldn't mind getting multiples of this gift. 🙂 Sometimes I will even add it to hot chocolate milk to make it extra creamy and pepperminty (try it!!). This is also a great way to use any leftover chocolate- pour it in your cookie sheet and add some toppings and you have a treat!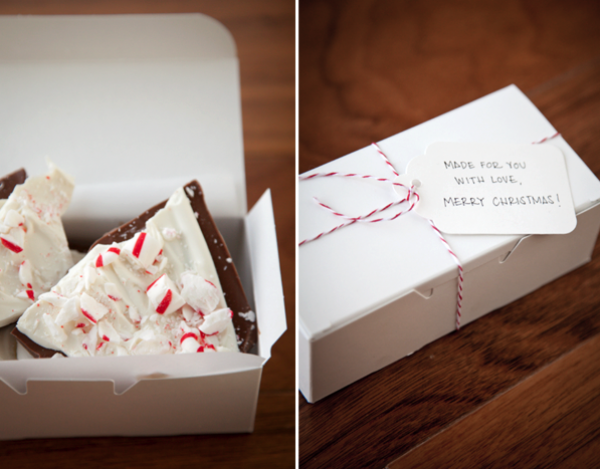 We have this great tutorial from the darling girls at Boxwood Clippings This makes the classic peppermint bark and no one will turn this down.
Just remember as you are making your bark– DON'T LET YOUR BOTTOM LAYER OF CHOCOLATE GET TOO HARD! I have made this mistake so many times, mostly because I get busy doing other things but if your bottom layer hardens all the way soften it up with blow dryer or just a sec in the oven. You want it to be nearly dry but not to dry that your top layer won't adhere. If that happens, when you go to break your chocolate into pieces the white will separate from the dark and probably leave you upset and left with a pan to eat.
This year we made a new version "Bark Bark". If you have seen the popular birch tree bark cakes made by The Cake Blog, and this one from Cake by Courtney: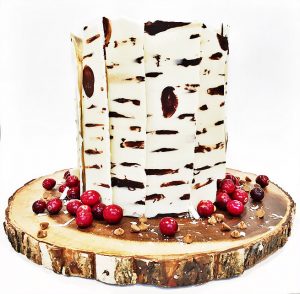 We just had to try it! But we didn't have need for a cake or really didn't want to eat the whole cake by ourselves, so we took her technique and made it into Bark Bark, (hehe, get it)
We followed Courtney's tutorial for making her bark. If I were to go back I would probably use these dark apeels instead of the milk- just to add some extra contrast, but either will work. Once you paint on the brown, pour over the white chocolate or if you are wanting extra peppermint flavor use these mint flavored ones, do it a bit thicker layer than Courtney does, cause you want some extra white on your bark, since we aren't using it to line a cake it will be okay to do thicker.
Make sure that your white chocolate isn't too hot as you pour it over the dark-let it sit for several minutes so that it doesn't start to melt the ones you painted on. Once your white layer is almost set up, pour over the dark chocolate and then sprinkle on your crushed peppermint. I tend to sprinkle more peppermint because I love the texture of a lot but do as little or as lot as you like, then press it in before it cools. Once it cools you will not be able to get it to adhere, so move quickly.
Once your bark has completely hardened you can break it up. I cut it into strips, then break up the strips into pieces. Do it however you like, cutting it first will give you a little bit more of a uniformed shape. Take your pieces, place in a box or bag and hand out to your friends. They will love your play on words with some bark bark, or I am sure there are some clever sayings out there too! Keep them stored in a cool, but not fridge temperature, place.
#2 Spicy Chipotle Bark
This version of bark from Foodie Crush, is a great mix up of flavors and colors. For Christmas this red chocolate would be a fun change and also will let your recipient know that they are not just a normal bark.
#3-Fruit/Nut/Crisp Rice Bark
This is a great one, especially when you have lots of nuts and dried fruit hanging out in your pantry. There's not rhyme or reason, just make sure the flavors mesh well together, add a little sea salt for some flavor contrast and you have yourself a delicious chocolate treat.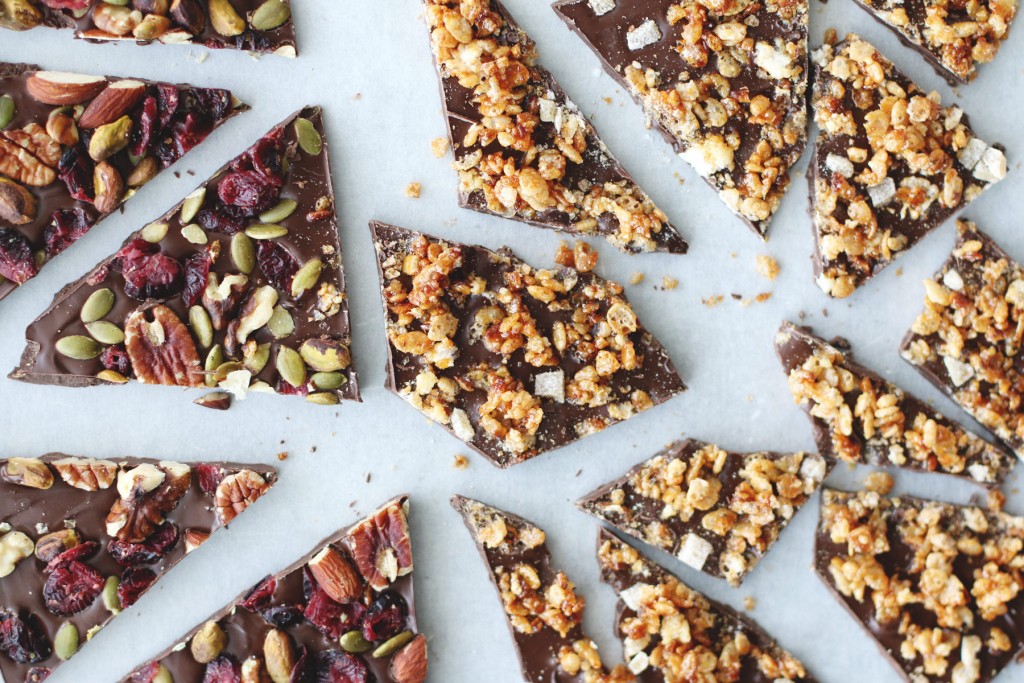 Remember packaging is just as important! Take a fun simple box, stack it full of treats, tie a bow and note to it and you are set!
If you are needing some box ideas–check these out--we quite like them!
HAVE FUN. If you make some bark this Christmas season, snap a pic and tag us (@orsongygi #gygieats) we LOVE to see them.