Want to make a romantic dinner for your significant other on Valentine's Day but money running a little low? No worries. We have the perfect solution. Spatchcock chicken is a dinner on a budget that is romantic, mouth-watering, and will cost less than $20.00.
What you'll need for your dinner on a budget
1 whole chicken ($6.00-8.00)
5-8 whole tomatoes ($3.00)
8 shallots ($3.00)
2 bunches of fresh basil ($3.00)
4 cloves of garlic ($1.00)
seasoning of your choice (to taste)
Serving size depends on the size of your chicken but can range from 3-5 servings.
Start by spatchcocking your chicken to allow more flavor and seasonings to reach your chicken. Once your chicken is spatchcocked, season it how you'd like. We used Chef Todd's Gourmet Pit Seasoning, however, if you're on a budget, use what you already have in your kitchen. A little salt and pepper can really spice up a meal.
Preheat your oven to 500 degrees. Place your seasoned, spatchcocked chicken in an oven safe pan. Poke a hole in each of the tomatoes and place around the chicken. The whole in the tomatoes allows for the juices and flavors to season the chicken as it cooks. Remove the outer skin from the shallots and scatter them around the chicken. Lightly smash the garlic cloves with the flat edge of your knife, remove the outer skin, and place them around the chicken.
Cook for 45 minutes, or until the inside of the chicken has reached a safe temperature. You can check appropriate internal meat temperatures here.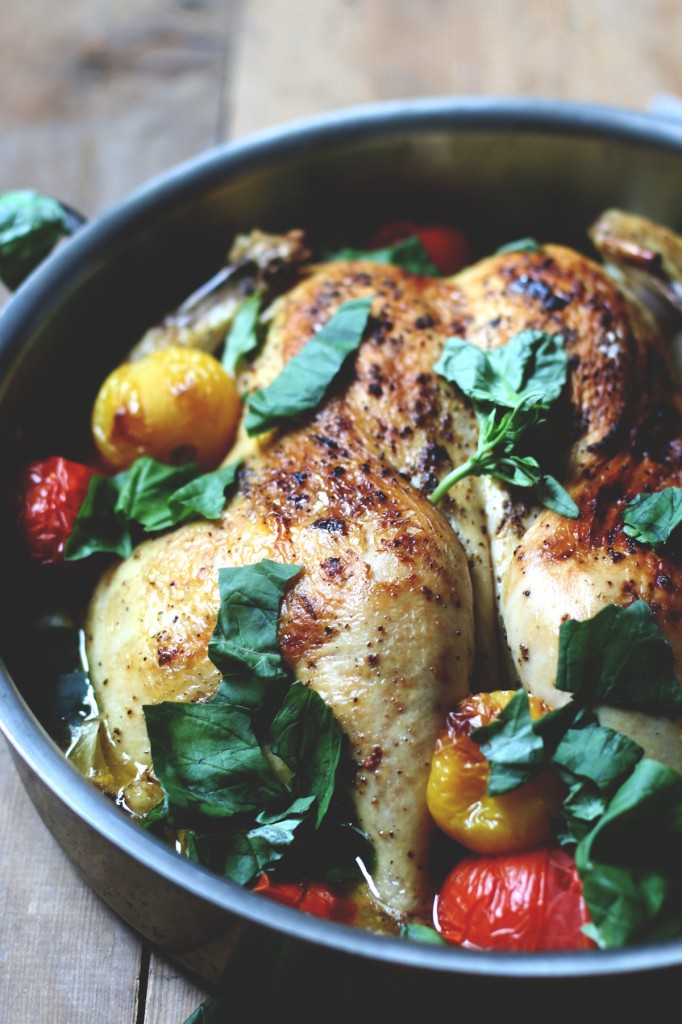 Tear up the fresh basil and sprinkle over the cooked chicken. Serve with a salad or starch. To keep on your budget use what you already have in your kitchen. Rice is a very cheap starch that pairs well with a spatchcocked chicken, and is easy to flavor with a little garlic.
Gygi's Drink Recommendation
Spatchcocked chickens pair well with a crisp dry white wine. We would suggest a Pinot Grigio, which offsets the acidity of the tomatoes.
Enjoy!