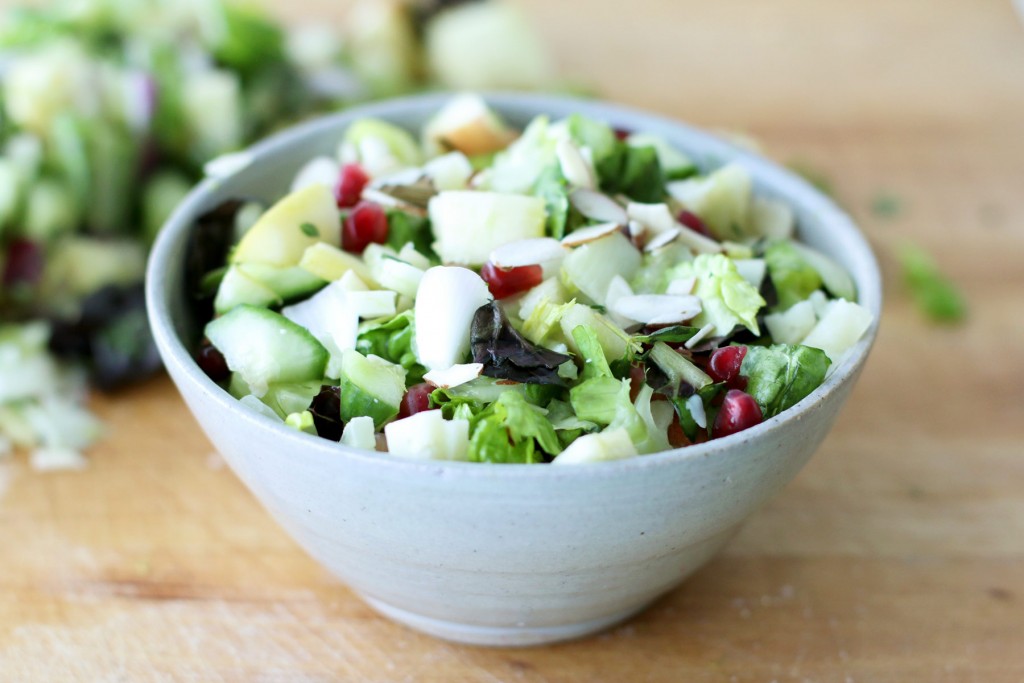 Experiencing perfectly proportioned bites of different flavors and textures makes chopped salads so irresistible. Our Apple Fennel Chopped Salad is a delightful recipe for moving into colder months with less variety of produce, although it could be enjoy year round. 
I was inspired to share a chopped salad recipe after going to a restaurant that makes them. A twenty-something year old was putting mine together and he started to chop the salad with a mezzaluna. With one hand on the chopping block and the other wielding the mezzaluna like an axe toward the chopping block, my eyes lit up with fear. I thought I was going to witness an accidental amputation. The twenty-something year old turned to me and said, "Don't worry, I do this all the time." Well, he shouldn't. Please rock your mezzaluna back and forth on the cutting board. If you want to chop, chop correctly with a chef's knife. Make your chopped salads with safety!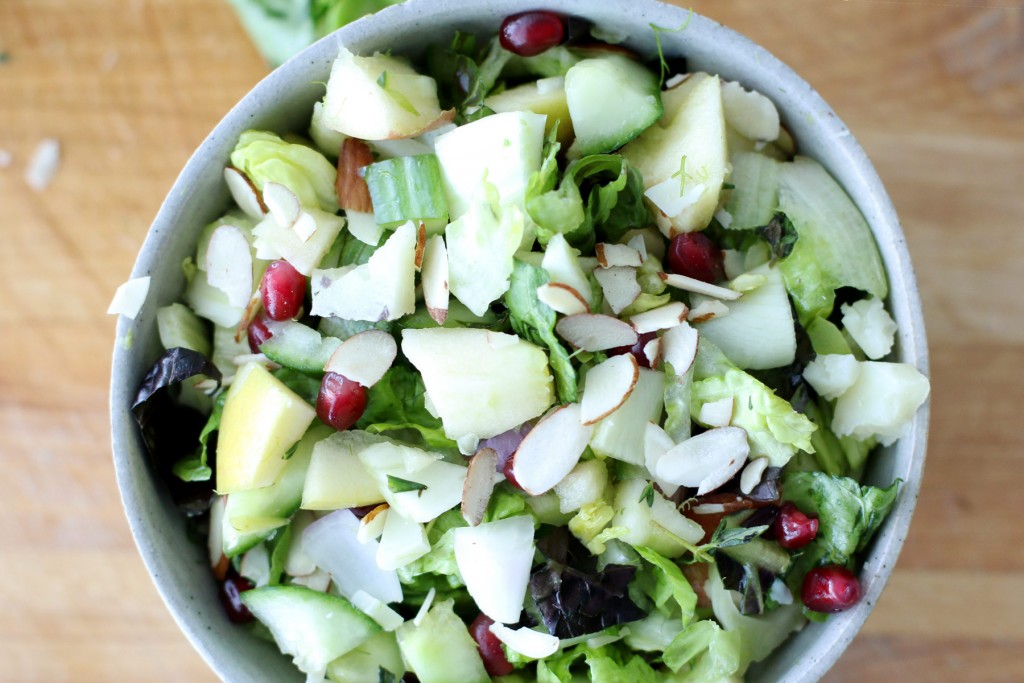 Apple Fennel Chopped Salad
Ingredients
1 medium cucumber
Table salt
1 medium fennel bulb, halved lengthwise, cored, and cut into 1/4-inch dice (about 1 1/2 cups)
2 Apples, cored
1/2 small red onion
1/4 cup fresh thyme leaves
1 small romaine heart
1/2 cup almonds, slivered
1/2 cup pomegranate seeds
Ground black pepper
4 ounces manchengo

Dressing

3 tablespoons extra-virgin olive oil
3 tablespoons white wine vinegar
1/2 lemon, juice
Directions
Combine cucumber and 1/2 teaspoon salt in colander set over bowl and let stand 15 minutes.
On a large cutting board, add cucumber, fennel, apples, onion, and thyme. Use a mezzaluna to cut into smaller pieces.
Whisk oil, vinegar, and lemon together in large bowl. Add cut produce, toss, and let it sit for about 5 minutes.
Use the mezzaluna to cut romaine and cheese. Toss with the other salad. Top with almonds and pomegranate seeds and seed.