One of our favorite things to do, especially during the Holidays, is bake some delicious treats up and pass them out to our customers visiting that day. The store smells good, people love to have a little something to snack on, and we get to try out new recipes and share our favorites with you. This past weekend a snow storm hit Utah, we knew that it would still be a busy day for everyone to come in, so we wanted to give them something to warm them up, and thank them for coming to see us. So we whipped up some of these Chocolate Gingerbread cookies a few days before, made some delicious hot chocolate and had ourselves a little party. Plus we had this cute little helper, so how could we not have some extra fun.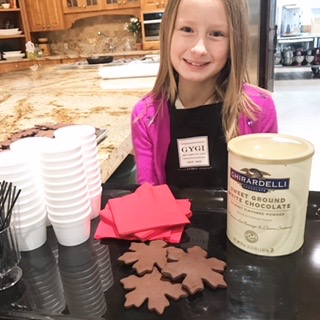 Many of you asked for the recipe for the cookies, so we thought we would share.  These cookies have a great balance of all the spices you expect to find in gingerbread, but nothing too overpowering-most kids enjoyed them!  The combination of chocolate and gingerbread makes you wonder why we haven't combined them more often. Feel free to ice these with your favorite frosting, or leave them plain- they are delicious either way.
We hope you enjoy these, they are as easy as they are delicious.
Gingerbread Chocolate Cookies
Ingredients
3 1/4 cups all-purpose flour, also some for dusting
1/3 cup unsweetened cocoa powder (we use this one-it makes all the difference!)
1 tablespoon ground ginger
2 teaspoons ground cinnamon
1 teaspoon ground cloves
1 tablespoon baking soda
1/2 teaspoon baking powder
1 teaspoon salt
1 egg
5 tablespoons unsalted butter, softened
1/3 cup solid vegetable shortening
1/2 cup dark brown sugar
1/2 cup molasses
2 ounces bittersweet chocolate, melted and cooled
Directions
Combine your all your dry ingredients (except for the brown sugar) in a bowl and whisk together. Set aside.
Place your softened butter and shortening in your mixer with the paddle attachment on. Mix on medium speed until it is smooth, about 30 seconds. Add in the brown sugar and mix until fluffy, about 2 minutes.
Add the egg to the batter and beat until just incorporated. Mix in the molasses and then the cooled bittersweet chocolate. Add the flour mixture in 1/2 cup at a time, beating between each addition. Divide the dough into 3 equal parts. Form into a disk, then wrap each one in plastic wrap and refrigerate the cookie dough until chilled, about 2 hours.
Preheat the oven to 350 degrees. Line 2 cookie sheets with parchment. Lightly flour your countertop and roll out one disk of dough until 1/4 inch thick. Using a 4-5 inch cookie cutter, cut the dough into shapes and place on cookies sheet. Continue until all the dough has been used.
Bake the cookies for about 7-9 minutes, rotating the pans halfway through baking until the tops are dry. Let the cookies cool on the cookies sheet for 5 minutes before placing them on a cooling rack to cool.
These will produce a softish cookie, which I normally love. But we wanted something that would be more like a gingersnap- and so people could dip it in their hot chocolate. So we let them sit out overnight uncovered. If you like them softer, keep them covered- if you are looking for a little crispier cookie, bake for sure to the 9 minutes and allow them to sit out uncovered overnight.
enjoy!
recipe adapted from here
Merry Christmas