Fall weather and produce means baking season is here. What better way to kick it off than with a homemade pie? We added a little extra to an American classic with our Cheddar and Thyme Apple Pie.

When I mentioned this pie to my cousin, he said "gross." A lot of people aren't comfortable mixing savory and sweet. However, we might be a little more used to it than we realize. Apple slices and bite-sized servings of cheddar cheese are commonly found in lunch bags, snacks, and even on cheese boards. You've probably mixed these flavors more times than you realize because they complement each other so well. Add a little brown butter and thyme and you've got yourself a truly delicious treat.
If this pie doesn't seem completely polished, it's because we didn't do our pie crust and the lattice at the same time. We par baked the crust before hand to make it less soggy. It might take away from the pie aesthetically, but I think it makes it look a little rustic.
A couple tips on crust.
1. Keep your fat cold. If you feel like you've overworked your dough and your butter melted, place your crust back in the fridge until you feel it's firm and ready to bake.
2. Roll out in between parchment sheets so you don't have to add more and more flour to the dough. Also, make sure your rolling out on something mobile (pastry mat, parchment paper, etc.) so you can easily move the crust into the pie dish. Or you can always roll the pie crust onto the rolling pin and roll back out into the pie dish.
3. Add foil or pie crust shields so you can get even browning on your pie.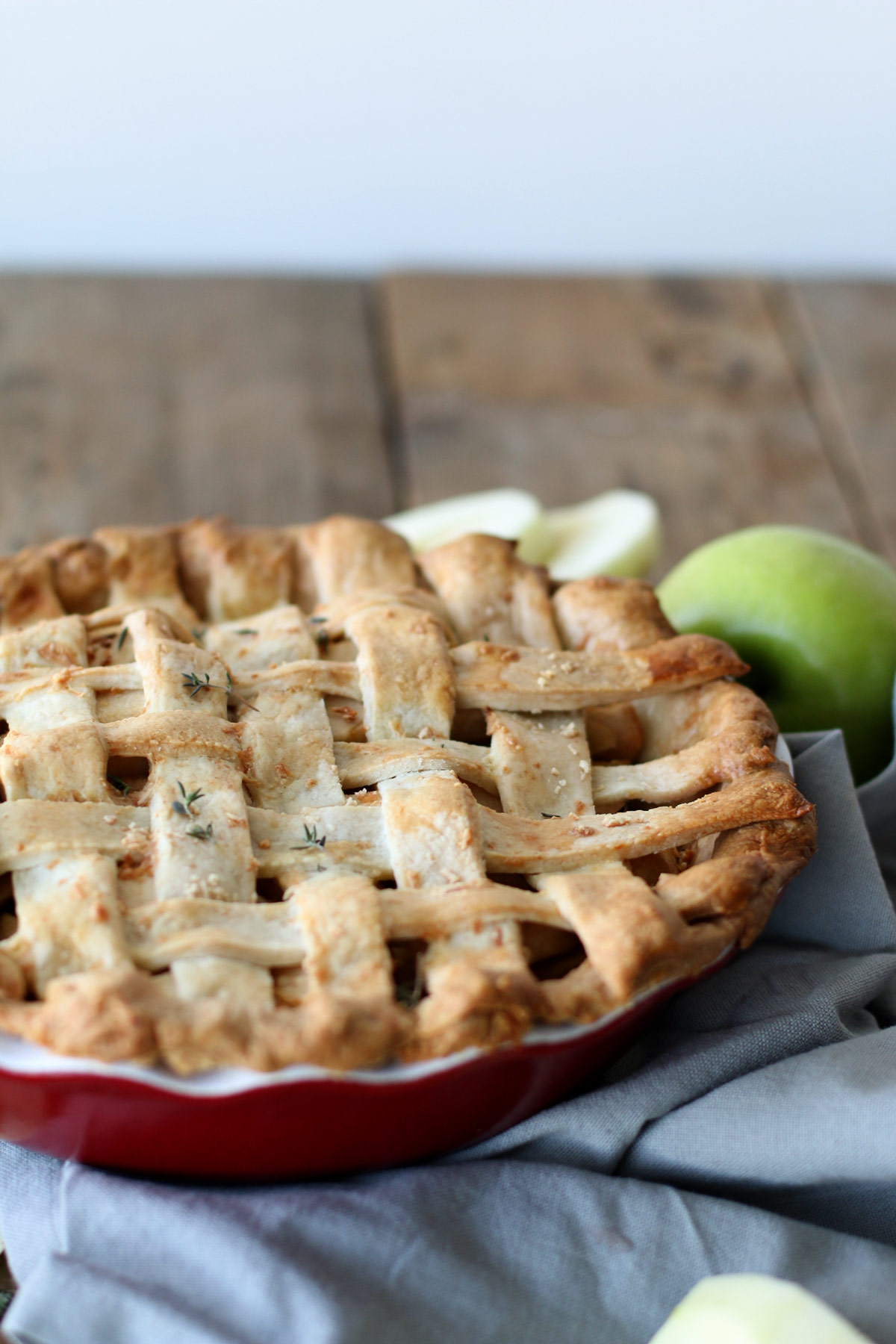 Cheddar and Thyme Apple Pie
Ingredients
Pie Crust

2 1/2 cups AP flour
1 tablespoon sugar
1 teaspoon salt
1 cup cold unsalted butter, cut into cubes
1/2 cup grated cheddar
Small glass ice water
1 egg, beaten for egg wash

Filling

3 pounds apples
1/3 cup granulated sugar
3 tablespoons dark brown sugar
4 tablespoons unsalted butter
2 tablespoons cornstarch
2 tablespoons water
6 thyme branches
Directions
In a food processor blend together flour, sugar, and salt. Add cold butter and cheddar. Pulse until small peas form. Add about 6 tablespoons of ice water and blend until dough forms. Add more water a tablespoon at a time if the dough is too dry.
Divide dough in half. Wrap the halves tightly in plastic wrap. Chill in the fridge for at least 30 minutes.
Peel and core apples. Place in a large mixing bowl, add sugars and toss. Cover at let sit for about an hour.
Preheat the oven to 400 F. Set one ball of dough onto a parchment paper or a floured surface. Put another sheet of parchment paper on top of the dough and roll out to make the crust.
Invert the rolled out dough into a buttered pie dish. Fork the bottom of the crust.
Place in fridge for about 30 minutes.
Cover crust in parchment or foil and fill bottom with pie weights. Bake for 10 minutes.
Uncover crust and bake for another 5-10 minutes or until the bottom looks dry.
Meanwhile, melt 4 tablespoons of butter in a pot until it turns a nut brown color. Turn off heat and pour apples into the pot. Stir until all the apples are coated.
Add the thyme leaves and stir.
Dissolve the cornstarch in 2 tablespoons of water. Coat the apples.
Pour mixture into a cooled pie crust.
Roll out dough and cut into strips. Weave lattice, cut off extra and try blending onto the par baked crust. It will have a floating rustic look, but try to blend it so it doesn't separate up too much.
Beat 1 egg and 1 tablespoon of water together. Brush onto crust.
Bake on 350 for 45 minutes. Check to see if the outside is browning faster than the middle. If so, use a pie crust shield and continue to make for another 10-20 minutes until golden brown.
Let cool before serving.