This French Apple Pie is more of cake, but we won't tell if you don't! The apples taste tart and juicy in the light custard cake. As the outside hardens and crystalizes, the pie forms it's own crust when baked.
I always choose pie over cake, but that's just me. I've grown up around dry, store bought, chemical tasting cake. Sadly, I always assume that that's what cake is going to taste like. This french apple pie is more of a cake, but has the best of both worlds. Moist, fluffy, and it's still able to spotlight the fruit.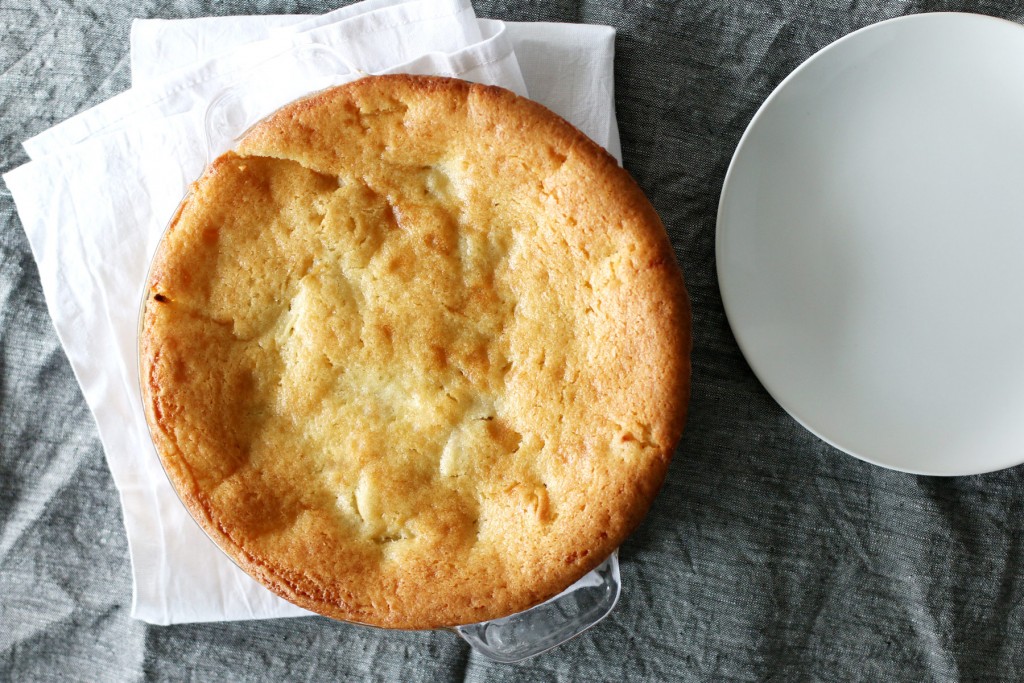 Ingredients
5-6 Granny Smith apples
(peeled, cored, cut into wedges, and thinly sliced)
1 ounce rum
juice from 1/2 a lemon
1 cup + 2 tablespoons flour
2 teaspoons baking powder
1/2 teaspoon salt
1 large egg + 2 large egg yolks
1 cup vegetable oil
1 cup whole milk
1 teaspoon pure vanilla extract
Directions
Preheat the oven to 350 degrees. Butter and flour a pie pan and place the pie pan on a foil-lined baking sheet.
In a large saute pan, melt a couple tablespoons of butter over medium heat and add apple slices. Cook, stirring often, until apples are soft and pliable. Turn off heat and pour lemon juice and rum over the slices. Stir and let them cool.
In a separate bowl, whisk 1 cup flour, 1 cup sugar, baking powder, and salt. Set aside.
In a large bowl lightly beat 1 egg, oil, milk, and vanilla. Gradually add the dry ingredients to the egg mixture. Mix well. Remove 1 cup of batter and set aside.
Whisk in 2 egg yolks to the large bowl of batter. Using a slotted spoon remove apples from skillet and fold into batter. Pour into pie pan. Whisk 2 tablespoons of flour to the 1 cup of batter mixture that was placed aside. Pour over the pie mixture in the pan and spread evenly towards all the edges.
Bake for 30 minutes, rotate baking pan 180 degrees and bake for an additional 30-45 minutes. Pieis done when a toothpick comes out clean.
Allow to cool to room temperature before serving. Refrigerate leftovers.