We are excited to have Laura Muir, from Fresh and Happy, guest post this week on the Gygi blog. She put together a crafty and creative summer carnival party that was too fun not to share. Get all of her ideas and designs right here.
I am so thrilled to share my outdoor carnival party with you today! I have always been a sucker for a good carnival. I have memories of planning little carnival parties for my birthday when I was a little girl. I guess that always stuck with me! Thank goodness for Orson Gygi and all their adorable party merchandise and concessions. They sure do make throwing a carnival a cinch!
My daughter just turned 7 and we wanted to throw her a party to remember! She is such a social butterfly. She wanted to invite everyone in her class, neighborhood, and family. Can't leave anyone out can we? We were having a hard time finding the right venue for such a large crowd, and decided that a back yard carnival was the safest, most fun option.
I decided to go with a more modern color scheme, rather than the primary colors that you so often see at a carnival party. It was so fresh and bright! Orson Gygi has so many lovely colorful options for just about everything. I loved cruising the isles and picking out all of the pink, turquoise, green and orange I could find.
I am going to give you a little tour of the delicious concessions we served at the carnival with the help of Orson Gygi!
Introducing the most important concession of all… The carnival cupcakes! No party seems complete without the dessert! I served up some of my moms famous chocolate cupcakes and topped them off with some heavenly buttercream frosting. I love how the turquoise cupcake liners really make the cupcakes pop!
Do you remember dying for those delectable frosted circus animal cookies when you were a kid? I still think they are so yummy! Last time I threw a carnival party I filled a glass jar with them. This time around I was inspired by Sweetapolita's jumbo frosted animal cookies from her new cookbook, and just had to include them in the festivities! They were so buttery and addicting! I could have eaten this entire tray. Thank goodness the kids went crazy over them and gobbled them right up!
Orson Gygi has this HUGE wall filled with every cookie cutter shape imaginable. My son and I were going gaga over all the possibilities. I am now sworn to the promise of dinosaur and robot cookies for his next party…
I found a variety of circus animals, a star, and an ice cream cone cookie cutter that were perfectly fitting for a batch of these glorious cookies. They turned out even more delicious than I had hoped! I'll share the recipe later this week with Orson Gygi, so keep your eyes peeled!
One cannot simply throw a carnival party without cotton candy (my favorite part). I am always looking for an excuse get my fingers all sticky with some cotton candy! I never grew out of that I guess. I would die to have a little pink cotton candy cart to pull out for family barbecues and get togethers!
You wouldn't believe how much fun it is to whip up some fresh cotton candy and roll it up on a cone! When the party was over we, (the adult kids), took turns making the biggest cotton candy balls we could. It was delicious!
I guess carnivals can't be all about the sweets. I had my dear old dad grilling up some hot dogs and served them with these cute fruit and veggie cups.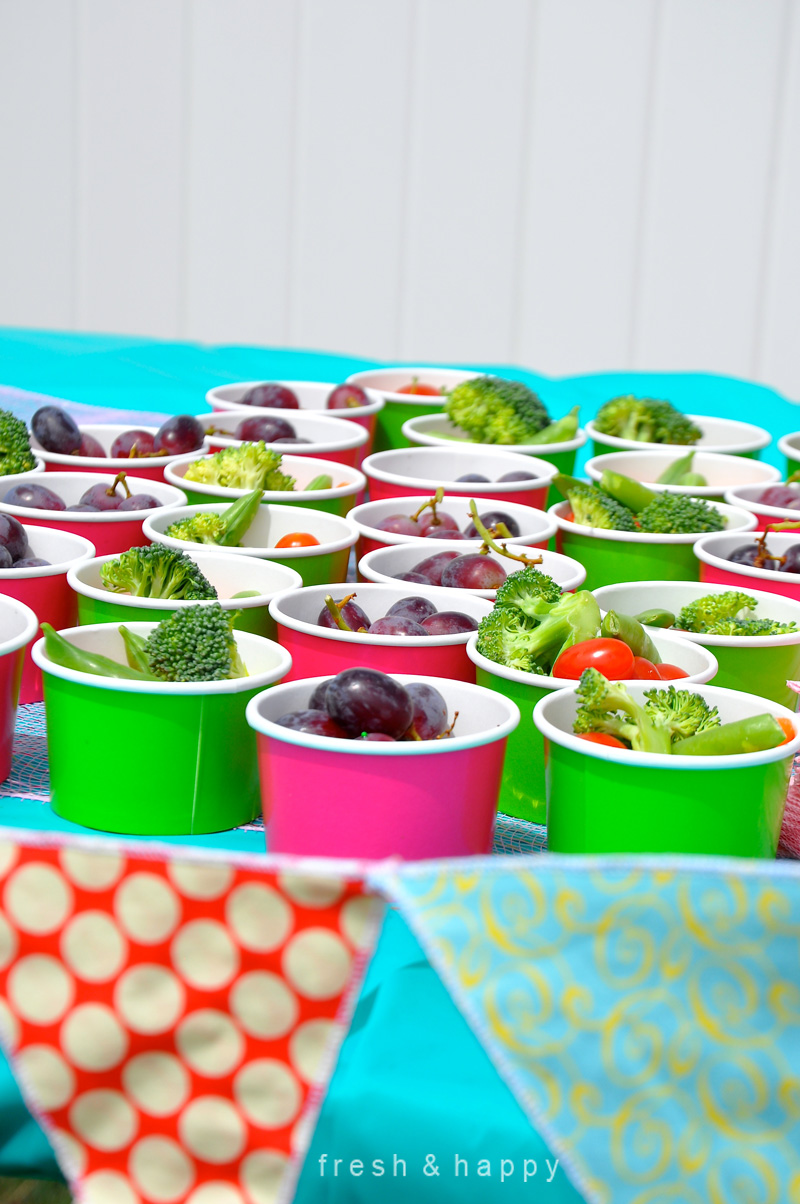 Ok, back to the sweets I say! My husband spoiled us all with three trays of freshly made gelato. It really hit the spot on that warm sunny day outside. I used the same cups to serve up the gelato. Yum!
Are you overloaded by all the cuteness yet? No? More you say? Well, ok then! I am forced to tell you about my favorite part of the party table… I made these taffy party favor jars to send home with the kids. They were calling them "treasure jars". They were so excited that they got to pick which animal they wanted.
I had such a fabulous time pulling together this party with the help of my friends at Orson Gygi. It has been such a privilege to share the fun with you! I hope you found some summer party inspiration for your gatherings this season. Thanks for partying with me friends!