It's truly a perfect combo a flakey delicious crust, tart yet sweet cherries, and a subtle nutty almond flavor marrying the flavors and textures in this free form pie- making this a perfect summer dessert.
With an abundance of cherries floating around our place we have been on high alert for any way to sneak a few cherries in to each meal. But dessert always seems to be the best place to enjoy these perfect summertime fruits. After we fell in love with the peach galette Kelly (from Salt n Copper) shared with us at the Gala this year, we knew we had to recreate this recipe with other fruits. The addition to the marzipan was life changing, and honestly I'm looking for more ways to incorporate marzipan in my life.
We fell in love with the easiness and beauty found with the galette. There's something freeing and less stressful knowing that this dessert can be formed by hand, baked on a cookie sheet, and filled with delicious fruit (sometimes sneaking in more than what the recipe calls for-cause that's what we have on hand). My older kids love finding a way to make it into the kitchen when this is being made, and I love passing on that opportunity to them to play with the dough and make this on their own.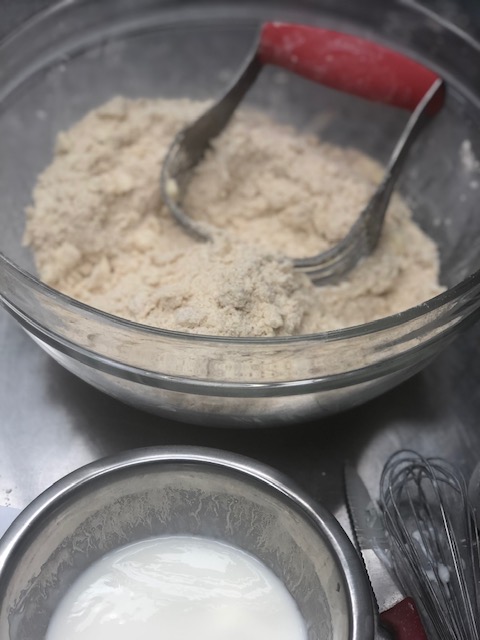 A few tips (really a few tools) that will make this dessert so much easier:
Cherry Pitter– We are usually ones that recommend kitchen tools that have multiple functions (or something that you find yourself using daily)- the cherry pitter is one of those tools that yes- It may not have as many functions but its ONE function is life changing. After getting so frustrated and trying to line up the hand held pitter we found this counter top one to be accurate, quick, and the best thing that has ever happened to cherries. If you have ever needed to pit a larger amount of cherries you will fill our frustration and jump on this bandwagon as quickly as we did. If you are only doing a bag our two each year and looking for a smaller hand held option- we recommend this one as well- it works great for olives too!
Pastry Blender– When working with butter based doughs-our goal is to keep that butter as chilled as possible, by over mixing with a spoon or even your hands- the butter can become too soft and we want to see those butter pieces in your dough. Using a pastry blender will help to not over mix that dough and give you perfect pie crusts every time!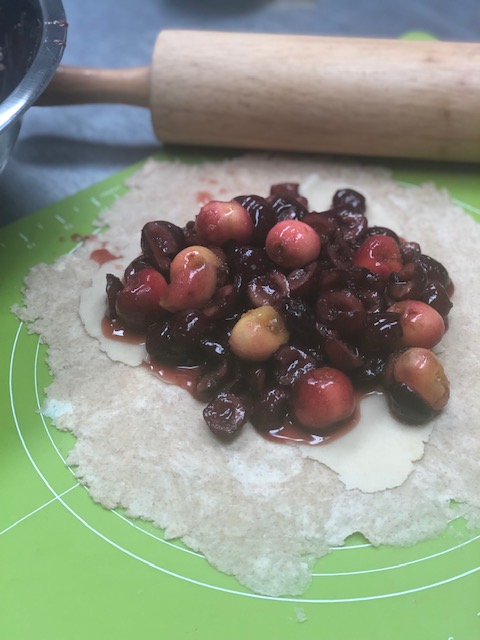 Pastry Mat- If you have ever spent the time and energy to roll out that dough perfectly-only for it to crack and fold while moving it to your baking dish or pie tin- this is going to be your new best friend. The silicone mat helps to keep things from sticking but also its lightweight to help move your delicate pastries around.
Pre-made Marzipan- You can make your own here, but this recipe uses such a small amount- and the flavor we got from this premade one was perfect- so save sometime and just buy this one- what it adds to the flavor of this galette makes it 100% not worth skipping out on.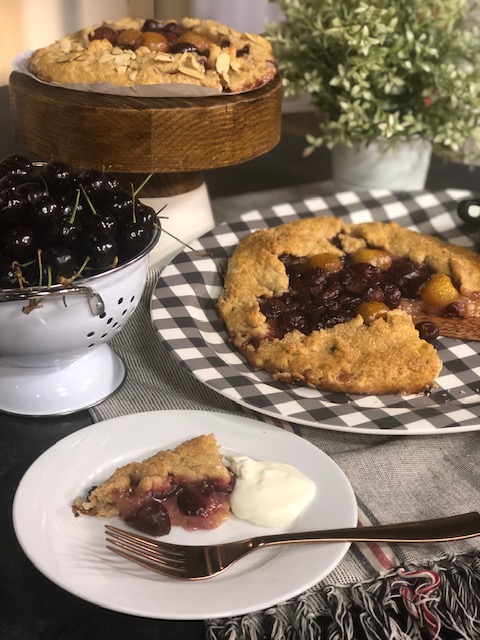 Most of all- have fun with it! Try not to touch the dough too much- that butter likes to stay cool and chilled- so don't over work the dough. Don't stress about the shape of the dough-remember this is a free form dessert- embrace the uniqueness! And PROMISE US RIGHT NOW that you will try the buttermilk whipping cream! They tangy yet rich flavor is the perfect ending for this dessert-pinky promise you will try it?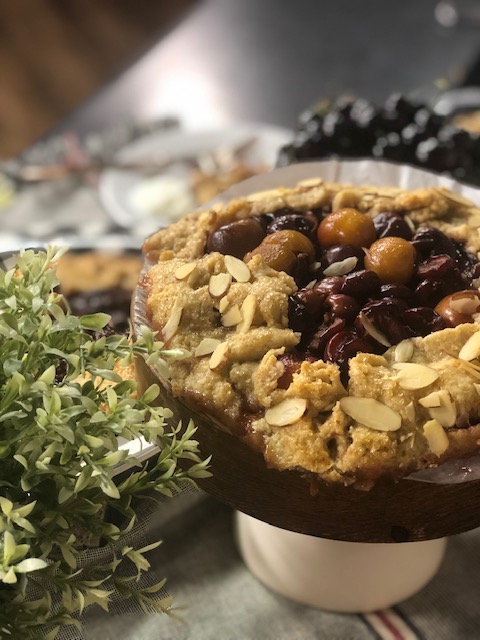 Print Recipe
Cherry Almond Galette
The perfect combination of cherries, almonds, and buttermilk makes this free form pie a summertime favorite.
Ingredients
For the Crust:
3/4 cup unbleached all purpose flour
1/2 cup spelt flour
1 Tbsp. granulated sugar
1/2 tsp. kosher salt
4 oz. cold unsalted butter, cut in cubes
2 tsp. lemon juice
2 Tbsp. greek yogurt
1/2 tsp. almond emulsion
3 tbsp. ice cold water
For the filling:
3 cups pitted cherries, we love a variety of color here so used a combo of black and rainier cherries
2 tsp. orange juice
1 Tbsp. unbleached all purpose flour
1/4 tsp. fresh grated nutmeg
1/3 cup turbinado sugar
3 oz . Marzipan
Topping:
1 egg
turbinado sugar
1 cup toasted almonds, chopped
Buttermilk Whipping Cream
¾ cup whole buttermilk
1½ cups heavy whipping cream
½ cup powdered sugar (or more to taste)
a pinch or two of cream of tartar
Instructions
1

In a medium sized bowl, combine both flours, sugar, and salt- and stir to combine. Using a pastry blender, carefully mix the butter into the flour mixture- working it until the dough comes out to be small pea sized pieces (it will look a little like sand). In a separate bowl, combine the lemon juice, greek yogurt, almond emulsion and water- stir until mixed together. Add it to the flour/butter mixture-using a wooden spoon (we are trying to keep the butter cool, so try not to over work it). Once its all combined- wrap in plastic wrap and leave it in fridge for at least one hour- the day before is great too!

2

After dough has chilled preheat the oven to 400'. Make cherry filing- using a cherry pitter- get the pits out of all the cherries. Next, halve about 3/4 of the cherries, leaving some whole (I left the Rainier cherries whole and halved the black cherries). Place them all in a mixing bowl adding salt, orange juice, flour, nutmeg and turbinado sugar and stir until combined.

3

Using a pastry mat, lightly flour surface area and roll the galette dough into about a 12" circle. keep in mind this is a free form so embrace the non-exact circle you may get. Carefully remove from pastry mat and place on a parchment lined cookie sheet. Using the same pasty mat roll out marzipan into a thin circle, getting about an 9-10 inch circle, place this on the center of the rolled out dough, making sure to leave about 2" around. Place the cherry filing on top of the marzipan (pile it high!) and then fold the outside of the dough towards the center, making sure to close in any cracks and folds. Try not to overlap the dough too much, we want it in a thin layer all around. (if dough starts to get sticky- place in the fridge for a bit until you can handle it again.) Continue this process until you have folded all the sides up around the cherry filling, leaving the center exposed.

4

With a fork mix the egg and then brush the edges with an egg wash. Place almond slices around and then sprinkle with turbinado sugar. Bake the galette, on the middle rack for 45 minutes, or until the edges are brown. Leave on pan for about 5-10 minutes then carefully lift parchment and place on a wire rack to cool for another 5 minutes.

5

Make buttermilk whipping cream:

6

Combine all of the ingredients in a large bowl and whisk on high speed with an electric mixer until cream is thick and forms soft peaks. Use a pinch or two of cream of tartar to help stabilize.

7

Serve galette in wedges topped with Buttermilk Whipping Cream.
Notes
You can substitute the spelt flour here for all of it all-purpose but the spelt does offer a heartier, sweet flavor that you won't achieve with just all-purpose flour.