The Lemon Crostata sounds fancy, but it's just the italian cousin of a lemon pie. This winning combination of soft and flaky textures is both sweet and tart. As much as we love our staples, sometimes it's good to mix it up at the dessert table!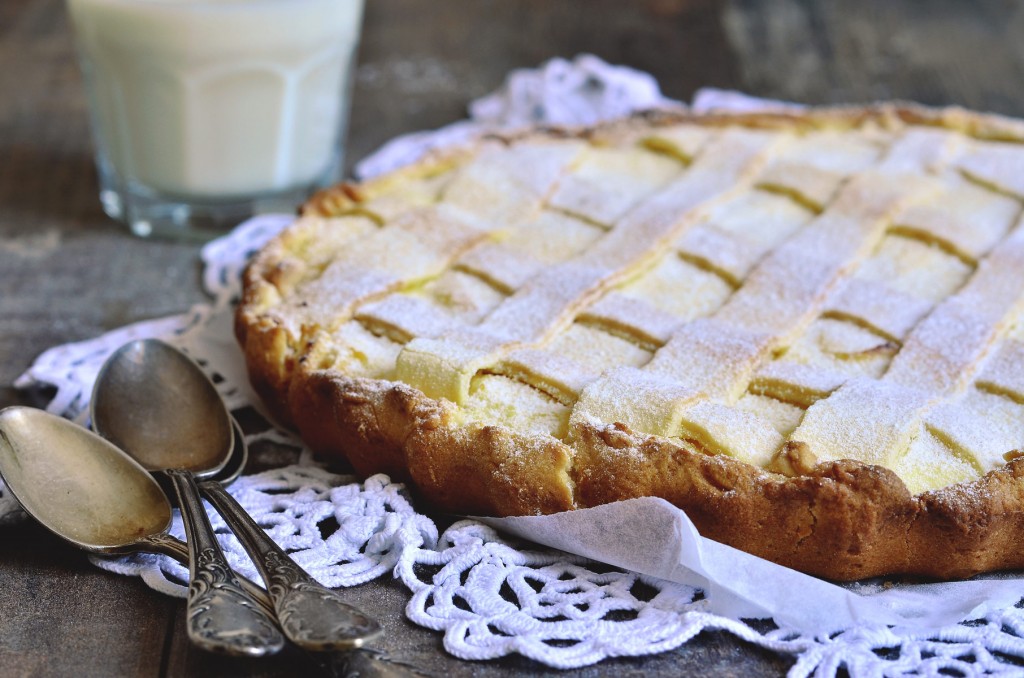 Ingredients
For the dough

3 cups all-purpose flour
1 cup confectioners' sugar
1/4 tsp salt
1 lemon, zest
1 cup unsalted butter, cold and cut into cubes
1 large egg
2 large egg yolks

For the filling

8 oz ricotta, drained through cheese cloth
8 oz mascarpone
1 large egg
2 large egg yolks
1/2 cup confectioners' sugar
1/2 tsp vanilla extract
1 lemon, zested
2 tbsp lemon juice
Directions
Dough

Place flour, sugar, salt, and lemon zest in a food processor. Pulse several times to combine. Sprinkle butter cubes around the mixture and pulse until small crumbs form.
Next, add the whole egg and egg yolks and process until the mixture just begins to combine into a dough ball.
Cut the dough in half (making one half slightly larger than the other) Wrap both dough halves in plastic wrap and refrigerate for about an hour.
Remove the chilled dough from the refrigerator and cut it into 2 portions, one slightly larger than the other.
In between two sheets of parchment or on a pastry mat, roll out the larger portion into an 11-inch circle about 1/8 inch thick or slightly thicker.
Transfer onto a lightly greased 9-inch fluted tart pan with a removable bottom.
Cut off any excess dough.
Poke bottom of the tart's dough with a fork several times. Carefully cover with a greased sheet of aluminum foil and place in the fridge for 30 minutes.
Heat the oven to 350 degrees F.

Filling

In a large bowl, combine the ricotta, mascarpone, whole egg and yolks, sugar, vanilla and lemon juice and zest. Beat the ingredients until thoroughly combined and fluffy.

Assemble

Remove the tart shell from the fridge.
Pour the filling into the shell and smooth it with a silicone spatula.
Make a lattice with remaining dough. Pinch onto existing shell.
Bake for 35 to 40 minutes, or until the crust is golden and the filling is puffed and just set.
Let cool before removing it from pan.
Dust with confectioners? sugar.