Some traditional party dishes are delicious, but don't make the best finger foods. That's why we love our Egg Salad Crostini – it makes the best of both worlds.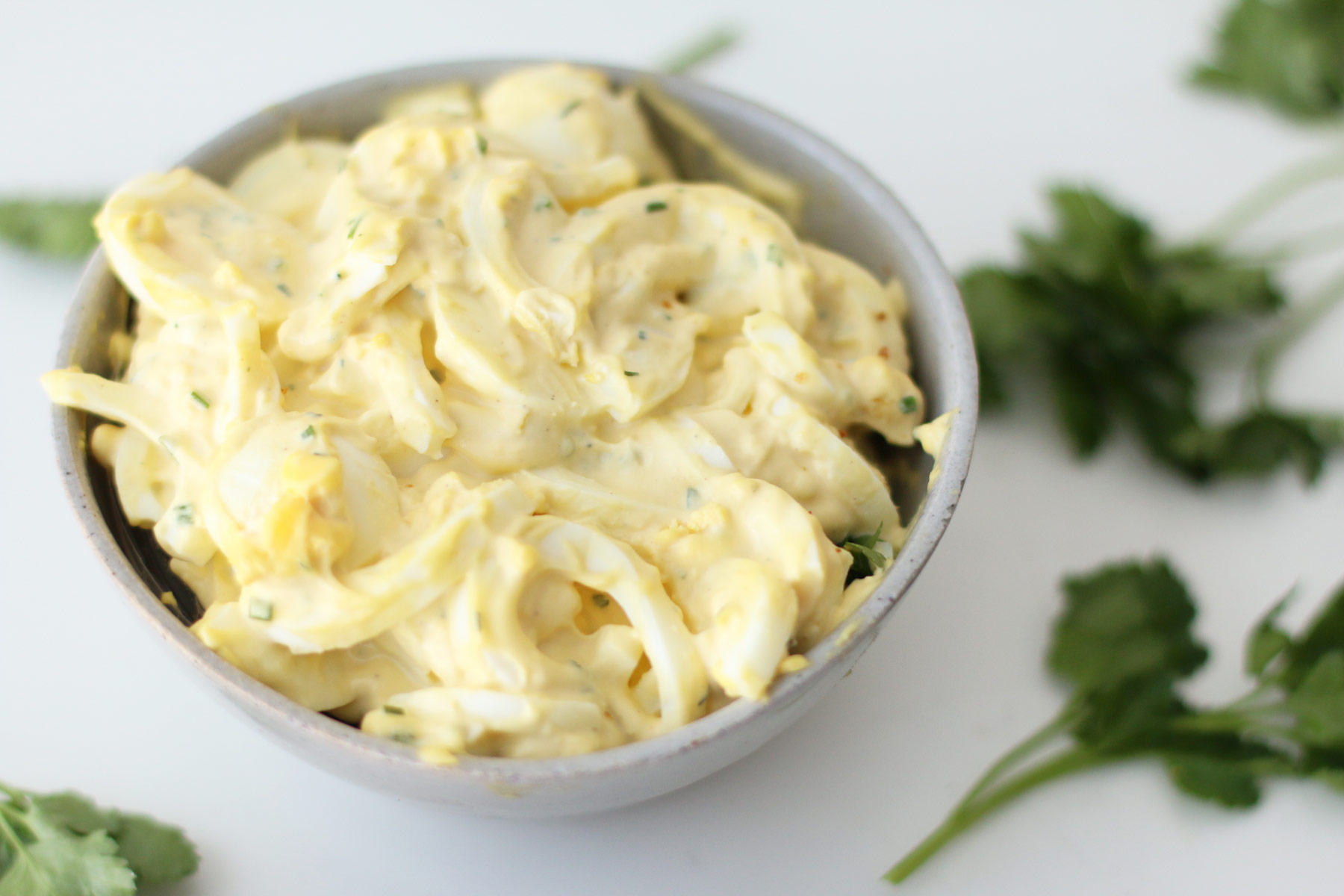 The taste of pickled eggs allude to its sports bar heritage, which makes it the perfect game-time treat. Their tart, sweet taste will also make putting together this egg salad a cinch. You can (and should) make your eggs up to a week ahead of time, so you don't have to be stressed the day of. Plus, if your friend brings their deviled eggs to the party, you can rest easy knowing that your egg salad crostini tastes completely different. You can even throw in a couple green olives for a fresh, Mediterranean vibe.
If you're gluten-free or you have guests that are, change up the vehicle from bread to cucumbers or gluten-free crackers. The easiest way to make egg salad has to be with our mezzaluna. It isn't messy and it can easily mix in all your herbs and sauces without destroying your eggs in the process.

Ingredients
1/2 cup apple cider vinegar
1/2 cup distilled white vinegar
1 teaspoon sugar
1 1/2 teaspoons kosher salt, plus more
6 large eggs
1/3 cup mayonnaise
1/4 cup finely chopped fresh chives
2 tablespoons finely chopped fresh parsley
Freshly ground black pepper
12 slices 1/3 in-thick country-style bread or ciabatta
3 tablespoons olive oil
2 garlic cloves
Chervil or parsley leaves with tender stems (for serving)
12 slices Serrano ham or prosciutto
Directions
Bring vinegars, sugar, 1 1/2 tsp. salt, and 1/2 cup water to a simmer in a medium saucepan. Let cool.
Meanwhile, place eggs in a medium saucepan and add water to cover by 2 inches. Bring to a boil, cover, and remove from heat. Let sit 10 minutes. Transfer eggs to a bowl of ice water to cool. Drain, peel, and return to bowl. Add pickling liquid; cover and chill at least 12 hours. Remove eggs from pickling liquid. Coarsely chop; mix with mayonnaise, chives, and parsley in a medium bowl with a mezzaluna. Season with salt, pepper, and some pickling liquid, if desired.
Preheat oven to 425 F degrees. Place bread on a baking sheet and drizzle with oil. Toast until golden brown, 5?8 minutes. Rub with garlic. Top each toast with pickled egg salad, some chervil, and a slice of ham.