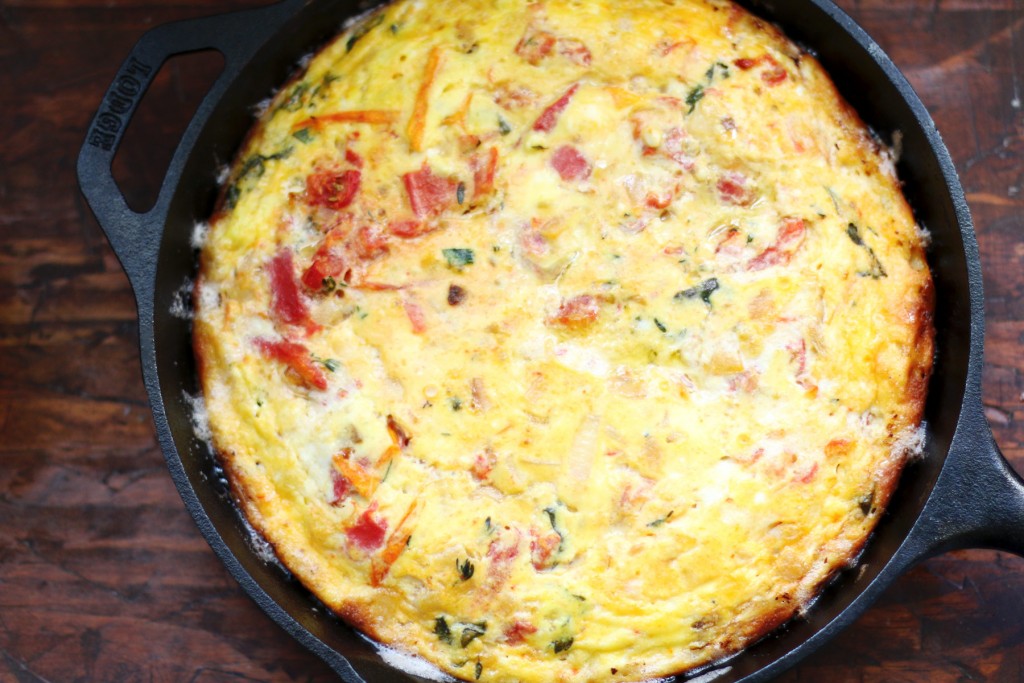 Serve a flavorful and easy dish with our Slow Roasted Tomato Frittata. It's a vegetarian and gluten-free crowd pleaser that's practically fail proof.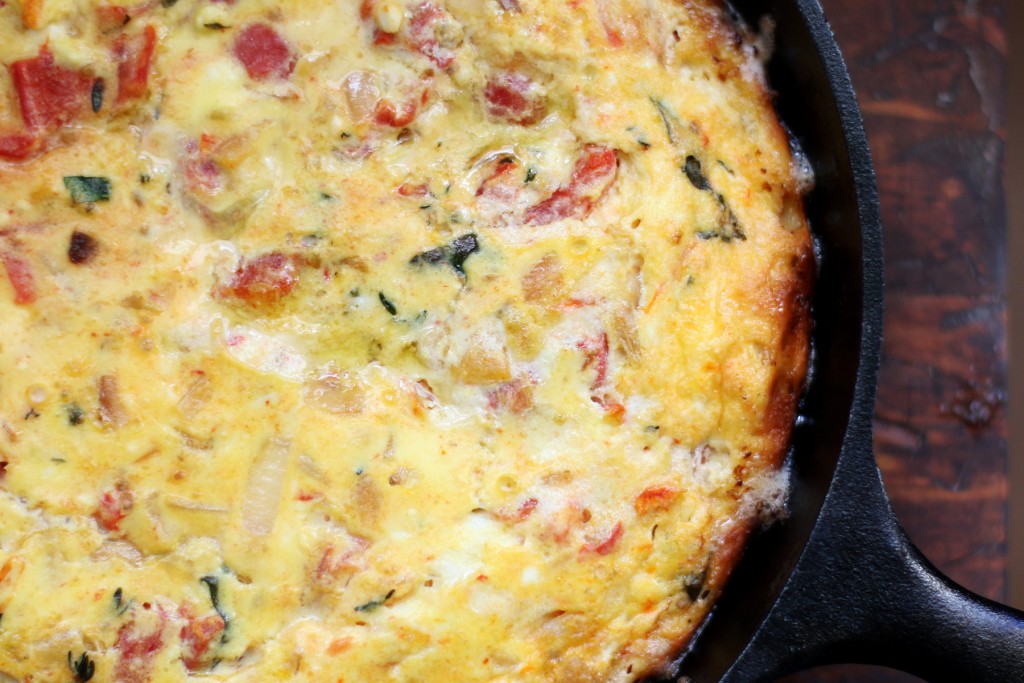 You can prepare your ingredients ahead of time, so it's quick to make in the morning for brunch. Plus, when you let the slow roasted tomatoes, basil, thyme, and onions sit together over night, it lets the flavor combine and get stronger. After I pour the eggs, I like to put dollops of goat cheese on the top, but I know that not everyone likes that type of cheese, so I tend to use with caution. Also, you don't have to mix in the slow roasted tomatoes when it says to in the recipe; you can sprinkle it over the top, right after you pour in the eggs. You can tell in some of the photos that some of the tomatoes came up and some of them sank. Dropping the tomatoes in will alleviate this issue, however this is an aesthetic thing more than a taste problem. The tomatoes in this frittata were evenly distributed and it tasted great.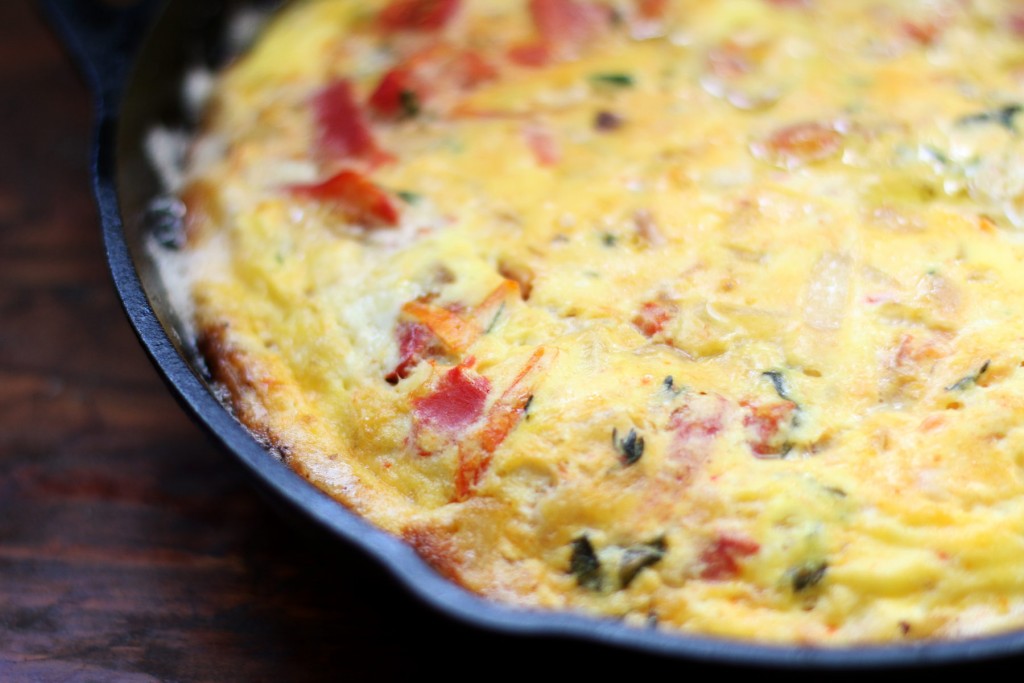 If you don't want to cry while cutting an onion, get a sharp knife and keep it sharp! You can also wear onion goggles.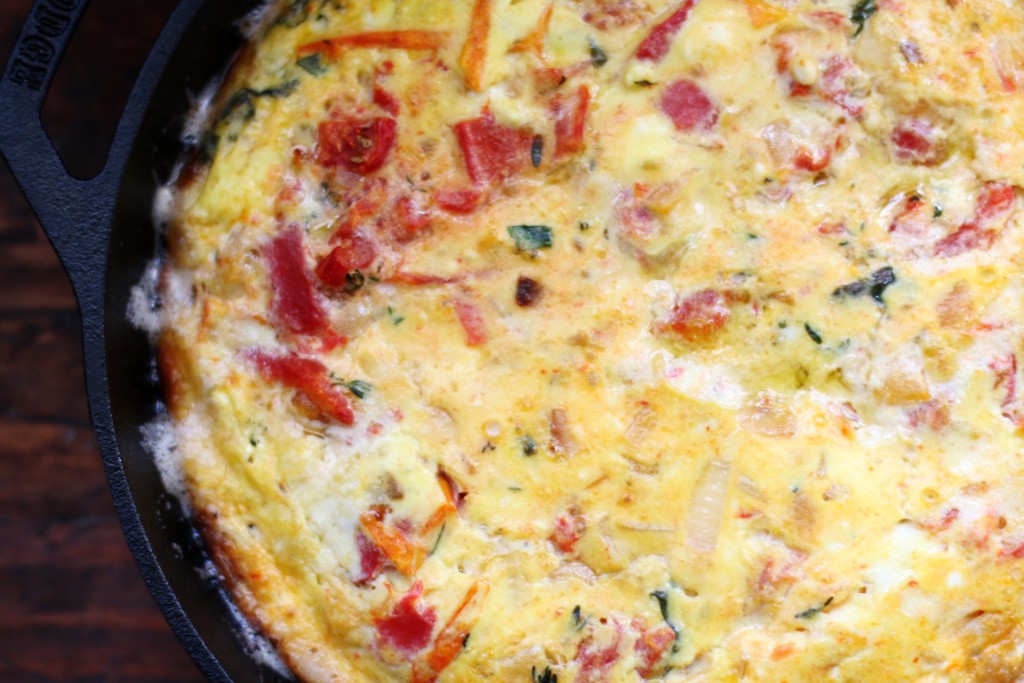 Slow Roasted Tomato Frittata:
Slow Roasted Tomato Frittata
Ingredients
8 eggs
3/4 cups of ricotta
1/2 cup of feta
1/2 cup of sliced basil
2 tablespoons of thyme leaves
1/2 cup of onion
olive oil
5 roma tomatoes
3-4 garlic cloves (minced)
3-4 bunches fresh thyme (rosemary also works great)
Directions
Day before:

Make ahead a batch of slow roasted tomatoes.
Dice a small onion (about half a cup) and saute them on medium low heat with about 2 tablespoons of olive oil on a skillet until they are golden. Let cool to remove temperature and place in a bowl with chopped basil, thyme, and chopped slow roasted tomatoes. Cover and place in fridge overnight or until you're ready to prepare the frittata.

Day of:

Preheat your oven to 425 degrees F.
Place your oven-safe skillet on medium low. Wait for about 5 minutes for it to warm up. Pour in about a tablespoon of olive oil and raise the temp a little. Coat the bottom and corners with the oil. (or you can heat up the skillets by placing them in the pre-heated oven for about 5 minutes with olive oil)
While you're waiting for the oven and your skillet to heat up, break 8 eggs into a large bowl. Whisk until smooth.
Add feta and ricotta cheese, slow roasted tomatoes, onions, basil, and thyme. Whisk and after your skillet and oil is warm, pour into the skillet.
After about 30 seconds, place into the oven for 20 minutes until frittata is firm and cooked through.