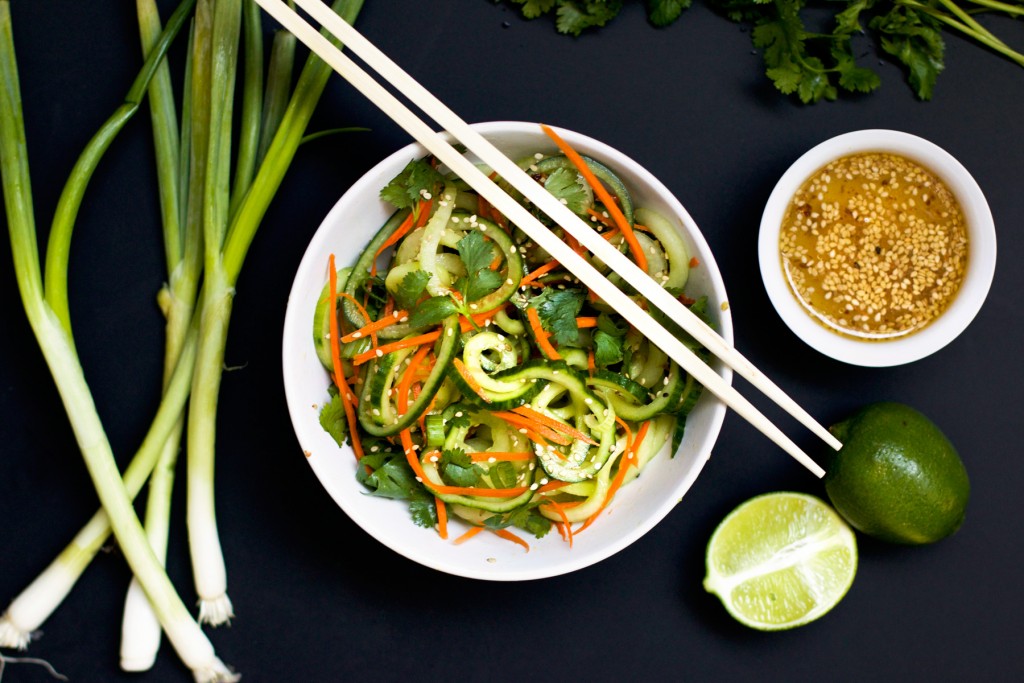 My favorite summer meals are ones that require no heat to make – like we need it any hotter! This Asian Sesame Cucumber Salad will cool you off while giving you some much needed veggies.
It's easy to make this crunchy and refreshing meal with staple ingredients you can find in your pantry, especially if you're regularly cooking asian food.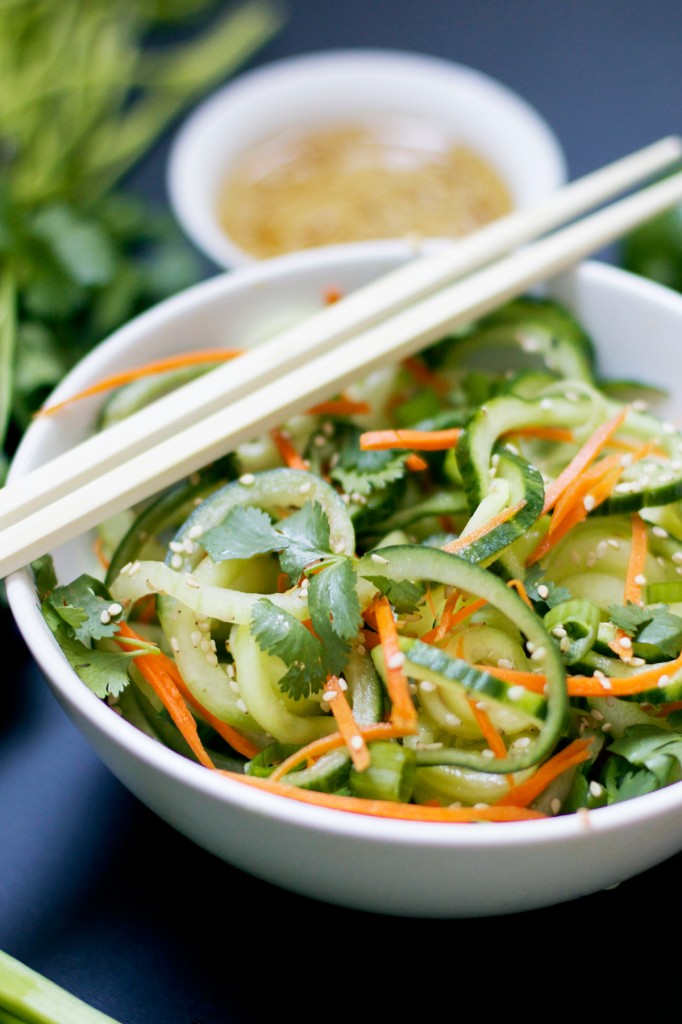 Use a spiralizer and a julienne peeler for the cucumbers and carrots to make the Asian Sesame Cucumber Salad.
Asian Sesame Cucumber Salad
Asian Sesame Cucumber Salad
Ingredients
2 seedless or hothouse cucumbers, chilled
2 large carrots
1 tsp. Kosher salt
2 Tbsp rice vinegar
1 Tbsp fresh lime juice (about half a lime)
2-3 Tbsp honey, to taste
1 tsp. Toasted sesame oil
pinch of red pepper flakes, to taste
1/2-1 Tbsp toasted sesame seeds
1 scallion, sliced
2 Tbsp fresh cilantro, chopped (optional)
Directions
If you have a spiralizer, use it to cut the cucumbers and carrots into long noodles. (My carrots weren't big enough to fit in my spiralizer, so I used a jullienne peeler instead)
Place the spiralized cucumber into a strainer and toss with 1 tsp. kosher salt. Let the cucumber drain for 15-20 minutes to remove excess water.
Meanwhile, in a small bowl or glass measuring cup, whisk together the vinegar, lime juice, honey, sesame oil, red pepper flakes, and sesame seeds.
Once the cucumber has drained for a bit, spread it onto a layer of paper towels, or a clean dish towel, and gently pat out as much moisture as you can. Place the "noodles" into a large bowl, and add 2-3 TBSP dressing, to coat. Toss to combine, then garnish with additional sesame seeds, sliced scallions, and fresh cilantro. Serve immediately. (Leftover salad can be stored in an air tight container in the fridge for up to a day, but keep in mind that the cucumber will continue to release excess water as it sits. If your salad becomes soupy, you can drain the water from the bottom of the bowl before eating.)

NOTES

Honey can be replaced with maple syrup or other liquid sweetener, if you wish to make this salad vegan.