This deliciously festive pumpkin biscotti recipes gets "spookified" with some simple white chocolate and candy eyes. This recipe works great with our pumpkin biscotti recipe, or any homemade biscotti you've grown to love. But if your treat making is down to the wire, your favorite store-bought biscotti will definitely do the trick. Whether you enjoy these with a tall glass of milk or dip them in your favorite warm beverage, you'll certainly be glad you gave these fun treats a try.
Ingredients
4 Tbsp softened butter
2/3 cup sugar
1 1/4 tsp pumpkin pie spice
3/4 tsp ground cinnamon
1 1/2 tsp baking powder
1/2 tsp salt
1 large egg
1/2 cup pumpkin puree
2 cups flour
candy eyes or chocolate chips
Directions
Preheat the oven to 350 degrees. Line a baking sheet with parchment paper.
In a medium-sized bowl, beat the softened butter, sugar, spices, baking powder, and salt until the mixture is smooth and creamy.
Beat in the egg and pumpkin puree. At a low speed, add the flour, stirring until nice and smooth. The dough will still be pretty sticky.
Scoop the dough onto the prepared baking sheet. Divide it in half, and shape it into two 8"x3" logs. Pat them into long rectangles and smooth the tops and sides. Getting your hands or a spatula wet can help to smooth without sticking.
Sprinkle the tops with coarse sugar, and gently press it into the top.
Bake the dough for 25 minutes. Remove them from the oven.
Wait a few minutes, about 5, then use a sharp knife to cut the log into 1/2" slices. As your slicing, try to keep the knife perfectly straight up and down so your biscotti is the same width.
Set your biscotti on their edges and bake for another 40-45 minutes, until they are a nice golden color around the edges. They'll still feel a little soft. Just turn off the oven, and crack the door a little, and let them cool and dry out right in there.
Once they cool, you can serve them, or dip them in a little white chocolate and add some candy eyes or chocolate chips.
Biscotti recipe from King Arthur Flour.
Need help melting chocolate? Read about it here!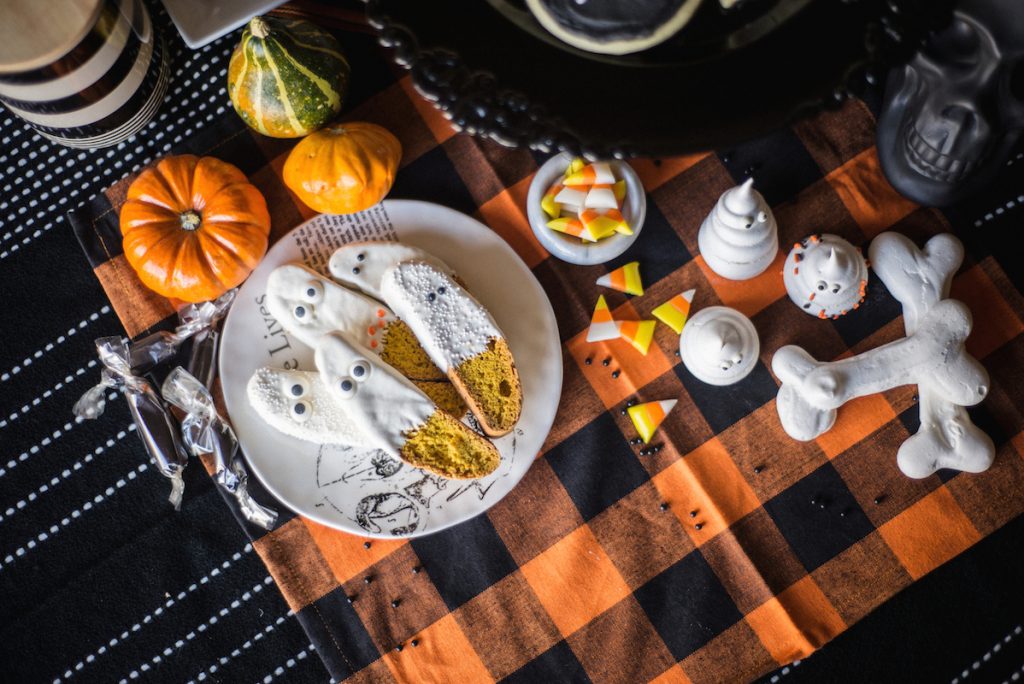 [masterslider id="1″]