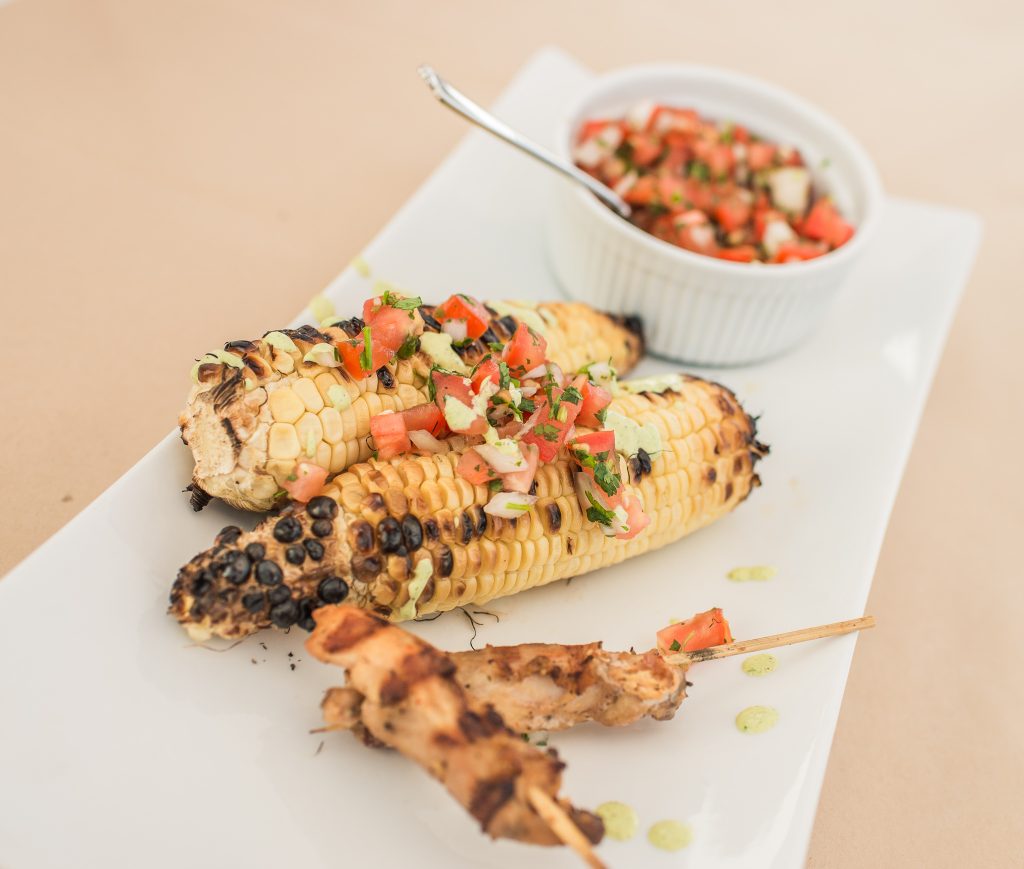 If you can get your grill heated, you can prepare all of these delicious recipes. Simple ingredients + simple skills = Irresistible food.
The recipes for this amazing food were featured at our 2018 Gygi Grilling Gala.
Chef Todd Leonard compiled tips for basic grilling success. Starting with heat and moving onto flavor, you'll find success following his tips. Read on to learn more grilling basics!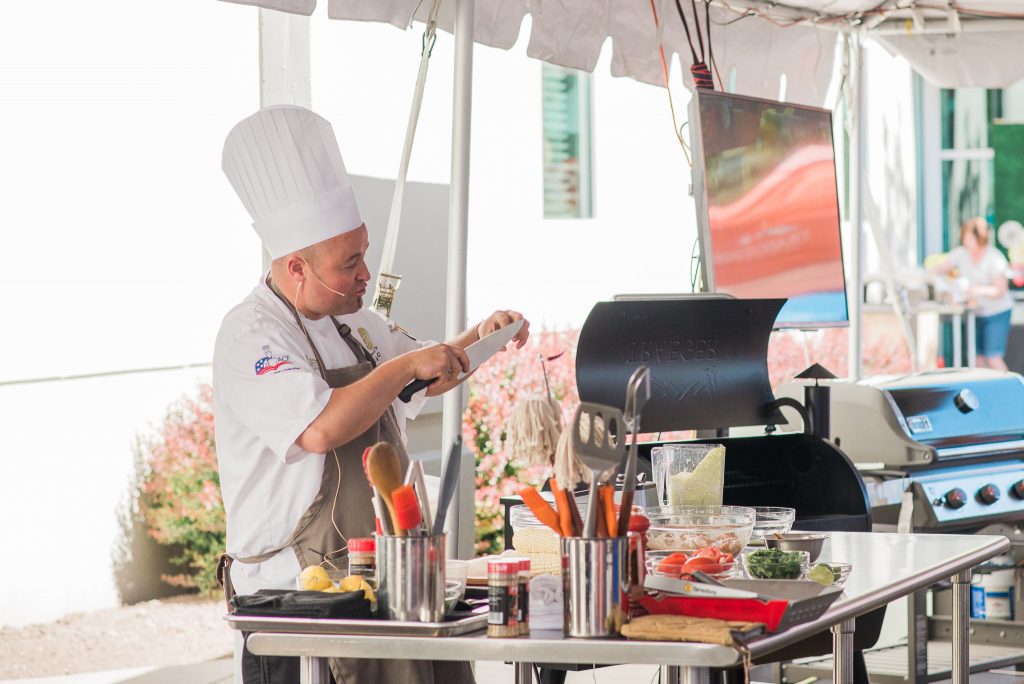 First, Understand Heat!
Grilling is a dry heat cooking method. The flavor of the grill we love so much comes from char or caramelizing of the product. Picking the meat to be grilled is very important. Choose meats that have good fat content to them. The fat will melt as the dry heat cooks the meat, keeping it moist. Good fatty meats, such as a rib eye, may not need more than a good seasoning to be a great grilled item.
Other meats that may contain less fat and juice need assistance in cooking with "Moping and Basting". Marinating and seasoning of meat should always be done with the purpose to enhance the natural flavor of the meat or vegetables not to mask or take away from the product itself.
It is important to understand heat, bigger pieces of meat need lower heat and longer cooking time or the outside will char or caramelize to quickly leaving it over cooked and the middle still raw. TURN IT DOWN. Low and slow with moping and finishing techniques during the cooking process will make grilling become a love of your cuisine!

Next, Master the 3 Basics of Marinating
Flavor – Rubs, herbs, garlic, salt, pepper and don't forget the "Pit Seasoning"
Acidity

– Citrus, vinegar, wine, Worcestershire, hot sauces

Fat

– Oils, butter, larding, barding
*Using marinades to mop and baste with is appropriate as long as the liquid has a chance to cook thoroughly as the meat cooks.
Finally, perfection with Finishing Techniques
Generally all meats need to be finished with a flavorful liquid at the end of cooking to help keep moisture and shine to the meats. Simple ideas are as follows:
Butter or flavored butters rubbed on meats or served with grilled meats

Fresh olive oil marinades not contaminated with raw meat.

One of chef Todd's Favorites is a mixture of butter or olive oil, lime juice and Cholula hot sauce

Glaze = BBQ, Teriyaki, Sweet and Sour or savory meat

Fruit juices – specially good on fish, or white meats
Chef Todd's final bit of wisdom: Don't be a Flop, use your Mop!
(If you're looking for more Chef Todd wisdom, check out our Gygi Grilling Gala 2018 Recap!)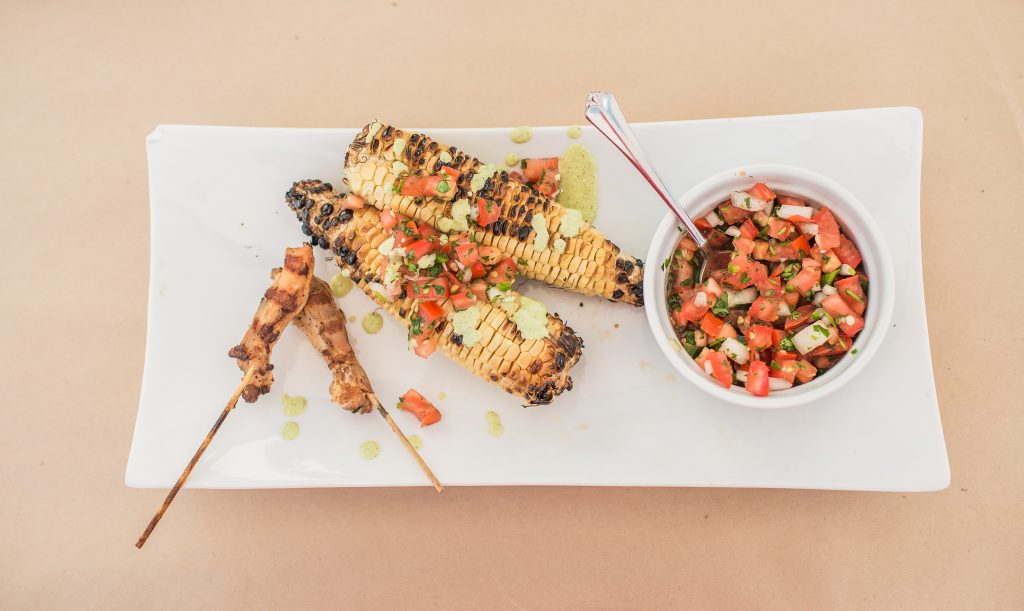 Check out the recipes from this tasty class down below. Pretty sure I could drink that cilantro cream sauce!! The perfect about of fresh zing!
Ingredients
Street Corn:

1 each sweet corn on the cob - husk on
1/4 cup salsa fresca
2 Tablespoons queso fresca
1/4 cup cilantro cream (or spicy ranch)
1 Tablespoon cilantro, chopped

Salsa Fresca

30 each roma tomatoes, seeded and diced
2 each large yellow onions, small diced
2 each green bell peppers, small diced
3 each garlic cloves, minced
2 bunches cilantro, cleaned and chopped
6 each limes, juiced
2 each jalapeno or serrano peppers, minced with half the seeds removed
1 teaspoon white pepper
1 Tablespoon kosher salt

Cilantro Cream

4 bunches cilantro, washed, trimmed, and patted dry
3 1/2 quarts sour cream
2 Tablespoons chili powder
1 Tablespoon cumin
2 Tablespoons kosher salt
1 Tablespoon ground black pepper
2 Tablespoons lime juice, fresh

Chipotle Lime Marinade

1 Tablespoon Chef Todd's Pit Seasoning
2 Tablespoons Chipotle chile, canned in adobo - pureed (adjust to desired level of spice)
2 Tablespoon garlic, minced
1 cup lime juice
1 cup blended oil
Directions
Street Corn

Prepare the toppings - salsa fresca, queso fresca, cilantro cream, and chop 1/4 bunch of cilantro.
Boil the corn in the husk for about 10 minutes.
Pull back the husk, but leave it attached and grill the corn until the corn is caramelized.
Top corn with salsa, queso, cilantro cream, and chopped cilantro.
Serve whole, accompanied with knife to cut corn from the cob.

Salsa Fresca

Dice and prepare all ingredients and mix together.
Keep covered and refrigerate.
Salsa will hold up to 3 days.
Yield: 128 servings (8 pounds)

Cilantro Cream

Blend all indgredients together in batches in the food processor until smooth.
Yield: 64 servings (1 gallon)

Chipotle Lime Marinade

Combine all ingredients together and coat your desired meat.
To make chicken skewers, cut chicken breast into 1/2" strips and marinate. Skewer meat and cook on medium-high heat until they reach 165*F.
Yield: 12 servings (2 cups)