Use homemade or store-bought cherry preserves for a delicious twist on the classic pork chop! You'll love these Cherry Glazed Pork Chops!
I have a lot of cherries – like three HUGE trees full of cherries!!! I've been trying to eat as many as humanly possible! But I quickly realized there is now way to actually eat three trees worth of cherries!
So, I reached out to the Gygi Instagram Community and I begged for your suggestions! Read this post to see all the great ideas!
But this recipe for Cherry Glazed Pork Chops really stuck out to me. I love a good pork chop with applesauce, so I was inspired to try a twist on this classic recipe. But also, because this recipe was clearly important to the family that shared it. I'll always make a recipe with love intertwined in the ingredients. Thanks for sharing Sarah! @sarahssweetscookie_co .
So! On Sunday, I sent my kiddos out to the cherry three. They picked a few cups of cherries, while I pan fried the pork chops. Then, we finished off the meal with fresh cherry preserves, gently simmered on the stove! This is the recipe we used for the preserves. I am quite certain store bought cherry preserves would also be quite delicious!
It was a hit!! Everyone loved it! The kiddos gobbled up their servings and asked for more. I savored every sweet and savory bite. And secretly saved a few servings of cherry preserves to eat tomorrow! Mmmmmm…..
Try this recipe for Cherry Glazed Pork Chops. Your family will love it, too!
(Need a cherry pitter?? This tool honestly save my life this week! Try this one for a small batch of cherries. And this one if you have a tree full of cherries.)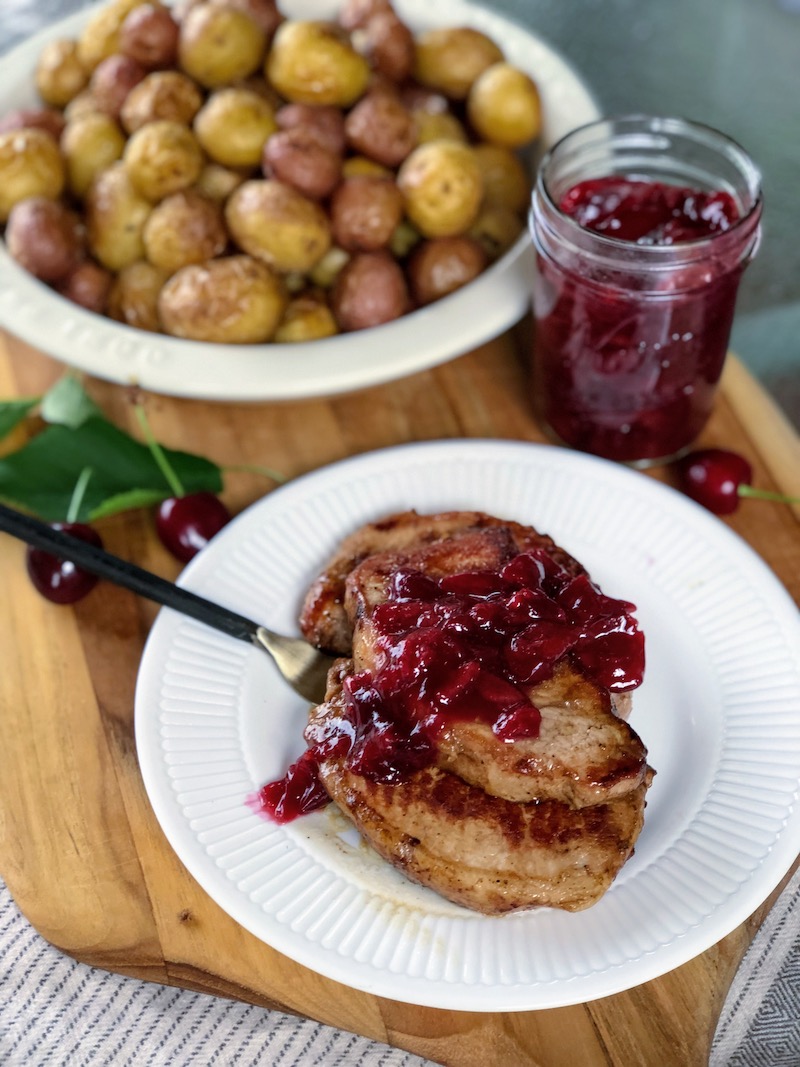 Print Recipe
Cherry Glazed Pork Chops
Try this sweet twist on the classic pork chop! Use homemade or store bought cherry preserves!
Ingredients
5 thin boneless pork chops
1 Tablespoon Olive Oil
Salt and Pepper, to taste
4 Tablespoons Balsamic Vinegar or 2 Tablespoons Balsamic Vinegar Reduction
1/2 cup Cherry Preserves
Instructions
1

Season pork chops with salt and pepper.

2

Heat olive oil in a large skillet on medium-high heat.

3

Place pork chops in pan and fry for 3-4 minutes, until the meat is browned.

4

Flip and brown the other side. Cook until temp reaches 145 degrees with an instant read thermometer.

5

Remove pork chops from the pan and set aside.

6

Add vinegar to the hot pan. If using plain balsamic vinegar, cook down until it has reduced. If using balsamic reduction, immediately add cherry preserves.

7

Once the balsamic vinegar and preserves are warm and thoroughly mixed, add pork chops, turning a few times to coat both sides of the meat.

8

Serve immediately! I like a little extra preserves and balsamic reduction on hand to serve at the table! You can't beat the sweet and savory combinations.
Notes
We loved this meal with roasted veggies and potatoes. Thank you for sharing this recipe with us, Sarah!