Use this formula for all your granola concoctions. It is a deliciously simple recipe, fully customizable to the flavors you prefer!
I've made a lot of granola. It's one of my husband's favorite snacks for camping/hiking/outdooring, so I made my first batch for our first camping trip together – 12 years ago!! It wasn't fantastic. But he pretended to like it…. very nice of him!!! But I knew better… so I kept at it. Trying more recipes. More concoctions. But, we never loved any of them!!! They were either to sweet or not sweet enough. Or they didn't hold together in the big clumps, like we love! Or it became too crunchy and hard and left us with a mouthful of canker sores.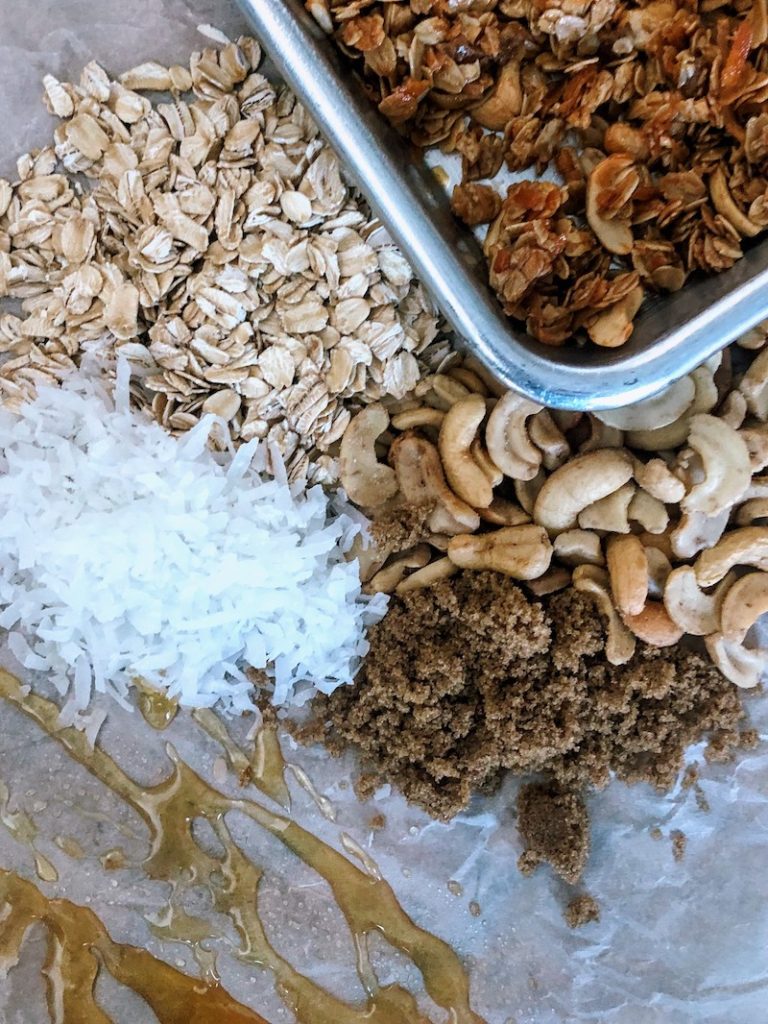 We are not picky eaters, so we ate every batch! But I kept searching for something I LOVED. And I found it when my sister made some for a family cabin trip. I begged her for the recipe (she gave it willingly. haha.) She got the recipe from our sister's sister-in-law, who got it from her mother. I don't know where she got it, but I'm glad she did. Because it's everything I want it to be!!!
Delicious! Full of yummy bits of fruit and nut. A little crunchy. A little chewy. Full of flavor. Easy to make! And totally customizable and adjustable. Use the basic ratio, but with the ingredients you like best!!!
Dry Ingredients
Start with the oats. You need four cups of oats. I use classic, old-fashioned oats. But you can also use quick oats! The clumps will be a little bit smaller, but equally delicious.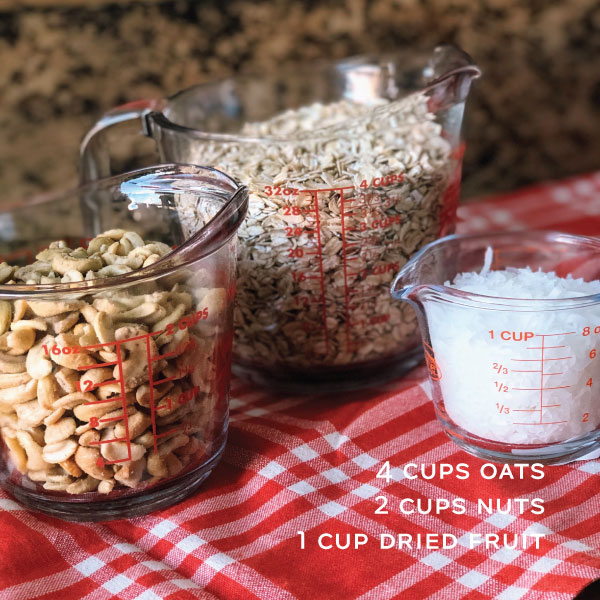 Now for the nuts. Add one cup of any nuts you like! I've made this with slivered almonds, pistachios, cashews, walnuts, pecans, peanuts, sunflower seeds, and even some macadamia nuts when we had some one day. They've been roasted, raw, salted, and unsalted!!! The recipe turns out great with any type of nut. I like them to be in medium pieces – not full, but not diced either. If your nuts are raw or unsalted, you'll want to add a 1 teaspoon of kosher salt to the dry mixture.
Onto the dried fruit! Use one cup of dried fruit. My favorite combo is 1/2 cup coconut + 1/2 cup dried fruit. The coconut keeps the granola chewy! But feel free to omit the coconut if that's not your thing (my kids don't like coconut, but they don't even notice it in this granola). Raisins are classic and delicious, but try dried cherries, blueberries, mango, cranberries, etc!! So many fun combos!!
Mix the oatmeal, nuts, and fruit together in a big mixing bowl and set aside while you make the sweet syrup!
Syrup Ingredients
You'll mix your syrup ingredients in a saucepan. I like to add all the ingredients, stir them together, then turn the heat onto medium, watching and stirring carefully while it heats. (This is my FAVORITE spoon for mixing this all together!)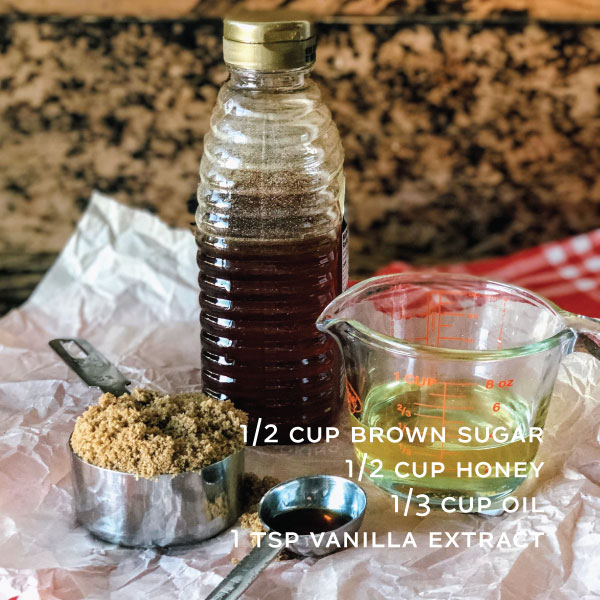 For the syrup, you'll need 1/2 cup brown sugar. Use light or dark. It doesn't matter!
Then, you'll add 1/2 cup of sweet syrup – either honey, molasses, maple syrup, corn syrup, or agave. Whatever you have on hand. Or prefer. 99% of the time, I use honey, but maple syrup is realllllly delicious.
You'll also need little oil in your syrup. Again this is really versatile – vegetable oil, canola oil, coconut oil all work great!
Mix the sugar, syrup, and oil and bring it to a boil! Boil for one minute and remove from the heat.
Now, you'll add a teaspoon of vanilla extract. Or almond extract. Or any other flavoring that complements your granola!! I love using emulsion for this! Lots of great flavor options! Just be careful when you add your flavoring, it will splatter a bit!
When it's all mixed, pour the syrup over the dry mixture and stir until it is evenly coated.
Baking the Granola
Now, you'll spread the mixture on a cookie sheet. I like lining the pan with parchment paper, for non-stick-ability. You can also spray with cooking spray!
Before Baking


After Baking

Place the pan in a 400 degree oven. Set a timer and don't forget about your granola! After 10 minutes, stir the granola, and place back in the oven. Then, watch carefully for your desired doneness. The lighter the granola, the chewier it will be. The darker the granola, the crunchier it will be! It will be hard to know for sure how chewy/crunchy it will be until it cools. So a little practice helps with this part. But it will be delicious, no matter when you pull it out!
Let the granola cool completely, then use a spatula to remove it from the pan. We store ours in a plastic container with a lid or a plastic storage bag. It will last a few weeks, but you will likely eat it allllll long before that. It's just too good!
Print Recipe
Granola
Use this basic formula for your favorite granola concoction.
Ingredients
4 cups dry oatmeal
2 cups nuts
1 tsp kosher salt (if nuts are unsalted)
1 cup dried fruit
1/2 cup brown sugar
1/2 cup honey or syrup
1/3 cup oil
1 teaspoon vanilla extract
Instructions
1

Preheat oven to 400 degrees. Line a sheet pan with parchment or spray with cooking spray. Set aside.

2

In a large, glass or stainless mixing bowl, mix together oatmeal, nuts, and dried fruit. Set aside.

3

In a saucepan, stir together brown sugar, honey, and oil. Heat over medium heat, stirring often. Boil for one minute and remove from heat. Stir in extract.

4

Pour syrup mixture over the dry ingredient and stir until well coated.

5

Spread mixture onto prepared sheet pan.

6

Bake in preheated oven for 10 minutes. Stir. Return to oven and bake until golden brown, 5-10 more minutes.

7

Remove from oven and let cool completely.

8

Use spatula to remove from pan and break into pieces.

9

Store in airtight container for up to two weeks.
Notes
NUTS: slivered almonds, pistachios, walnuts, cashews, pecans, sunflower seeds, macadamia nuts DRIED FRUIT: coconut, raisins, cherries, blueberries, mango, cranberries
Love granola? Try these granola bars, too!