Your cotton candy dreams will come true with supplies from Orson Gygi. We have the sugar, the supplies, and the machines for residential and commercial Cotton Candy fun. Let us teach you everything you need to know!
COTTON CANDY MACHINES
Not all machines are created equal. First, who will be eating the cotton candy? If you're looking for a fun way to treat your family, friends, and neighbors, you'll love this machine. It works really well and will provide you with thousands of cotton candies. The motor on this machine has the potential of overheating, so you'll need to let it sit for 15 minutes after 45 minutes of use. Not a big deal for small events. This machine is budget-friendly, yet it still provides a strong motor and easy-to-use controls that will make any amateur feel like a professional.
But, if you're looking to start a cotton candy side-gig, you'll need a commercial machine. You'll pay more for this type of machine, but it has the ability to pump out cotton candy all day long. Gold Medal products lead the concession industry in quality, ease-of-use, price, and longevity. Buy this machine and you'll have years (if not decades) of cotton candy fun.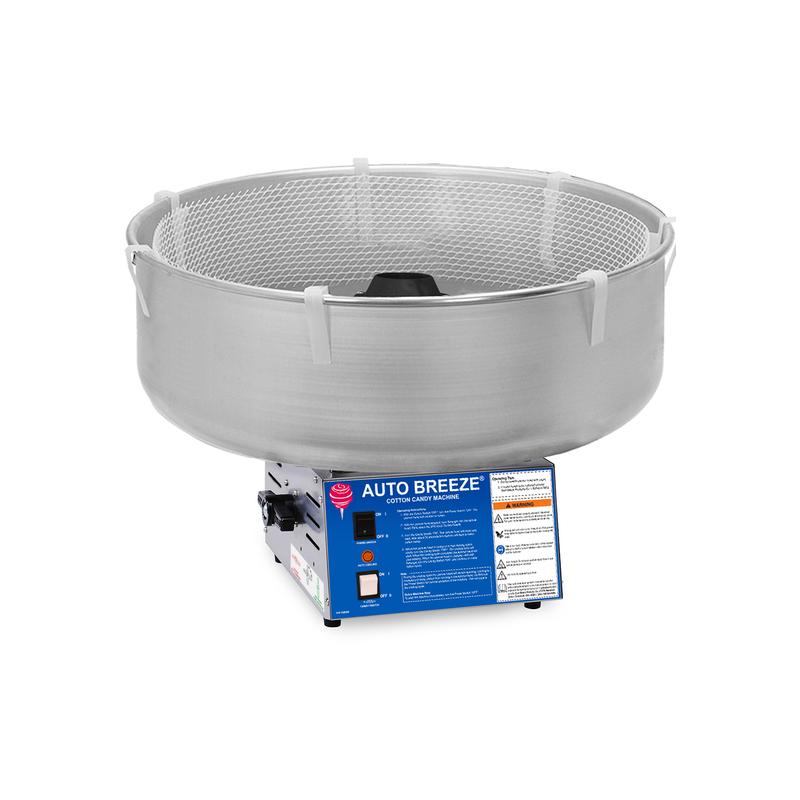 We have searched for years for the best cotton candy options. Rest assured knowing that these machines are the best on the market.
COTTON CANDY SUGAR
Cotton candy is also called spun sugar, because sugar is literally spun into light and airy strands of sweet deliciousness. You could simply pour regular granulated sugar into the machine and it would spin into a cotton candy fluff. However, most people want a bit of flavor and color added to their treat. There are a few options to accomplish this.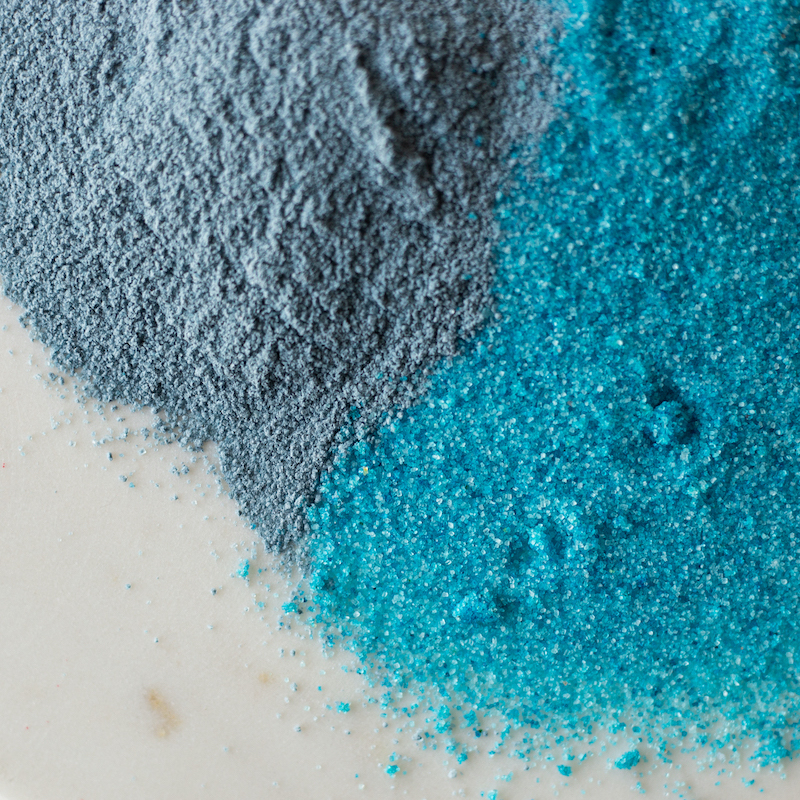 FLOSSINE: This is powdered concentrate the includes the flavor and color for cotton candy. Using it is simple – just mix 2 Tablespoons of Flossine concentrate with 10 pounds of sugar. Stir to combine and you're ready to go. This option is best if you plan to make A LOT of cotton candy, as one canister will produce 3,000 medium-sized cones of cotton candy. Shop Flossine.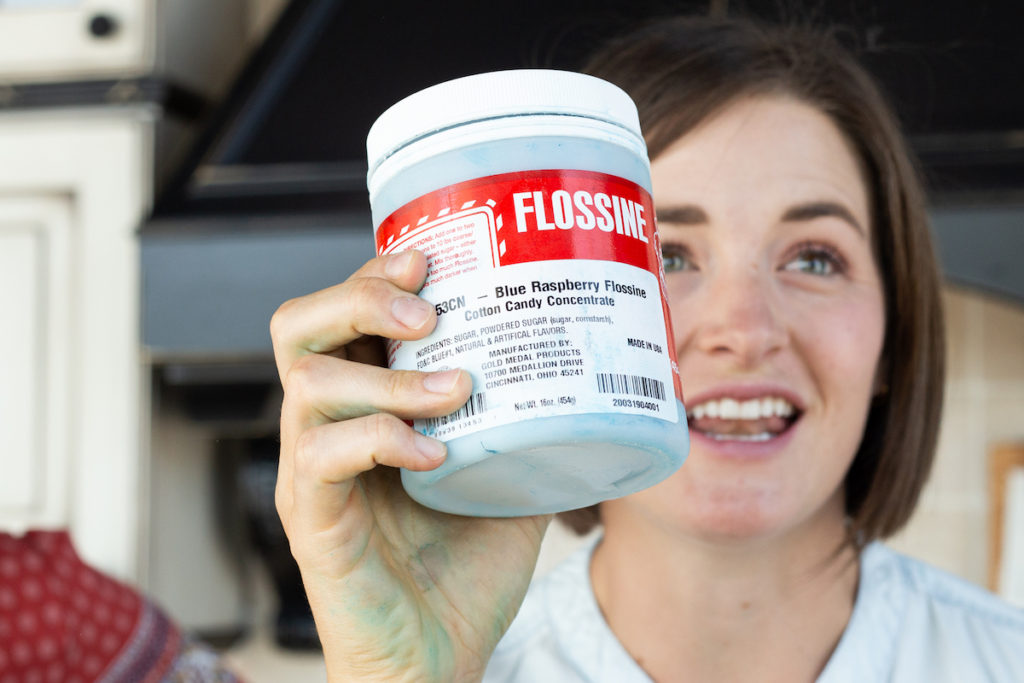 FLOSSUGAR: This is flavor and color already mixed with the sugar. It is ready to use – simply pour or scoop from the carton and start flossing. One 1/2 pound carton produces 60-70 medium sized cones, so it's a great option for a party or a full summertime of fun. Shop Flossugar.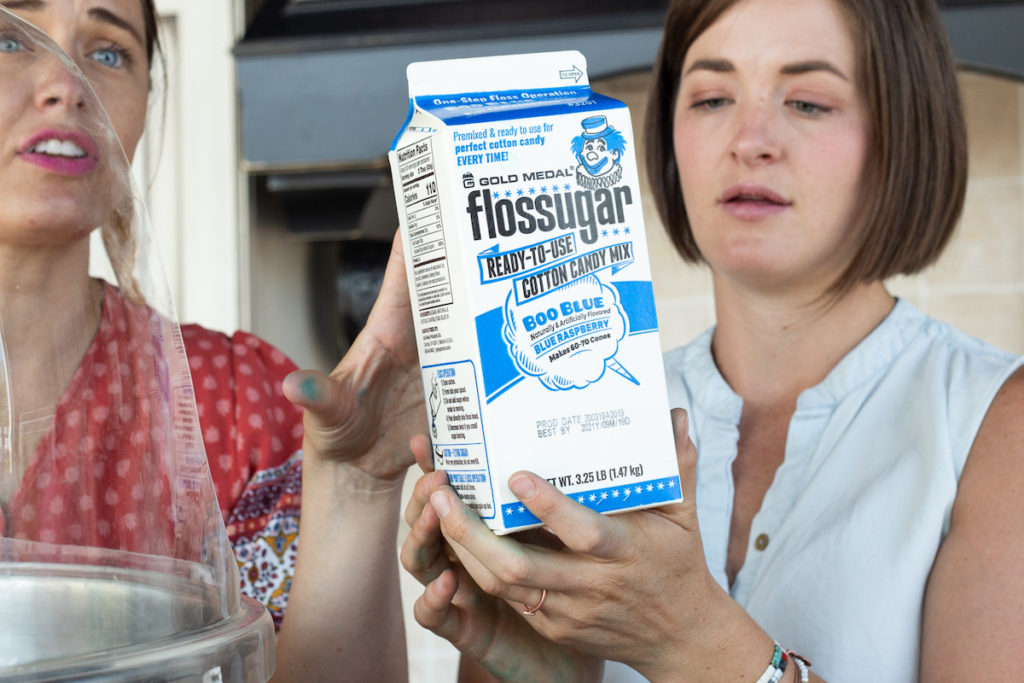 Flossugar is also available in small 8 ounce pouches that will produce about 10 cones of cotton candy. This is a great option if you're serving a small family and looking to try a few flavors. Shop Small Flossugar.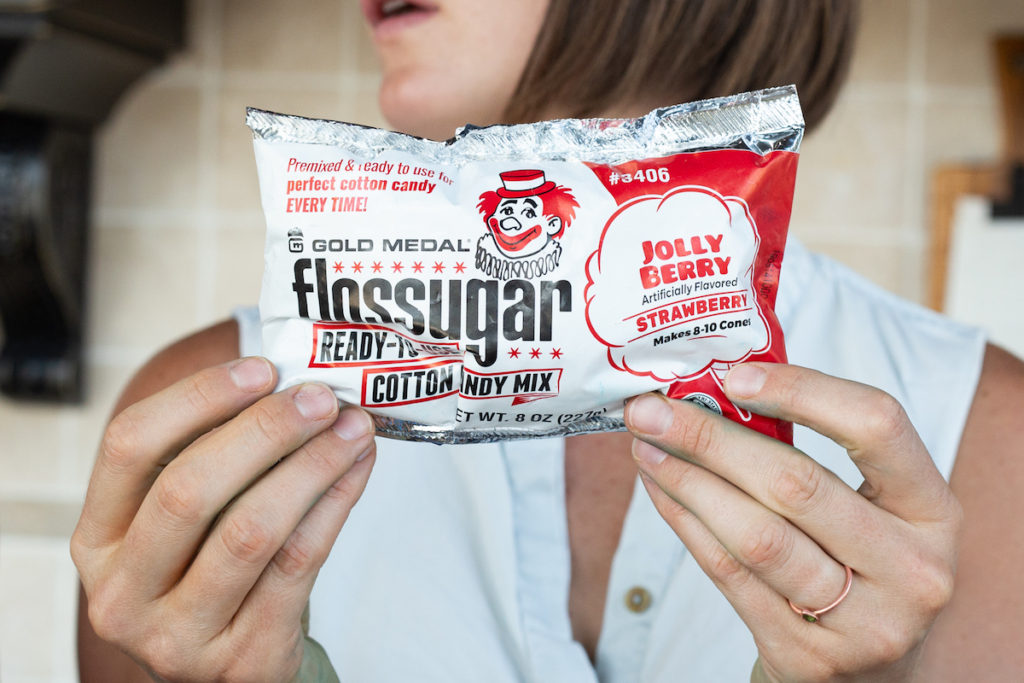 HARD CANDY: This is a fun option if you're looking for new flavors and colors. Hard candies (without any coating or filling) can be placed in the floss head and turned into cotton candy. I know – we were shocked, too. We've tried rootbeer barrels, cinnamon red hots, jolly ranchers, candy canes, butterscotch disks, and lemon drops – they were all delish!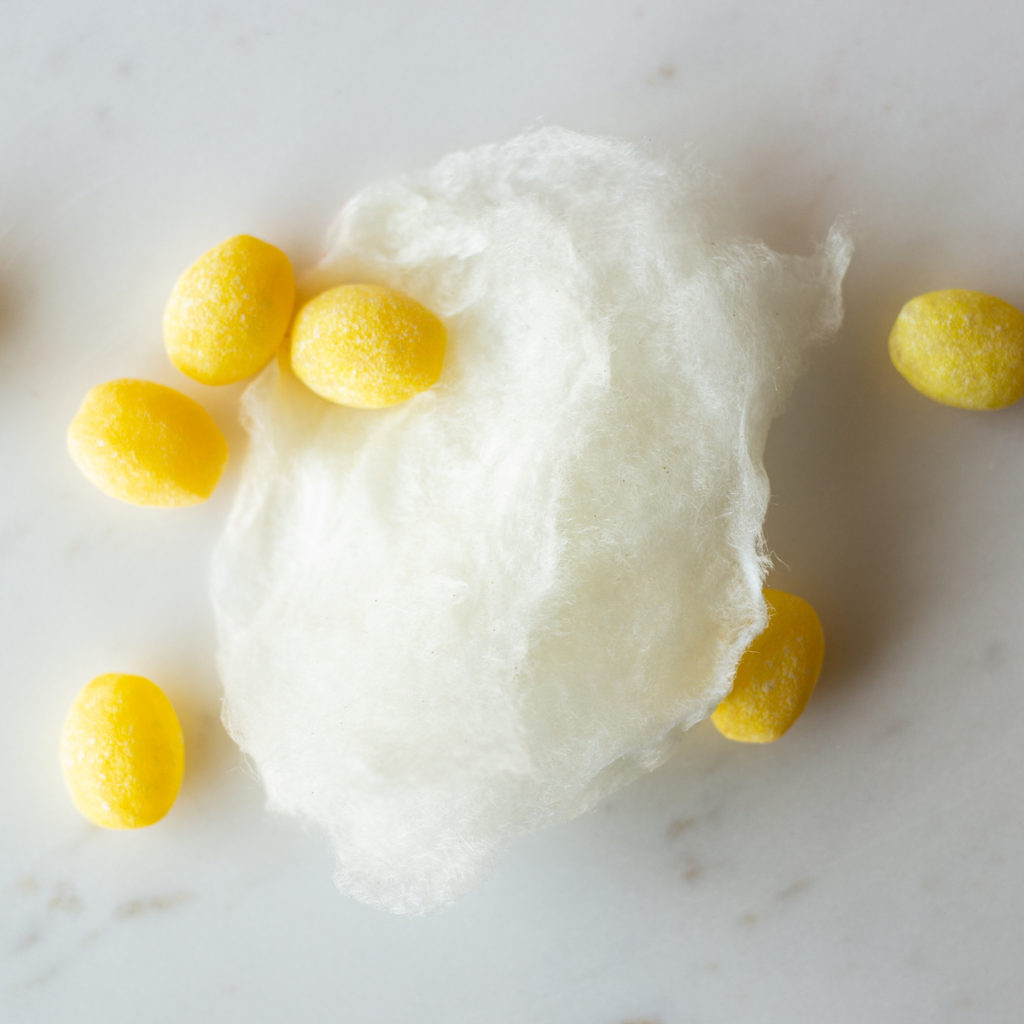 COTTON CANDY SUPPLIES
In addition to the machine and sugar source, cotton candy requires a couple simple supplies. First, you'll need some paper cones. The spun sugar adheres to the paper, allowing you to form gorgeous fluffs of candy.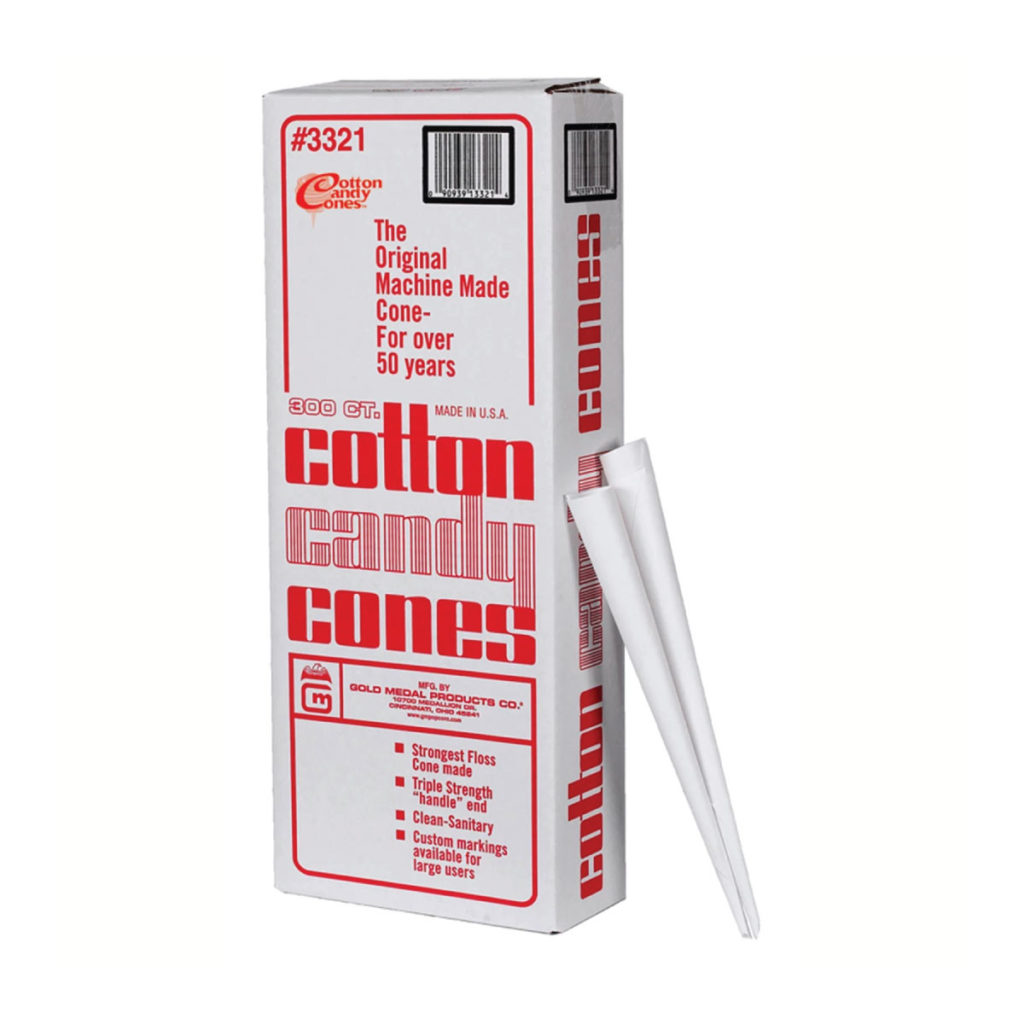 You'll might also want to add a bubble to your machine. This keeps the area around your machine much cleaner, as it traps the stray strands of sugar from floating through the air. It also assists in even and round formation of the cotton candy.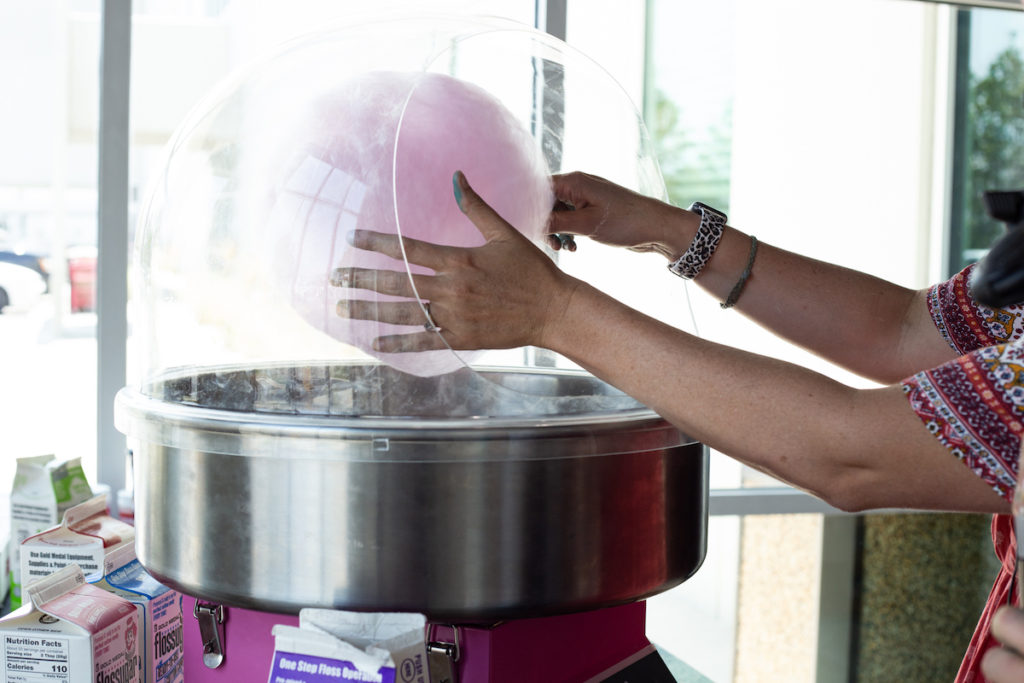 If you plan to serve the cotton candy right away, ignore this next supply. But if you hope to make them in advance, you'll need an airtight container to protect the texture of the candy. We love the simplicity of cotton candy bags. Insert the candy into the bag (with or without a cone – you choose) and close with a twist tie. You're candy will be great for a couple hours.
Another option for storing is a plastic deli container with a lid. A 32 oz container was PERFECT for cotton candy made with one scoop. With a lid that seals air tight, your cotton candy will stay fresh for a few days! These make great party favors and treats!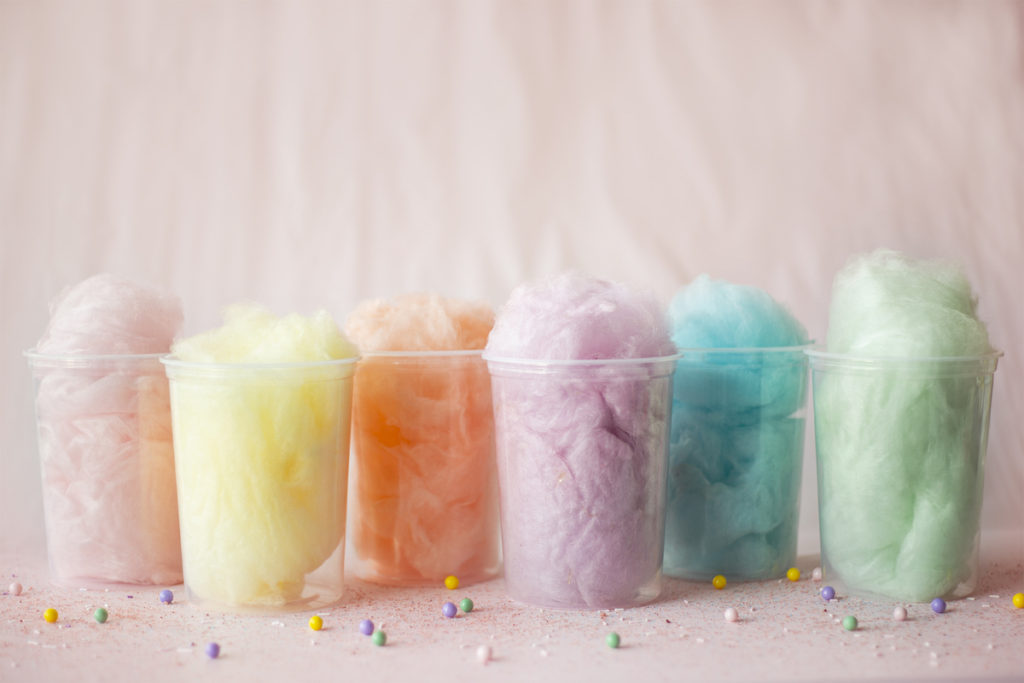 Finally, if you're making A LOT of cotton candy, you'll find this tray helpful for hands-free storage and display. Also, a stabilizer net is beneficial for forming beautiful creations. It clips to the side of the bowl, holding the strands of candy in place until your paper cone swirls around and to scoop it up.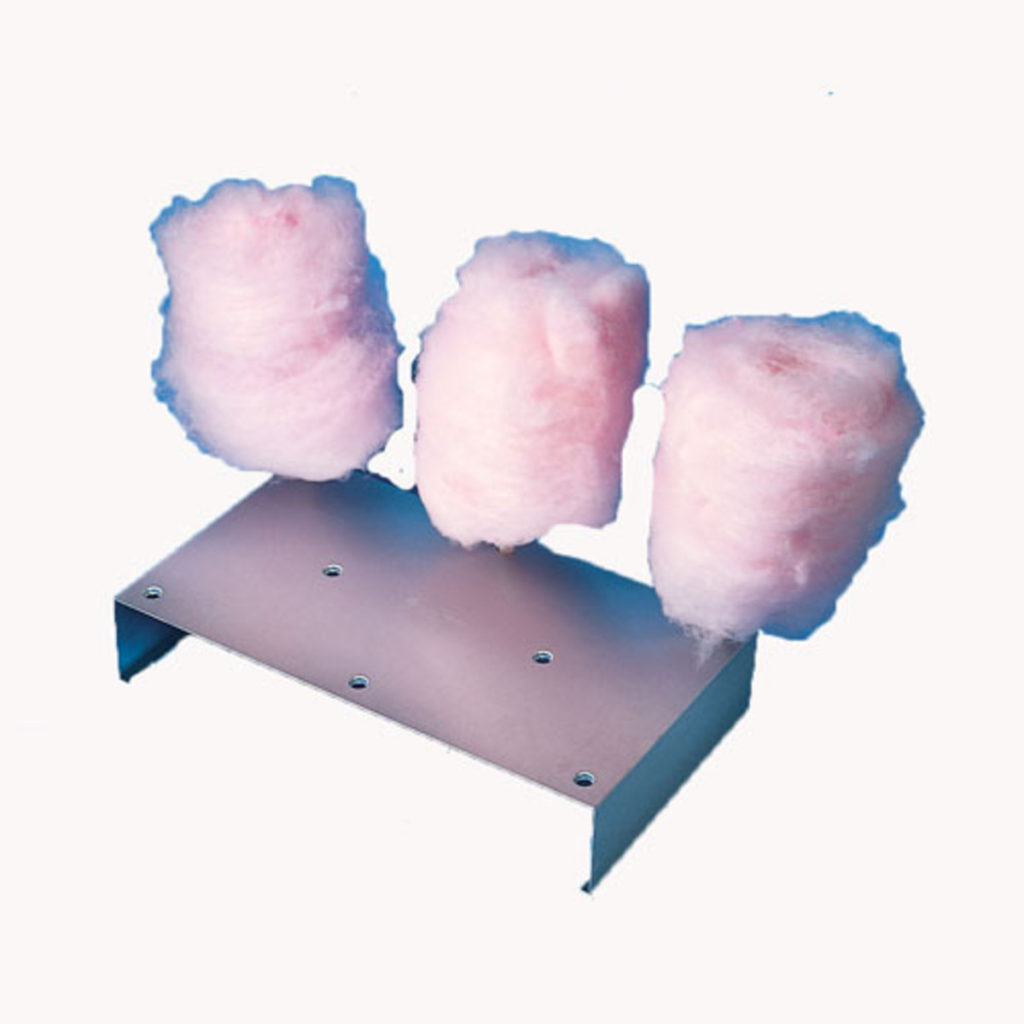 MAKING COTTON CANDY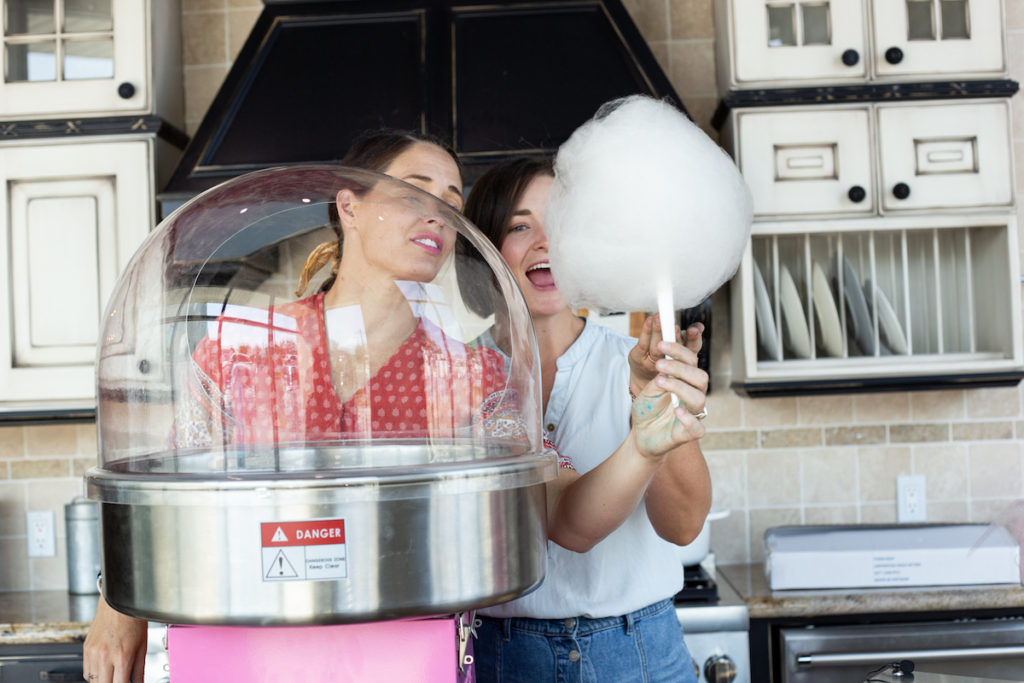 Preheat – give your machine 10-15 minutes to heat completely
Measure – measure your sugar. A full scoop makes a medium sized cone. Use less sugar for smaller cones. Play with colors and combine several small scoops for a lovely sunset cotton candy.
Pour – get ready to pour by arming yourself with cotton candy cone. Pour the sugar in the center of the floss head, while it is spinning and prepare for immediate cotton candy! It starts flossing so fast!
Form – play around with forming your cotton candy. Swirling around the floss head is easy. We also like placing the cone directly above the floss head and spinning the stick around allowing the cotton candy to build up around it. Keep going until the scoop of sugar has all been transformed into floss.
Eat – your cotton candy is ready to enjoy!
Store – if you're making the candy in advance, store in an airtight container. We recommend only storing for a few hours, but it is possible to make the day before, if the cotton candy is kept at moderate temperatures (don't store it outside in the cold or the heat).
REMINDER – some machines will overheat. If needed, take a 15 minutes break after every 45 minutes of use.
CLEAN UP
When you're completely covered in cotton candy, you'll know it's time to clean up! Luckily general maintenance of the machines is straightforward. Simply wipe out or wash away the leftover sugar. It's comes right off the bowl, making it so easy.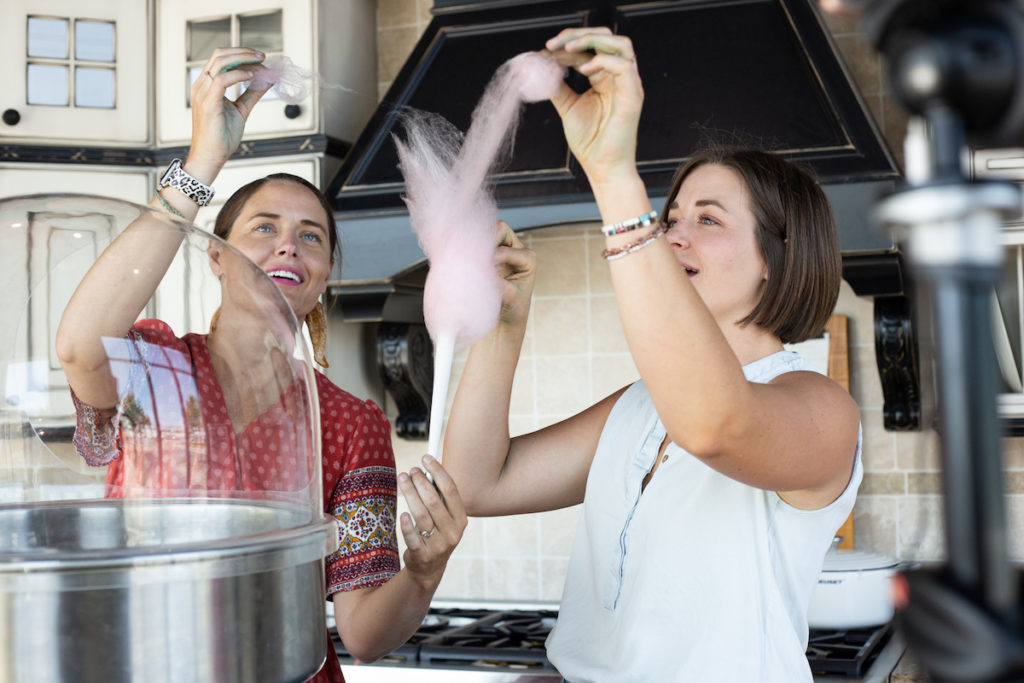 Depending on how often you're using the machine, you'll also need to deep clean the center floss head. Every machine is different, so refer to the user's manual for information specific to your machine. Just know that is your machine smokes when heating, it's time for deep clean.
HAVE FUN!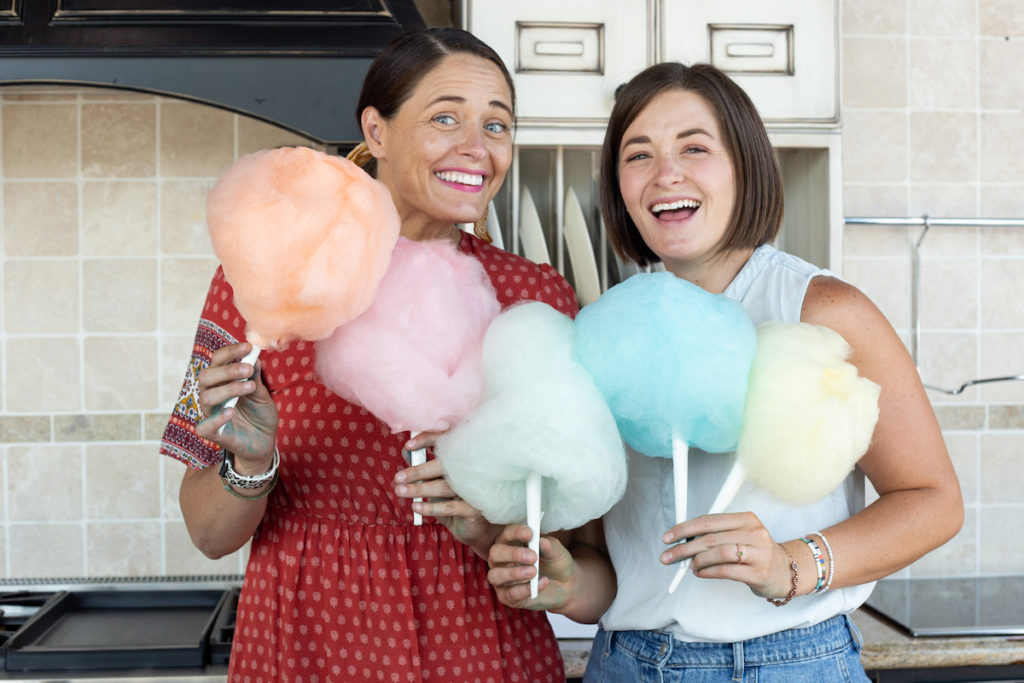 Once you've mastered the basics, play around with shapes and color combinations. Spin some hard candy cones (jolly ranchers were a favorite). And enjoy the fun that Cotton Candy brings to any party.