PSST… In this recipe, we use a 9×5″ bread pan from our favorite lineup of Fat Daddio's bread pans. We love Fat Daddio's pans because they give us a consistent bake, straight sides, and quick cool from the oven. Get yours here.
As we all were trying to find ways to cope with what 2020 has given us, bread-baking gained a crazy amount of newfound enthusiasts! Yeast breads, sourdough breads, and everything in between were bringing each of us a little bit of comfort as something we all felt that we could accomplish. And who doesn't love some fresh, warm bread?
Now that things have gotten a little more back to normal… kids are back in school, husband isn't working from home, no more reasons to stay in our sweats ALL DAY, I have found that the bread making is happening less often. But my children became lovers of fresh baked bread- and you would not believe to disappointment when I pulled out a loaf of store bought bread for French Toast the other day! My schedule has started filling back up, but thanks to the convenience of baking powder/baking soda, our bread baking can still happen, from start to finish in less than an hour!
BAKING SODA & BAKING POWDER
These two ingredients are no strangers to the baking world. We see them in our cookies, our cakes, and even in our science experiments! Both are chemical leaveners that give our baked goods a light, airy and beautiful rise. But after a little investigating you will see that while they have the same job to do-they should not be used interchangeably, at least not at the exact same ratio.
Baking Soda's other name is sodium bicarbonate, when it is mixed with an acid-think lemon juice or buttermilk for example, it releases carbon dioxide and gives your baked goods a rise. But the addition of that acid is what kick starts it into action so make sure if your recipe calls for lemon juice- use lemon juice! It has been designed to have the ingredients all work together- have you ever had a metal or tinny taste in a cookie or bread- that often times come from leftover baking soda that was not activated. Keep in mind baking is like one big chemistry experiment- so trust the recipe creator (or if that is you)- and use the right ingredients for baking success.
Baking Powder was created by taking baking soda, a powdered acid, and a little bit of cornstarch. Because these ingredients are all added together they make it so you can use baking powder in items that may not have an acid to activate the baking soda- that added acid will activate it once added to liquid. Baking powder is less potent than baking soda but can also be a bit forgiving which is why you see it in many quick breads. If you happen to notice "Double-Acting" on the outside of your baking powder bottle- this means that it will be given two chances to added some rise to your baked goods- once when mixed with the liquids in the mixing process and the second time when it gets introduced to heat! This is why we just love baking powder!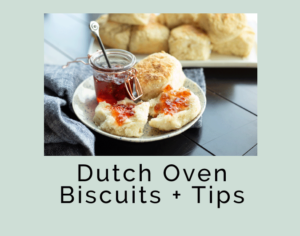 Thank goodness both ingredients were created- we are able to make and enjoy hot fresh baked goods much sooner than when waiting for our yeast breads to rise-and then rise again. As you explore the delicious world of quick breads we thought it would be fun to share two of our most used recipes- Apple Cinnamon Quick Bread and Chef Todd's Famous Biscuits. Both have become a common staple for our family and the quick bread is my favorite way of dropping off a quick little treat to a neighbor or friend! Enjoy and let us know if you make either- we can't wait to hear what your family thinks!
---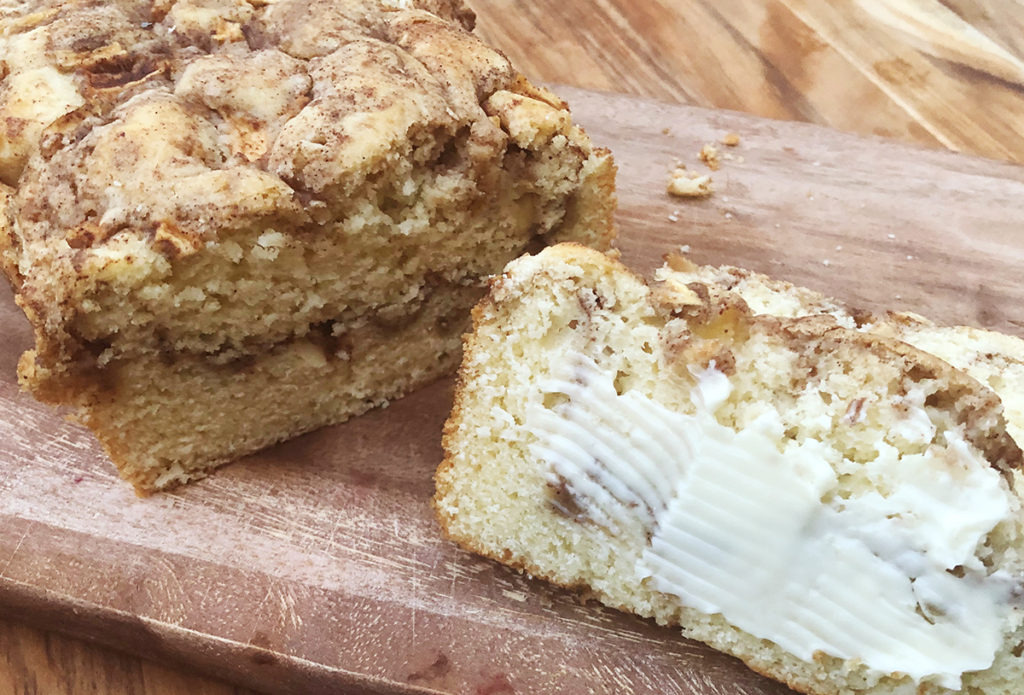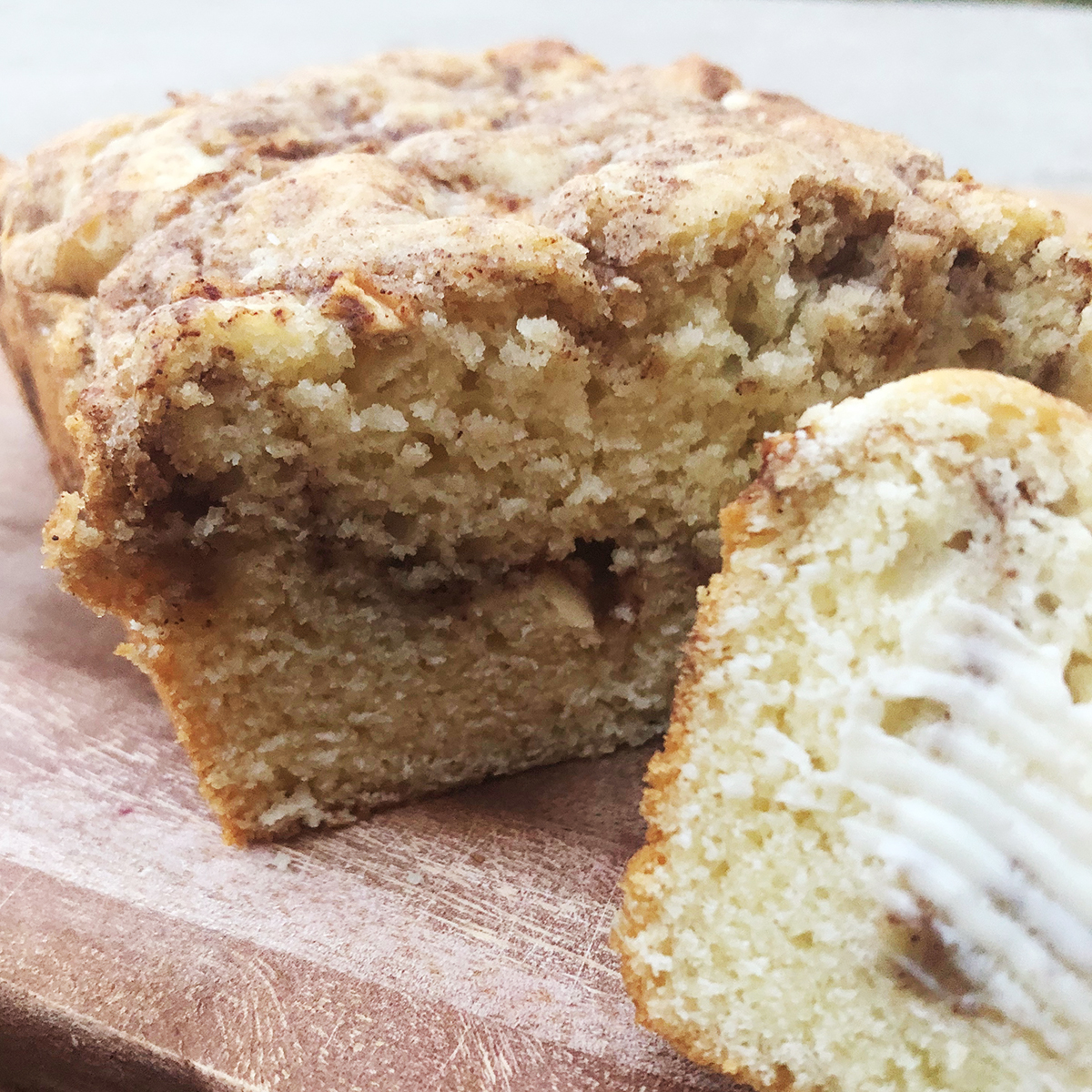 Print Recipe
Apple Cinnamon Quick Bread
All of the flavors and memories of warm apple pie wrapped up in a quick bread!
Ingredients
1/3 C Packed Brown Sugar
2/3 C White Sugar
1 teaspoon Ground Cinnamon
1/2 C Unsalted Butter, softened
2 Whole Eggs
1 1/2 teaspoons Vanilla Extract (or Butter Vanilla Emulsion works nicely)
1 1/2 C All Purpose Flour
1 3/4 teaspoons Baking Powder
1/2 C Whole Milk (or buttermilk for a nice tang)
1 Whole Apple, peeled & chopped
Instructions
1

Preheat oven to 350 degrees.

3

In a stand mixer fit with your paddle attachment or with an electric mixer, beat together white sugar and butter until smooth and dull in color.

4

Add eggs and beat, one at a time, until incorporated, then add vanilla and stir until combined.

5

Fold in flour & baking powder, then add milk and mix all together until batter is smooth.

6

In a separate bowl, toss together the apples, brown sugar and cinnamon.

7

Pour half the bread batter into prepared loaf pan, and top with half the apple/cinnamon mixture.

8

Pour remaining batter over the apple layer, and again top with the remaining apple/cinnamon mixture.

9

Lightly swirl the apple mixture into the bread batter.

10

Bake for 30-40 minutes, or until a toothpick inserted in the middle comes out mostly clean with moist crumbles.