We're lucky enough to get our hands on Chef's Todd secret recipe – Chipotle Pineapple Barbecue Sauce. It's spicy, sweet, and everything you need for the summer. 
Yes, it's an intimidatingly long list of ingredients, but it yields 10 cups of sauce. That might last you an entire season of grilling or maybe it'll last a weekend – yes, it's just that good. You can use it to make ribs, dip your favorite fried foods in it, and more.
Preparing this Chipotle Pineapple Barbecue Sauce recipe is simple, but you'll be doing a lot of small things like dicing onions, mincing garlic and shallots, etc. Make sure you have all the right tools when you do it!
Chipotle Pineapple Barbecue Sauce: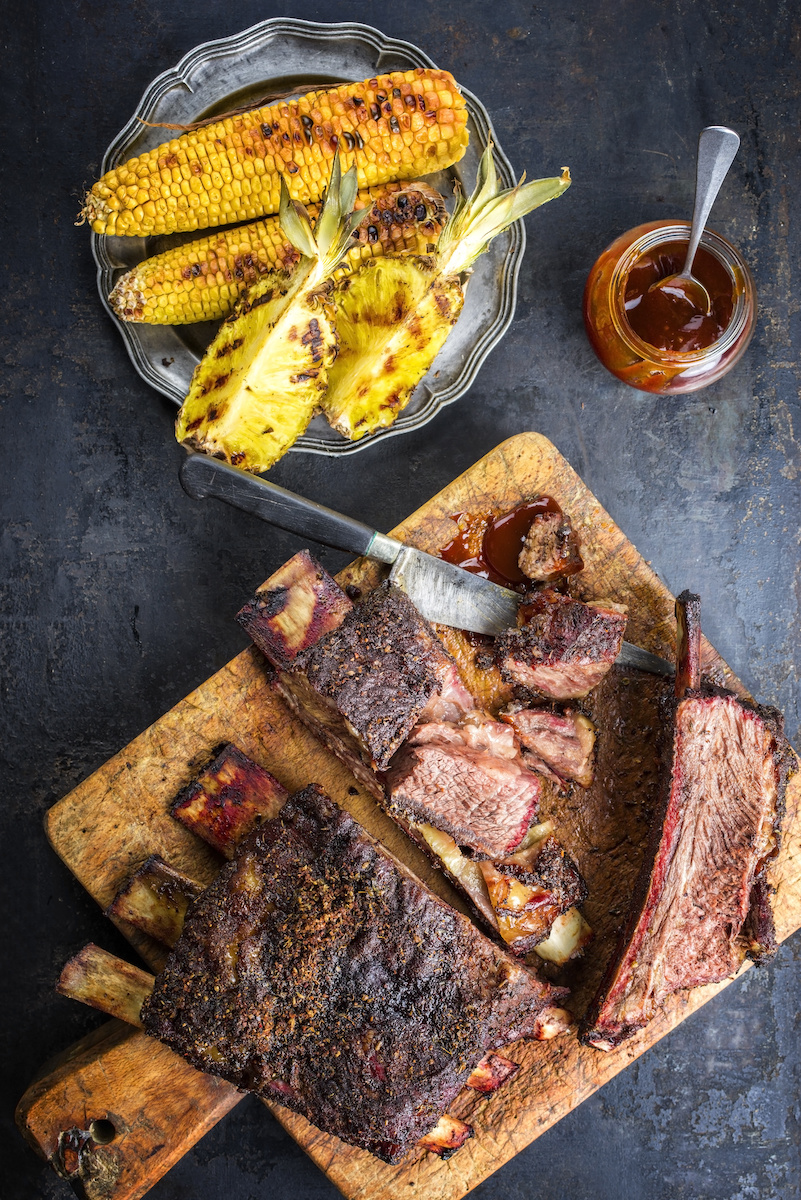 Print Recipe
Chipotle Pineapple Barbecue Sauce
Ingredients
1 Tablespoon olive oil

1/2 yellow onion, small diced

1/2 shallot, minced

1 Tablespoon garlic, minced

1 Tablespoon chipotle chili canned in adobo sauce, pureed

1 pound brown sugar

2 Tablespoons molasses

1/4 cup soy sauce

1/2 cup cooking sherry

2 Tablespoons yellow mustard

23 ounces apple juice

6 ounce pineapple juice

1 1/2 cups ketchup

1 1/2 cups chili sauce

2 Tablespoons worcestershire sauce

1/4 pineapple - peeled, grilled, then cubed

1 Tablespoons kosher salt

1 teaspoon black pepper
Instructions
1
In a large pan, heat oil.
2
Add onions to caramelize.
3
Add garlic and shallots towards the end of the caramelization of the onions.
4
Add the chipotle puree and stir well.
5
Add the brown sugar, molasses, and soy sauce.
6
Deglaze with the cooking sherry and simmer for a few minutes.
7
Add the mustard and stir until well incorporated.
8
Add the apple juice and pineapple juice and simmer for 30 minutes, stirring frequently.
9
Add the ketchup and chili sauce and let simmer, stirring frequently.
10
Season with salt and pepper and add the Worcestershire sauce.
11
Taste and season as needed.
12
Reduce sauce until syrupy and thick.
13
Add pineapple and puree with immersion blender.
14
Sauce should be smooth, thick, and amazing.