Ahhh, cream cheese pie. It's like a fun little sister to a sophisticated New York cheesecake! A standard cheesecake is heavy with cream cheese and eggs, and baked low and slow for a dense and very rich custard. It's just the best!
By contrast, cream cheese pie is a no-bake, lighter in texture, creamy pie. And THIS particular recipe takes things to the next level by adding some amazing Peter's Caramel! Which, if you've been here for awhile, you know our love for Peter's. We add the caramel right into the batter to blend with the cream cheese flavor and you get a delectibe but super simple pie to make anytime throughout the year.
*We use 1/2LB of caramel, which is about a cup, so if you've got leftover Peter's Caramel after dipping apples, this is a great way to use all of that up!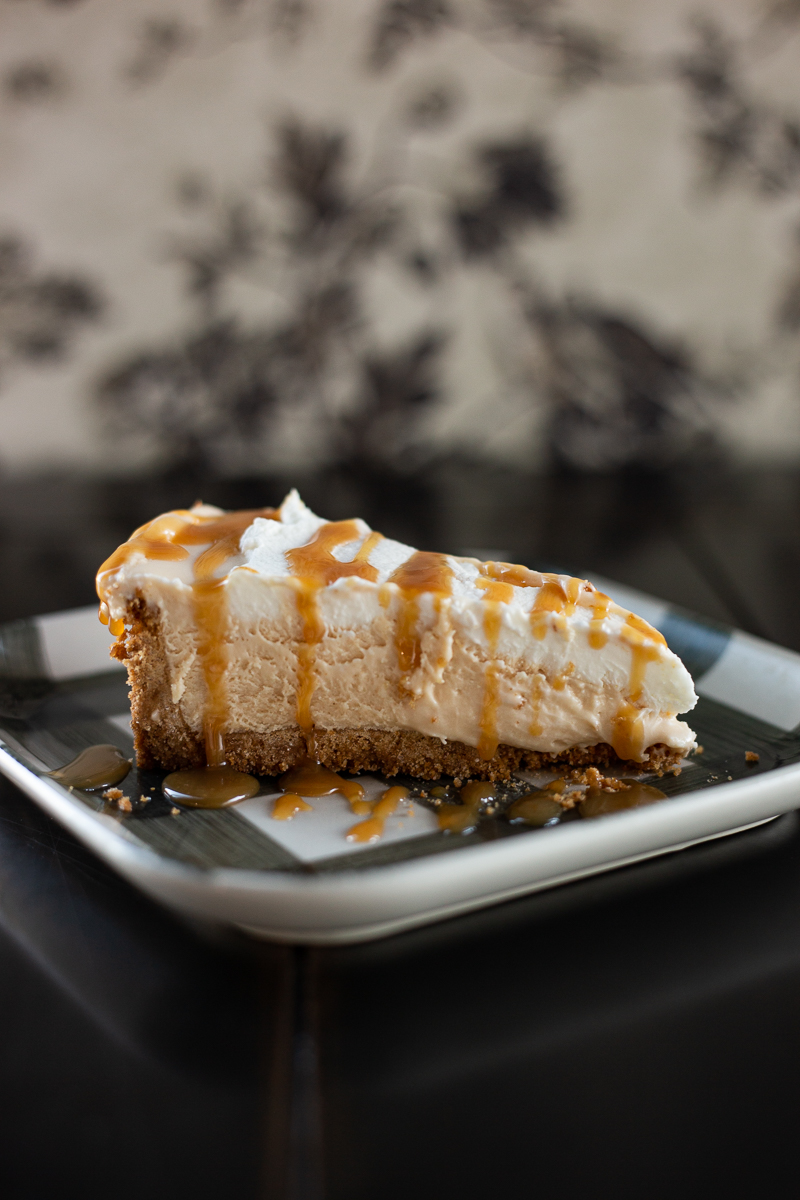 Print Recipe
Ingredients
For the Crust:
2 C Nilla Wafer crumbs (about 60 regular size cookies, but just eyeball it! A little more or a little less will still be great)
1/3 C Melted Butter
1/4 C Sugar
1/4 tsp Ground Cinnamon
Pinch of Salt
For the Filling:
12 OZ / 1.5 Blocks Full Fat Cream Cheese
1/2 LB / 1 C Peter's Caramel, melted
2 C Heavy Whipping Cream
1/2 C Sugar
Instructions
3

Stir together cookie crumbs, sugar, cinnamon and salt and melted butter.

4

Press into an 8" springform pan, making sure to press up the sides of the pan to create a nice shell for your pie filling.

5

Bake crust in the oven for about 15 minutes, until just the top edges are golden brown. Make sure it cools completely before filling.

7

Start by beating your cream cheese for about 5 minutes until fluffy.

8

Melt your caramel. Once melted, take out 1/4 C and set aside for later. It will cool but you will reheat it.

9

Add 3 Tbs from your 2C of whipping cream to the caramel to thin it out and mix together.

10

Once blended and smooth, pour slowly into your mixer with cream cheese. You may need to stop and scrape the bowl a couple of times to get everything incorporated but it will blend smoothly in a few minutes of low-medium speed. Set aside.

11

In a separate bowl, beat the remaining whipping cream and sugar until stiff peaks form.

12

Fold half of the whipped cream into your cream cheese mixture, then pour into your cooled pie crust.

13

Top with remaining whipped cream.

14

Refrigerate 4-6 hours at least to set, or freeze for at least 2 hours before serving.

15

At the time of serving, remelt the remaining 1/4 C Caramel and drizzle over individual pie slices.

16

This pie is also delicious topped with crushed toffee bar pieces.
Notes
If you don't have a springform pan, any pie dish will do. Just keep in mind this recipe is for an 8" pan. If yours is larger, add more cookie crumbs and melted butter for a bigger crust! Also, chill your mixer bowl before beating your whipping cream! The colder the bowl (and whisk) and cream are, the quicker the cream will peak.