Let us introduce you to our friend Val, owner and boss lady of the revolutionary Crust Club. Who doesn't love a place where you can order (and have delivered!) your meals + dessert to bake in your own oven. Val is a genius in the kitchen, using her proven recipes to sell over 200,000 meals and counting. Crust Club was founded on her classic chicken pot pie but has since expanded to desserts, hand pies, savory dinners, and more.
Val has a real passion for creating food, using simple ingredients, to get dinner on the table and into hungry bellies. While her crust club recipes are lockedup tight, she is so willing and happy to share this other delicious recipe with us. And just like anything they produce at Crust Club, these Double Chocolate Cream Cheese Brownies come with the Crust Club guarantee of goodness.
We were thrilled when she agreed to share her Double Chocolate Cream Cheese Brownies with us. We think you'll love the simplicity of ingredients with the complexity of the flavor and texture. And we believe every brownie should have at least two kinds of chocolate. In this case, it is cocoa powder and chocolate chips, so this is a total win in our books!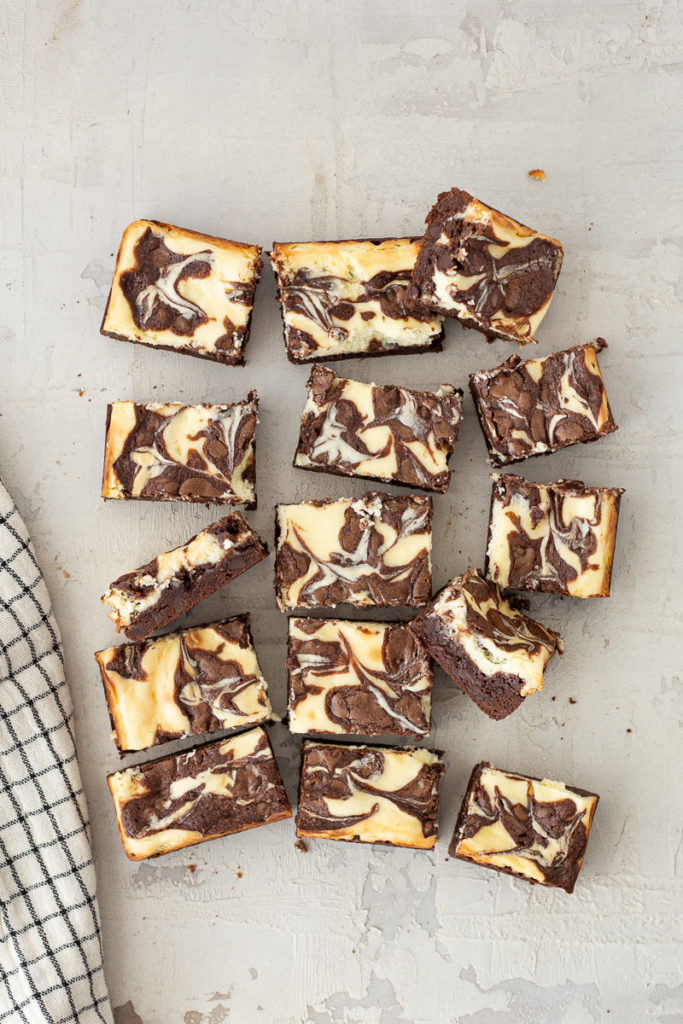 Look at these beauties! The magic of the Double Chocolate Cream Cheese Brownie swirl never gets old…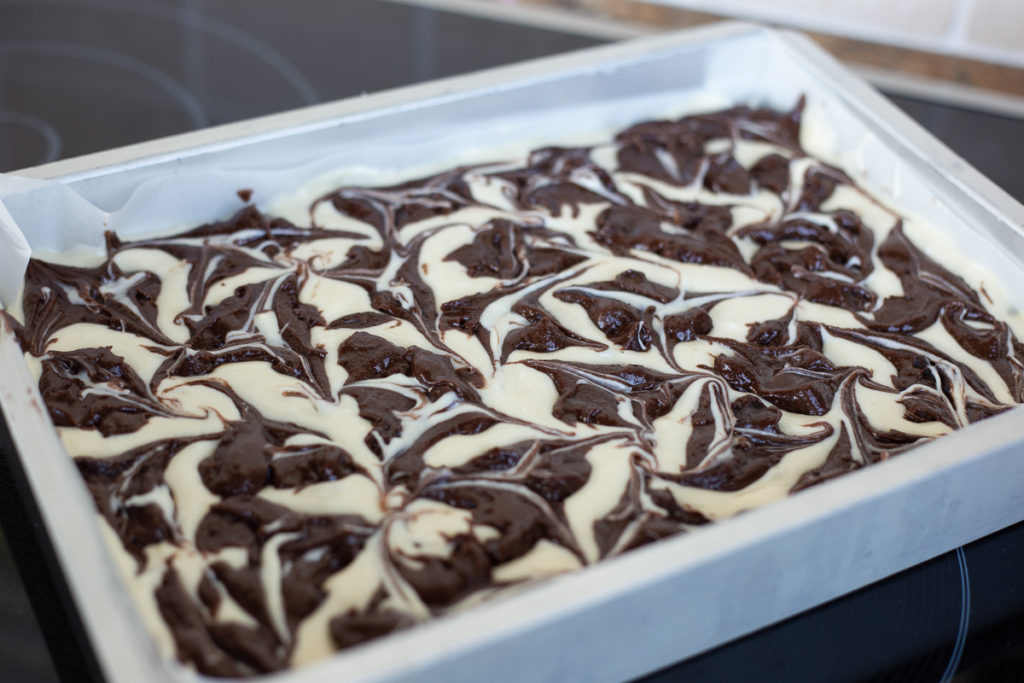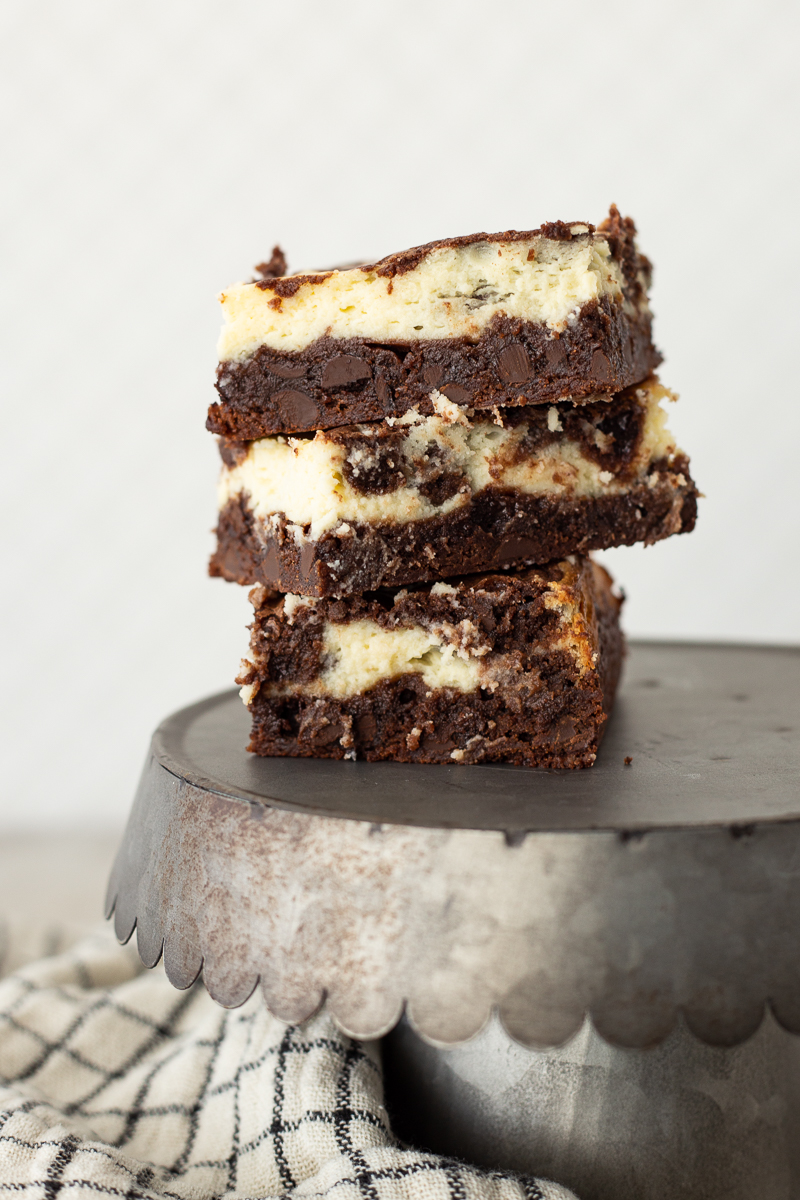 Print Recipe
Double Chocolate Cream Cheese Brownies
Ingredients
FOR THE BROWNIES:
1 cup butter, melted
2/3 cup cocoa powder (natural or Dutch process)
2 cups sugar
4 eggs
2 tsp vanilla
2 Tbsp corn syrup
1 1/2 cups flour
1 1/2 cup semi-sweet chocolate chips
FOR THE CREAM CHEESE TOPPING:
16 oz cream cheese, room temperature
2/3 cup sugar
2 eggs
2 tsp vanilla
Instructions
1

Preheat oven to 350 degrees.

2

Line a 9 x 13 baking dish with parchment paper. This makes dishing the brownies out super easy!)

3

In a large bowl, whisk together melted butter and cocoa powder.

4

Add 2 cups sugar, 4 eggs, 2 tsp vanilla, and corn syrup. Whisk until smooth.

5

Add flour and whisk until almost combined.

6

Add chocolate chips. Whisk until just combined. Set aside.

7

In another bowl, combine cream cheese, 2/3 cup sugar, 2 eggs and 2 tsp vanilla.

8

Beat on high until smooth. Set aside.

9

Spray parchment lined pan with non-stick cooking spray.

10

Pour and spread brownie batter into pan, reeserving 1/4 of the batter.

11

Spread cream cheese mixture on top of brownie batter, being careful not to mix the two layers.

12

Take the remaining brownie batter and drop spoonfuls of the batter over the top of the cream cheese mixture. Take a knife and carefully swirl the drops of brownie batter into the cream cheese layer.

13

Bake for 45 minutes to 1 hour.

14

Cool before serving. To serve you can lift the brownies out by the parchment and then cut into squares.

15

Store in the refrigerator.
Make these tasty Double Chocolate Cream Cheese Brownies with Val in this video:
. . . . . . . . . . . . . . . . . . . . . . . . . . . . . . . . . . . . . . . . . . . . . . . . . . . . . . . . . . . . . . . . . . . . . . . . . . . . . . . . . . . . . . . . .

If you haven't been over to see what Val and the rest of her Crust Club are whipping up every day, you should give it a look. She knows how to satisfy the soul and stomach at the same time. If you've loved these Double Chocolate Cream Cheese Brownies, you can find Val's other recipes here.
Want to learn more about chocolate? Read our Chocolate 101 post.
This Double Chocolate Cream Cheese Brownie recipe is a part of our 2020 Chocolate Extravaganza. To see a list of all the classes, click here.