These are the trendiest treat of 2020- and you'll quickly see why. You make a sphere of chocolate, fill it with hot chocolate mix (or cocoa powder and sugar) and toppings (mini marshmallows, sprinkles, peppermint) then plop them in a cup, cover with warm milk or water, and stir. Bada bing, you've got the perfectly flavored cup of cocoa!
We love it when Chef Lindsey shows up in our kitchen because she always finds a brilliantly fun way to include the kids in the kitchen. We loved getting the kids involved whipping up some chocolate bombs. Think of the fun this could create in your own home. These little chocolate bombs are so adorable wrapped up as a gift or to share at a party.
Here's how it's done:
Fill a silicone hemisphere mold with a spoonful of melting chocolate, and spread it around with the back of the spoon so it covers the mold. Then pour out the extra chocolate, and let the spheres set and solidify.
You can gently press the half-spheres out on a piece of parchment paper, and start filling them with the hot cocoa mix and toppings.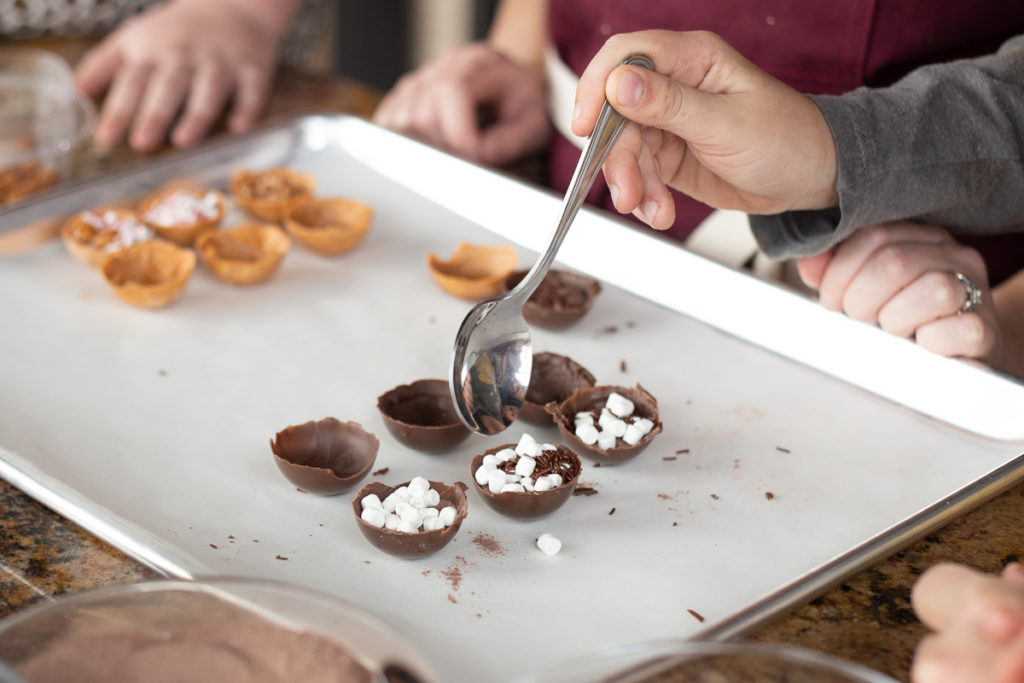 Then you'll warm up the open edge of the sphere by rubbing it on a warm plate, and press the two sides together.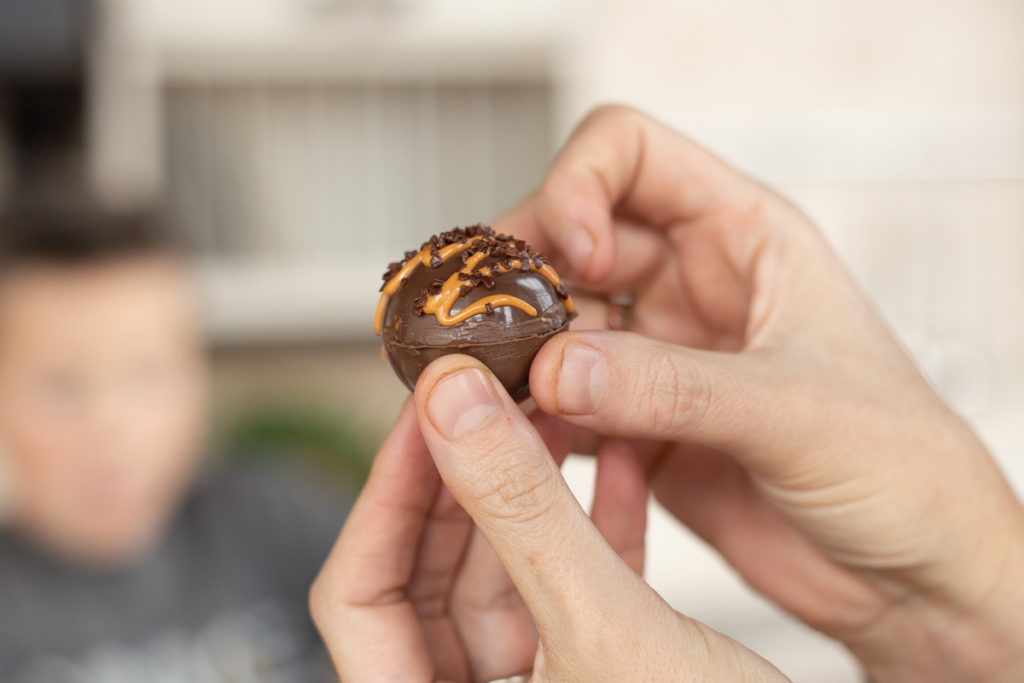 Then place your sphere back on the parchment paper, drizzle with a little more chocolate, add some sprinkles, pieces of peppermint, or chocolate shavings. Make them fancy!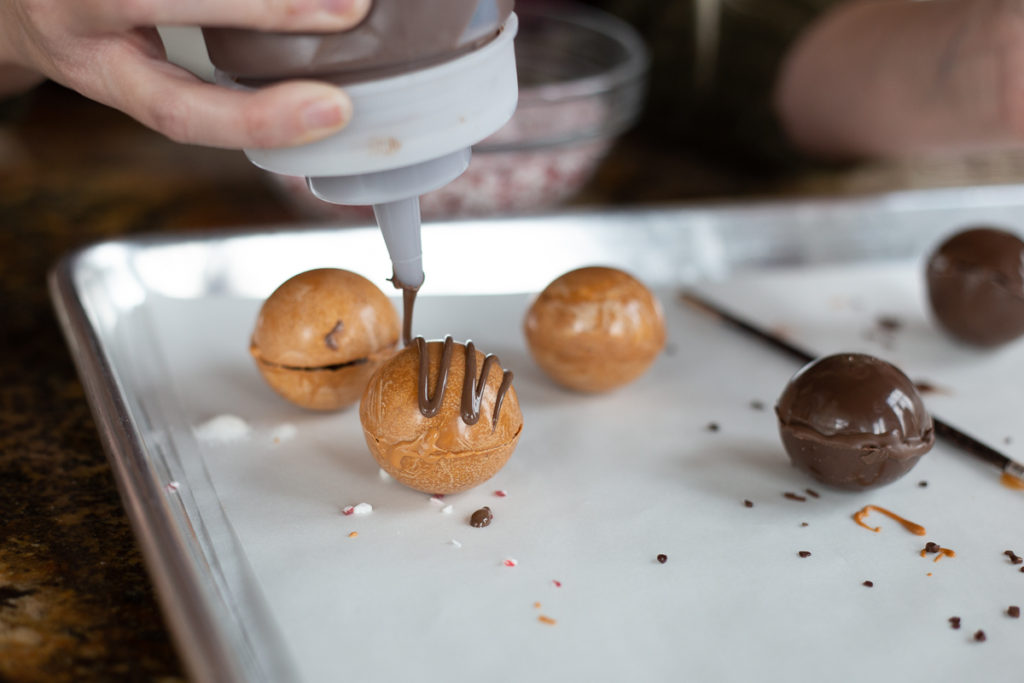 Once they're all set, you drop one in a cup and pour some warm milk or water over the top and let the chocolate bombs work their magic. You'll get to watch them swirl and spin and melt into a beautifully delicious cup of cocoa.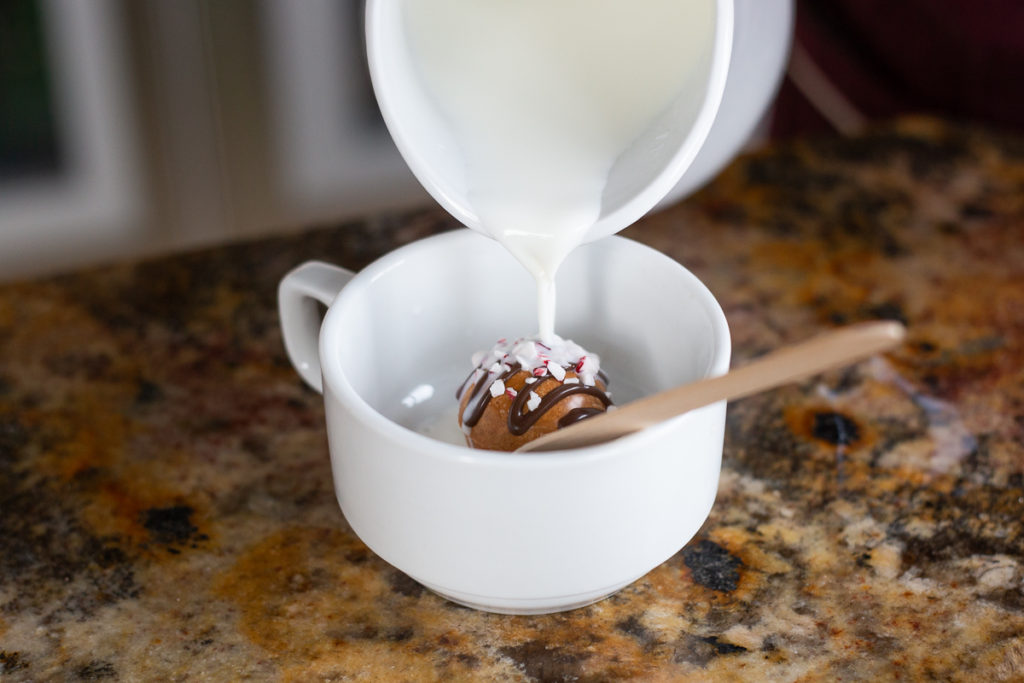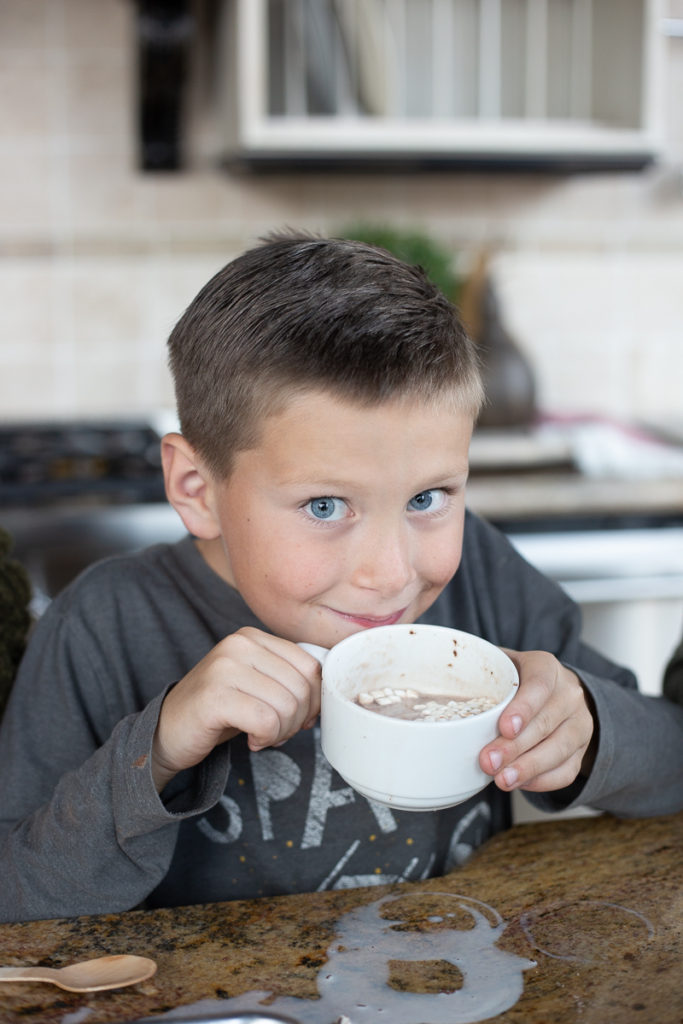 Print Recipe
Ingredients
8 ounces melting chocolate
3 tbsp hot chocolate mix
Toppings: dehydrated marshmallows, sprinkles, peppermint pieces, balls of caramel
Instructions
1

Melt chocolate in a small, microwave-safe bowl in 30 second increments. Stir in between each round, until melted smooth.

2

Add a heaping tablespoon of chocolate into each cup in the silicone mold, and spread with the back of the spoon to cover all of the mold.

3

Flip over onto a piece of parchment paper, and let the excess chocolate drip out of the mold.

4

Allow time for the chocolate to set, and harden. You could place in the fridge to speed it up.

5

With the chocolate side down, gently press the back of the spheres to remove them from the mold and onto your parchment paper.

6

Fill one side of each sphere with a Tablespoon of hot chocolate mix and toppings.

7

Warm a plate or bowl in the microwave.

8

Place the open edge of an empty sphere on the plate to gently melt the chocolate. Place the melted edge on the other side of the filled sphere.

9

Lay sphere back on the parchment paper, drizzle with chocolate and add some more sprinkles or peppermint pieces.

10

Place one chocolate bomb in the bottom of a glass or ceramic mug.

11

Pour 1 cup of hot milk or water over bomb.

12

Stir until well incorporated. Enjoy immediately!
Watch Chef Lindsey and the kids whip up these fun little treats:
. . . . . . . . . . . . . . . . . . . . . . . . . . . . . . . . . . . . . . . . . . . . . . . . . . . . . . . . . . . . . . . . . . . . . . . . . . . . . . . . . . . . . . . . .

Want to learn more about chocolate? Read our Chocolate 101 post.
This post is a part of our 2020 Chocolate Extravaganza. To see a list of all the classes, click here.