These cookies are a seasonal favorite! This kid-friendly recipe is a great way to get the entire family in the kitchen. There aren't many things better than having a family baking day while snow falls outside, it's picturesque. These delicious cookies are obviously great for eating and sharing, but can also be made to use as ornaments on a Christmas tree.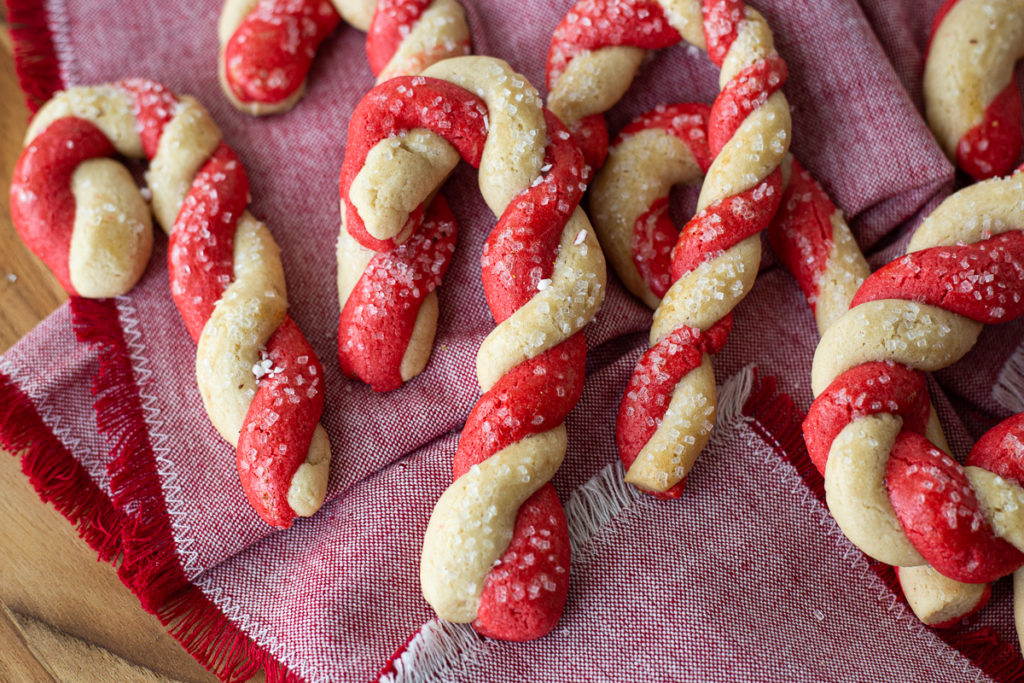 Start by mixing together a basic dough, then divide the dough in half. To one half, you add a little food coloring – we made ours red, but honestly you could do any color! Roll each color into a rope and twist them together, cut them into the length you want and form into the cute candy cane shape. Simple, tasty and fun.
Print Recipe
Ingredients
½ cup (1 stick) unsalted butter, softened
1 cup granulated sugar
2 large eggs
½ tsp vanilla extract
¼ tsp peppermint extract (or more to taste)
1 tsp kosher salt
2 ½ cups all-purpose flour, plus more for dusting
Red gel food coloring
1 large egg white, beaten
Coarse sanding sugar for decorating
Instructions
1

1. In the bowl of a stand mixer fitted with the paddle attachment, beat butter and sugar until light and fluffy, about 2 minutes.

2

2. Beat in vanilla, salt, and eggs. Gradually add flour and mix on low until just combined. Remove half the dough and set aside.

3

3. To the remaining dough in the mixer, add peppermint extract and about four drops of gel food coloring until desired color is reached. Mix thoroughly.

4

4. Form both dough pieces into disks, wrap in plastic, and refrigerate 20 minutes, up to overnight (dough can be frozen for up to 1 month; thaw in the refrigerator before using).

5

5. Divide untinted dough into 12 pieces. On a lightly floured surface, shape each into a 12-inch long log. Refrigerate until firm but pliable, about 10 minutes. Repeat with tinted dough.

6

6. Twist a tinted and untinted piece together; roll gently to form a log. Cut crosswise into 2 equal pieces and bend one end to form a cane. Repeat. Arrange on parchment-lined sheets, about 2 inches apart. Cover with plastic wrap and chill for 1 hour and up to overnight.

7

7. Preheat the oven to 325ºF. Brush each candy cane with egg white and sprinkle with sanding sugar. Bake, rotating sheets halfway through, until cookies are firm but not taking on any color, 20 to 24 minutes. Transfer sheets to wire racks and let cool completely.
Notes
*Cookies can be stored in an airtight container at room temperature up to 1 week.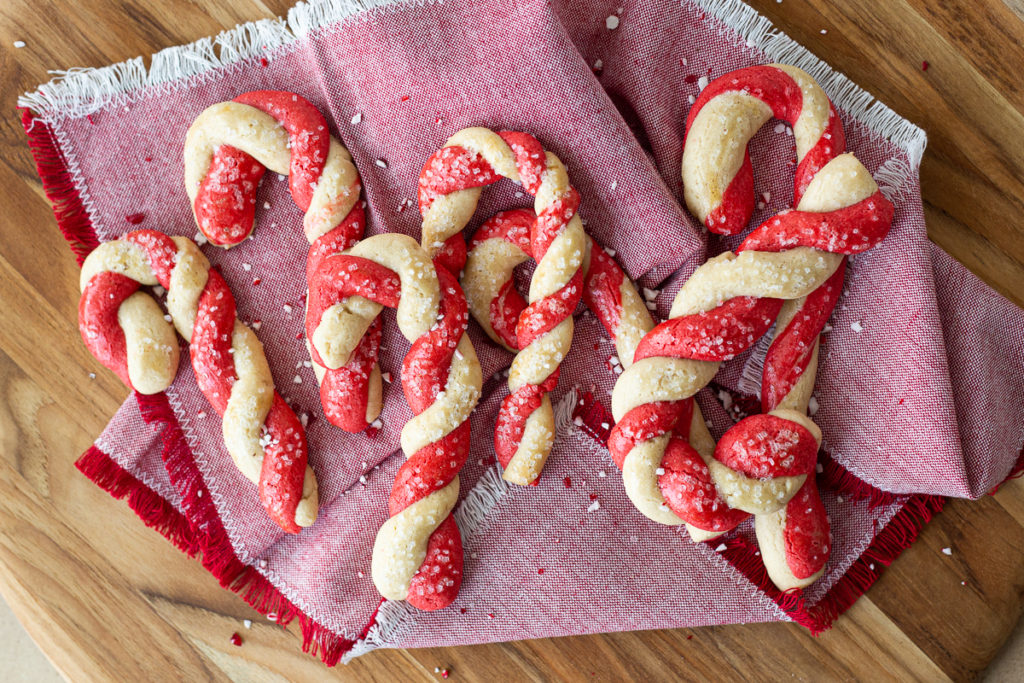 ---