Our friend Spencer's mom was the inspiration for this Toffee Crunch Cookie as it includes chunks of her favorite candy bar – a Heath bar. We love to use this recipe to create cookies that make a statement, meaning they weigh nearly one pound each! But we also love that this versatile dough can be used to create cookies of a more traditional size. This not-too-sweet cookie recipe allows for the candy bar to be the star of the show. 
We used a #10 food disher to get this humungous cookie, but feel free to use whatever size you want. To make them look really pretty, we suggest squishing a few extra pieces of Heath bar on the top. To finish, use a sprinkling of salt (our favorite are these sea salt flakes!) These additions make the cookies look like they came from a professional bakery (but even better tasting, in our humble opinion.) Toffee Crunch Cookies are a delicious treat and are great to share with others, or keep to yourself. We won't judge.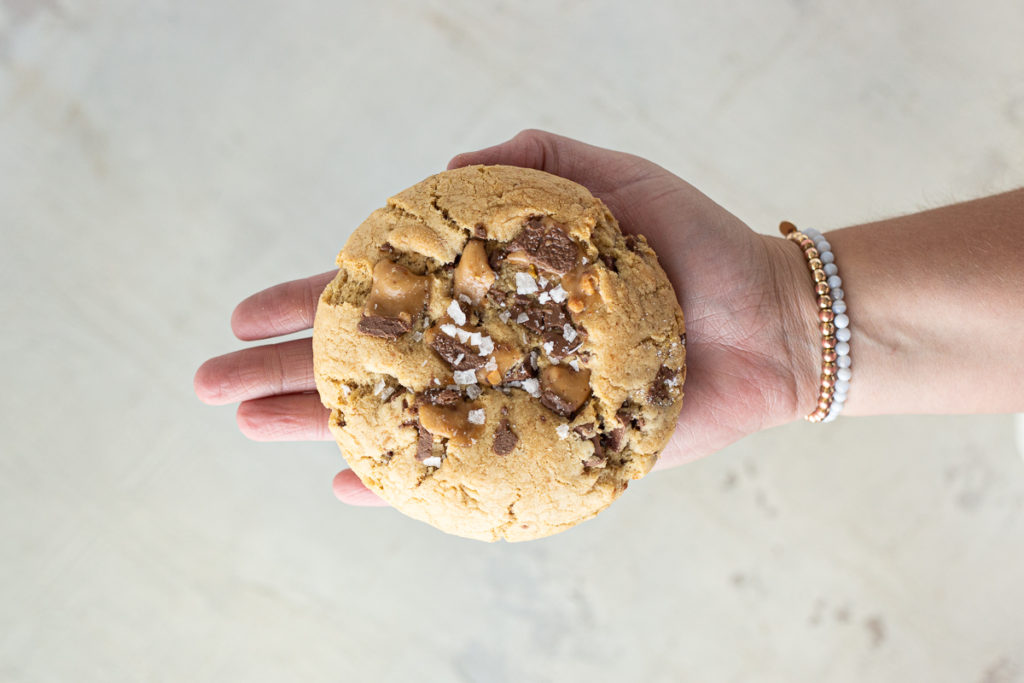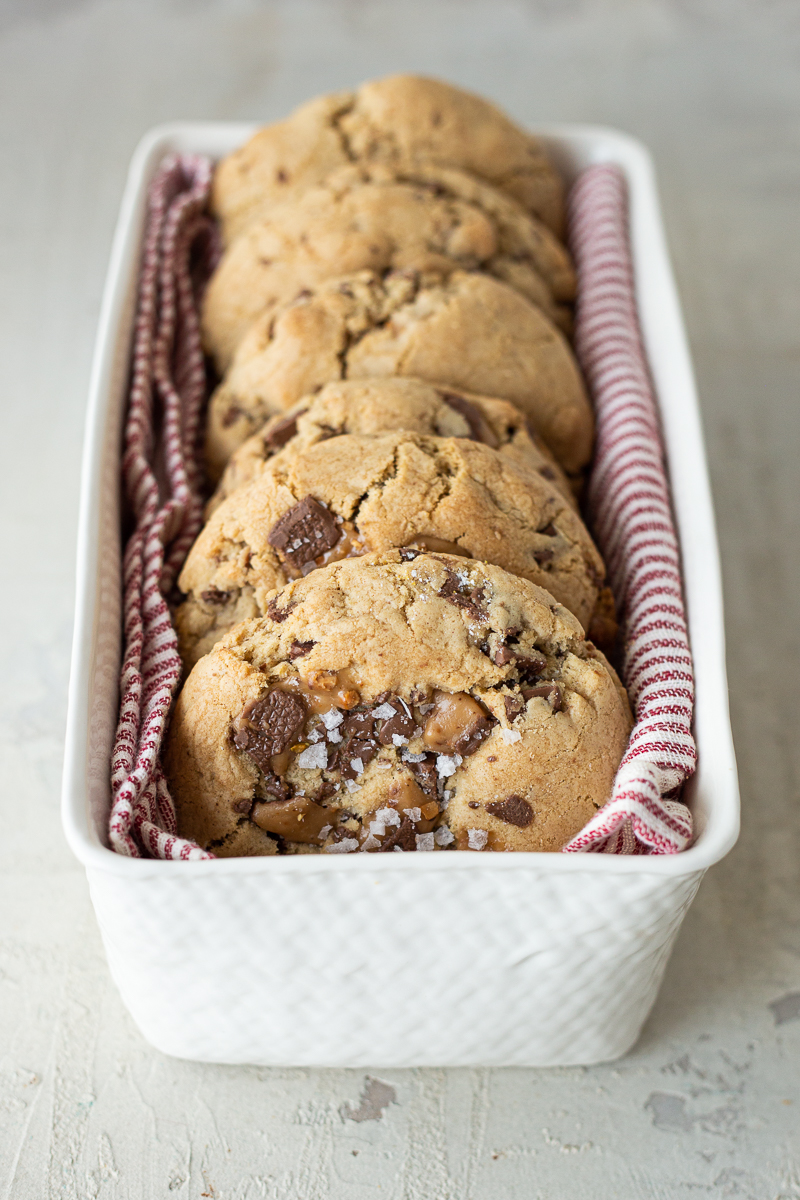 Print Recipe
Ingredients
226 g / 2 sticks unsalted butter, browned
200 g / 1 cup brown sugar
200 g / 1 cup white sugar
1 tbsp vanilla extract
3 eggs
2 tsp baking soda
1 tsp baking powder
1 tsp salt
1 tsp cinnamon
600 g / 5 cups all-purpose flour
100 G / About 1 cup semi-sweet chocolate chips
100 G / About 1 cup Heath Bar chips
Instructions
1

Preheat oven to 350ºF. Line a baking sheet with parchment paper, set aside.

2

Using a stand mixer fitted with a paddle attachment or a hand mixer, cream butter and sugars together on medium-high speed until light and fluffy, about 5-7 minutes. Add extract. Mix thoroughly.

3

Add eggs one at a time. Once mixed, add baking soda, baking powder, salt, and cinnamon. Mix thoroughly.

4

With the mixer off, add flour. Pulse the mixer to incorporate. Then let the mixer run on medium-high speed for about 60-90 seconds to ensure the dough has fully come together. Turn mixer off.

5

Add chocolate chips and toffee bits. Pulse mixer gently and then mix on high speed for 30 seconds, scraping the sides if needed.

6

Portion out scoops of dough (I use a 1.5 oz portion scoop). Place the balls of dough on a sheet tray and let them chill in the freezer for at least 20 minutes. You will bake them right out of the freezer which helps them stay fluffy and not spread out too much!

7

Bake 6 cookies at a time for 12-14 minutes or until lightly golden brown. (I usually rotate the pan halfway through baking.)

8

Cool for 10 minutes or until firm, then remove cookies to a cooling rack.

9

*For extra flair, use a round cookie cutter to scoot each cookie into a perfect circle IMMEDIATELY after taking them out of the oven.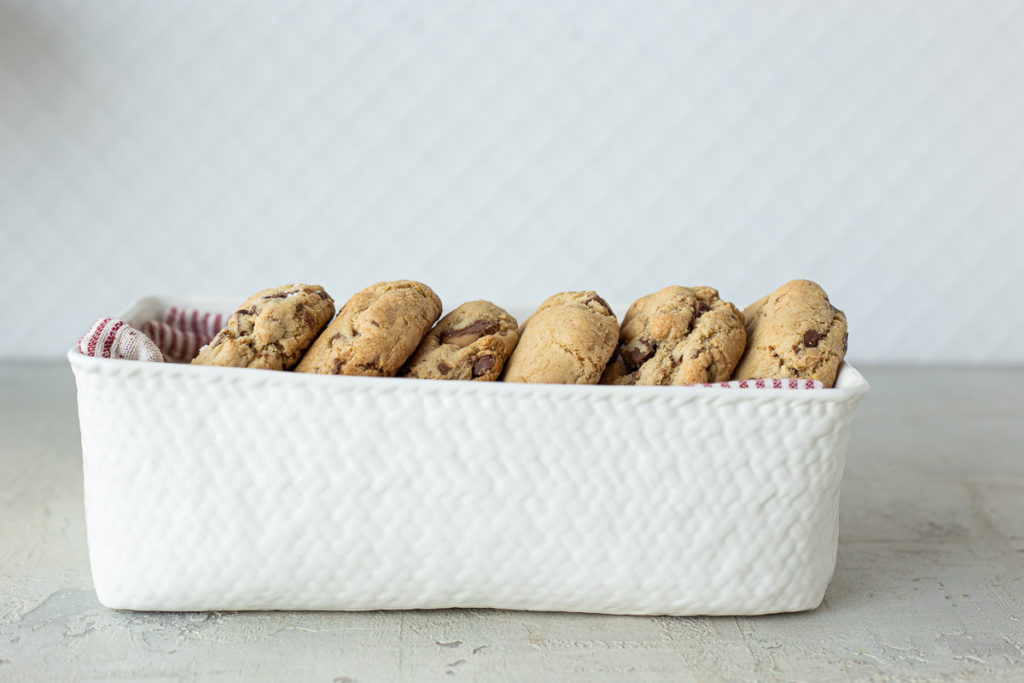 ---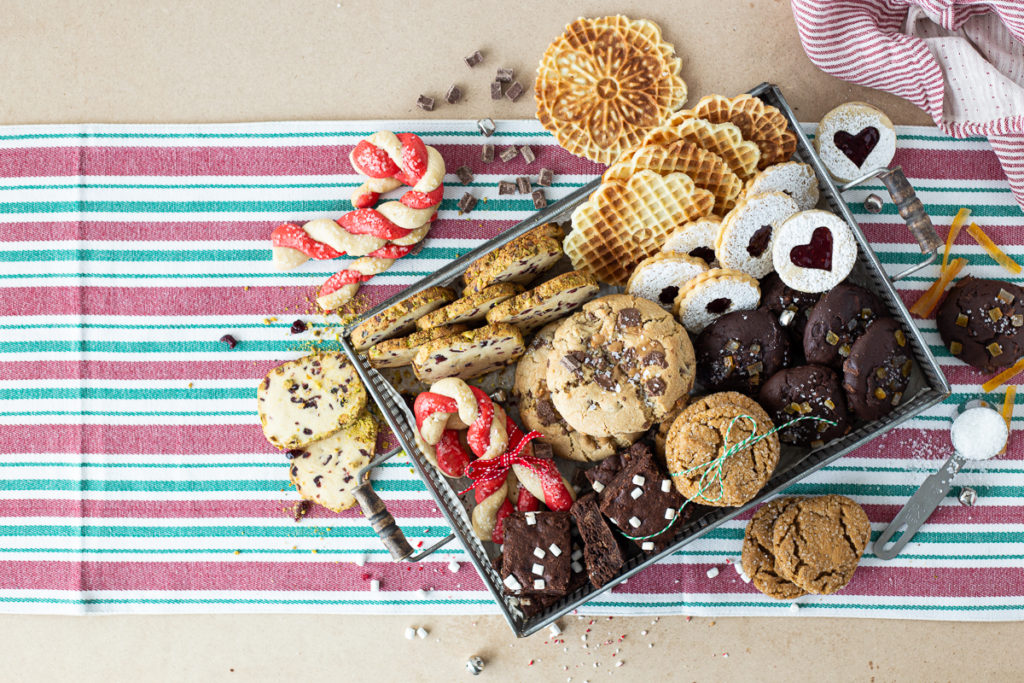 These Toffee Crunch Cookies look great in a holiday cookie tin. They're sure to stand out in a cookie swap, too!