These cookies are as beautiful and delicate as they are delicious! The buttery dough compliments the tartness of the raspberry jam in the most perfect way. This Raspberry Linzer Cookie recipe requires a little more time to make but we promise the few extra steps are more than worth it! 
One of the most important tools we recommend is this Lovely 1/8″ Rolling Pin. This rolling pin helps you get a uniform thickness so your Linzer cookies cook evenly and have a perfect crisp! Biscuit Cutters help you achieve perfectly round edges. If you want the cute little heart design in the picture below, we used this mini heart cookie cutter.
Linzer cookies are a great cookie to include on your holiday plates, but let's be honest… once you try these you'll be craving them all year long! Nobody can say no to one of these cookies and once you make them, you'll know why. Their dainty crumb and buttery taste are so good. We cannot say enough good things about these cookies! Try them and let us know how it goes.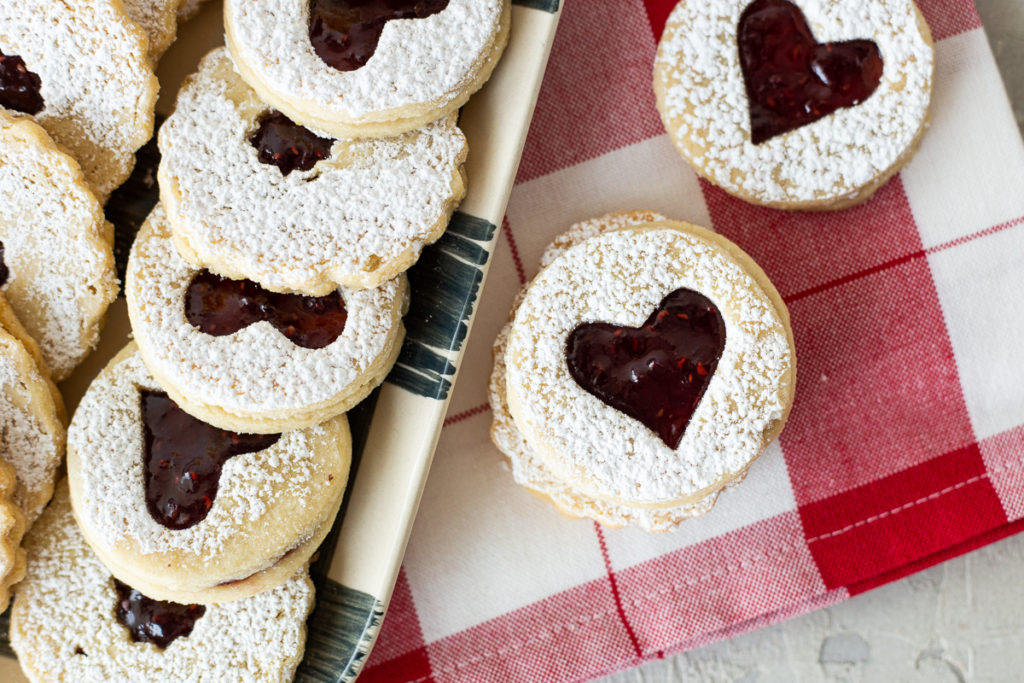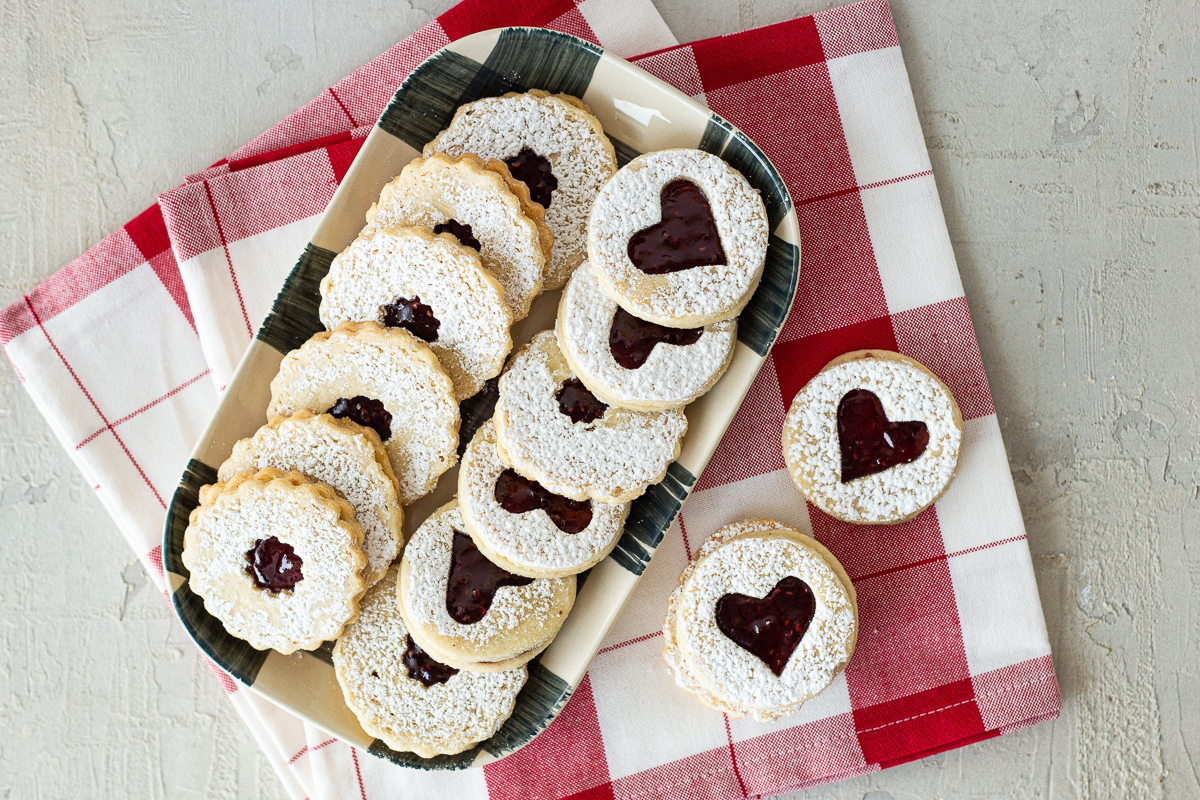 Print Recipe
Linzer Cookies
Buttery and delicious! Linzer cookies go great with raspberry jam, but feel free to switch it out with your favorite jam. A labor of love-- these cookies are totally worth it!
Ingredients
12 tablespoons (170g) unsalted butter, softened
1/2 ½ cup (100g) granulated sugar
zest (grated rind) of 1 lemon
1 large egg yolk
1 teaspoon vanilla extract
1 1/3 ⅓ cups (160g) all-purpose Flour
3/4 cup (72g) almond flour
1/4 ¼ teaspoon fine sea salt
raspberry jam, for filling
confectioners' sugar or glazing sugar, for dusting
Instructions
1

In the bowl of a stand mixer fitted with a paddle attachment, beat the butter, sugar, and zest until light and fluffy, about 3 minutes. Add the yolk and vanilla and beat until combined.

2

Meanwhile, whisk together the flour, almond flour, and salt. Add the flour mixture to the egg mixture and mix until just combined. Don't over-beat.

3

Divide the dough in half, and pat each half into a disc. Wrap in plastic wrap, and refrigerate until firm, about 1 hour.

4

To assemble: Remove the dough from the refrigerator, and let it soften for 5 to 10 minutes, until it feels soft enough to roll. On a floured surface, roll one disc of dough out about 1/8"-thick. Using a 2 1/2" round cookie cutter, cut out cookies. Transfer rounds to a parchment-lined baking sheet. Gather the scrap dough, roll, and repeat. If at any time during this process the dough becomes sticky and hard to work with, simply refrigerate it for about 20 minutes, until firm.

5

Place the cut cookies (you should have 20 cookies) in the refrigerator for 30 minutes and preheat the oven to 350°F.

6

While the first half of cookies is chilling, cut 20 rounds from the remaining dough. Once you've transferred these cookies to a baking sheet, use your smallest cookie cutter or the end of a round piping tip to make a peekaboo cutout in the center of each. Place cookies in the refrigerator for 30 minutes to chill.

7

Bake all of the cookies for 12 to 15 minutes, or until the edges are just beginning to turn brown. Let them cool for 5 minutes on the pan, then transfer to a rack to cool completely.

8

To fill the cookies: Place the cookies with the holes in them on a cookie sheet and sift confectioners' sugar over the top. Turn the remaining cookies flat side up and spoon 1/2 teaspoon of jam into the center, spreading it slightly. Top with the sugar-dusted cookies.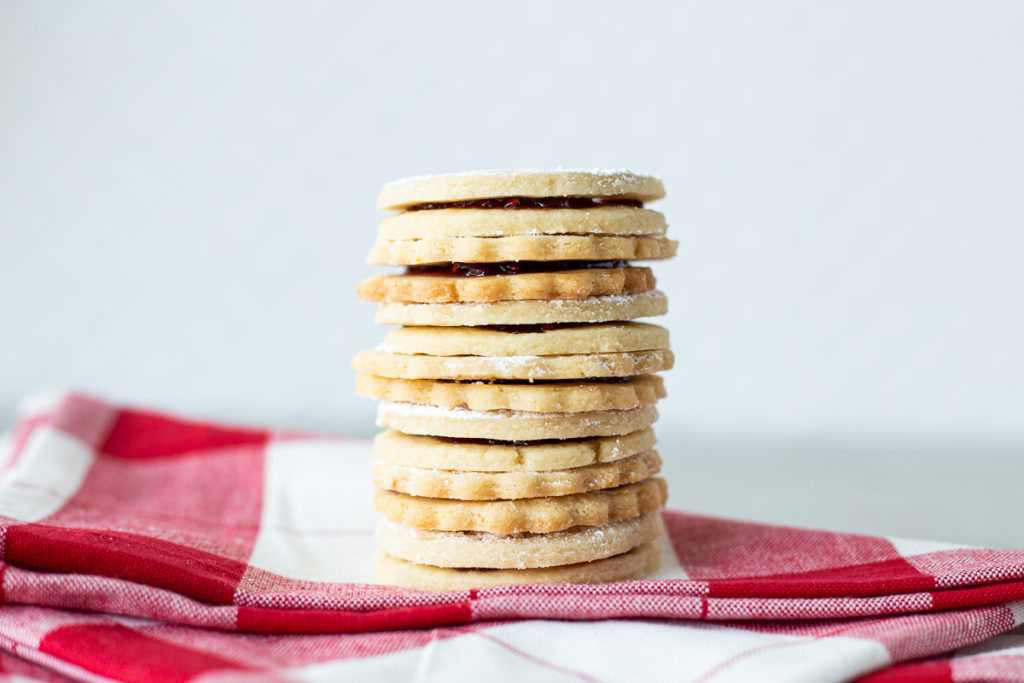 ---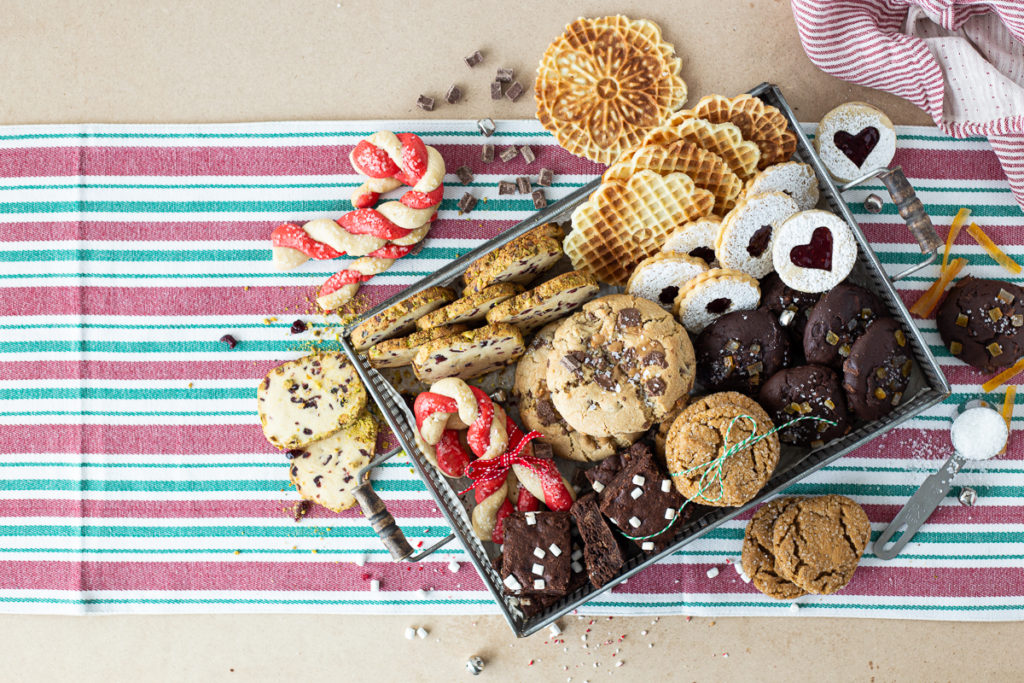 Linzer cookies look great in a cookie tin to give away to neighbors. But let's be honest, you're going to want to keep these all to yourself!