Anyone else buy those huge bunches of not-quite-ripe bananas with all the best intentions, but then a week later you discover them still in the bottom of the fruit bowl? The peels are all brown and splotchy and the insides have almost turned to mush. Who didn't eat these things?!? Oh wait, it was us. Well, no need to guilt-trip yourself about it. We have all been there, on many occasions. Luckily, all of those bananas don't need to go to waste. Banana bread (as you well know) is the perfect solution. And we have the most delicious recipe for you to try! (We used it during our bread pan testing). It uses up as many as 5-6 ripe bananas and the secret to this quick bread is the almond emulsion. It adds a delicious layer of extra flavor that will have these loaves disappearing a whole lot faster than those fresh bananas ever would. Wanting to add a little something extra? This recipe is also perfect to use with a handful of Gygi cinnamon chips. Toss in about half a cup or measure with your heart–we always do when it comes to our favorite flavors.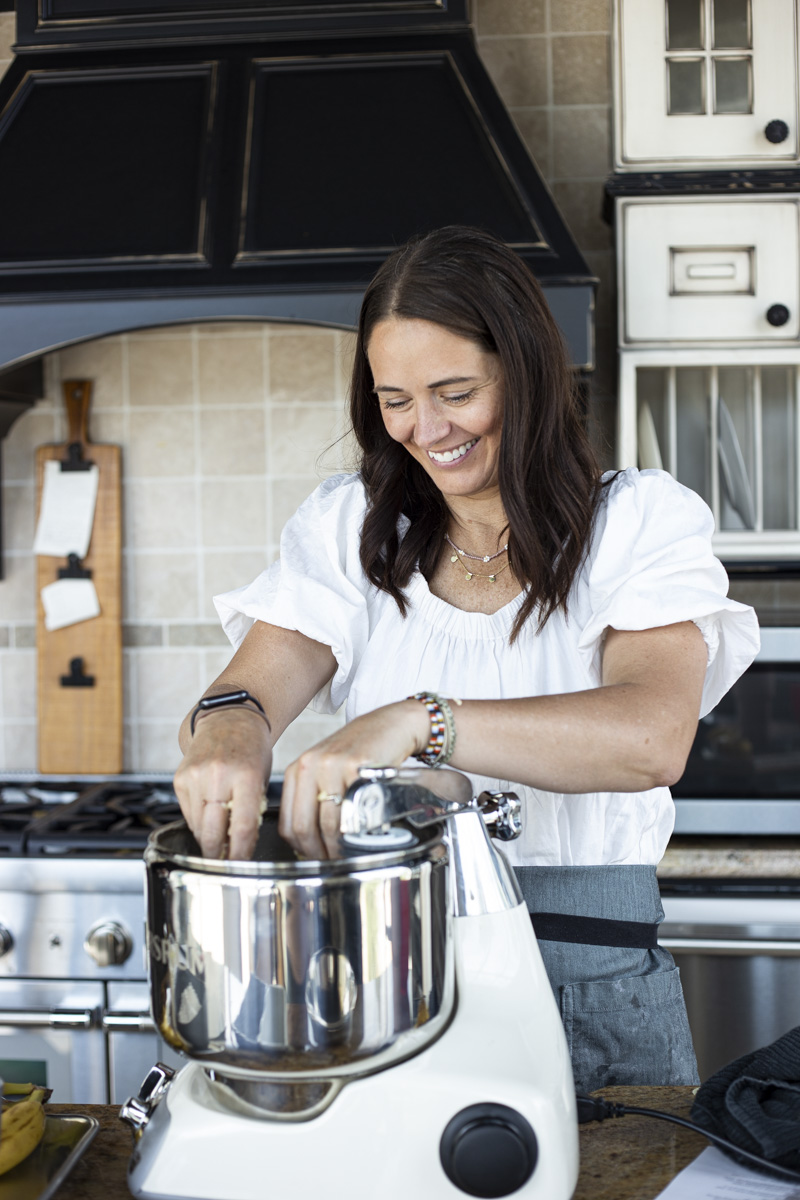 Banana bread is a perfect treat any time of year, but most especially during this transition to fall weather we have been enjoying lately. There is nothing like eating it warm and fresh out of the bread pan with a pat of butter. But you can also try spreading it with whipped honey butter, cinnamon butter, or your favorite cream cheese spread for a more decadent treat. We also like to toss in a cup of semi-sweet chocolate or butterscotch chips when we are feeling sweet. Honestly, it isn't a bad deal for what started out as a heap of too-ripe-to-eat bananas. In a mini loaf pan, these would make the perfect neighbor treats for fall. We can't wait to hear how you like it!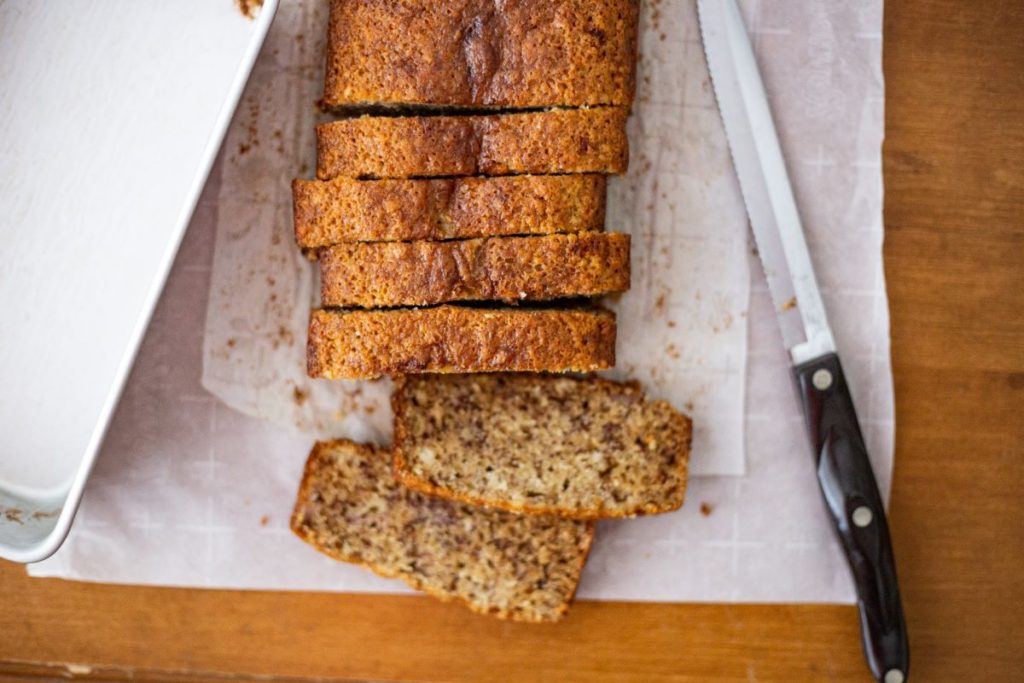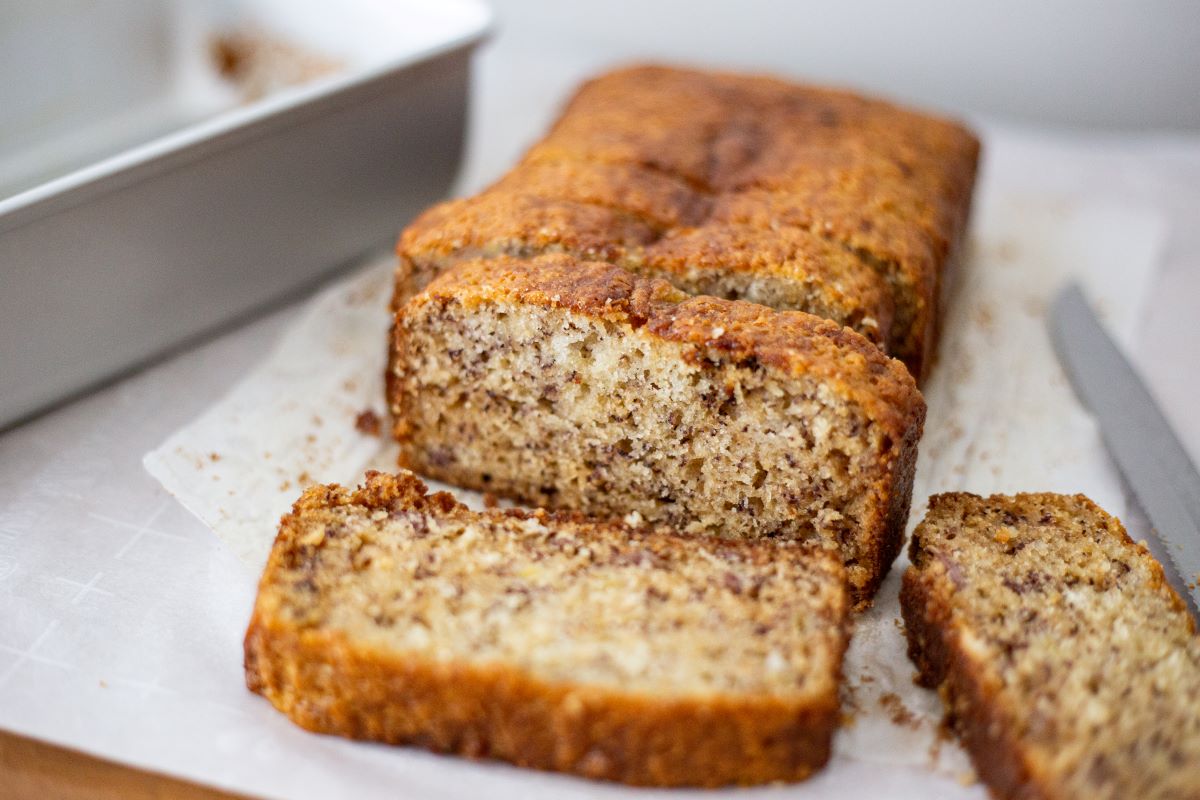 Print Recipe
Ingredients
3 eggs
2 cups sugar
1 ½ tsp vanilla
¼ cup oil
½ cup melted butter
1 cup buttermilk
1 ½ tsp almond emulsion
1 ½ tsp baking soda
3 cups flour
1 ½ cups mashed bananas (5-6 bananas)
Optional: 1/2 cup Gygi cinnamon chips
Instructions
1

Don't bother pre-mixing wet and dry if you don't want to wash another bowl. Just combine all of the ingredients in the mixer until incorporated.

2

Transfer batter to a greased bread pan.

3

Bake at 350℉ for 50-60 minutes.

4

You can do a toothpick test for doneness, but it can be misleading if you have any chunky banana pieces. Better to simply test for an internal temperature of 200-205℉.
Notes
When we tested this recipe in the different bread pans they all took longer than an hour to cook. That is why it is so important to know your bread pan and know your oven. And testing the internal temperature really is the best way to get a perfect bake up every time.