When you melt couverture chocolate, the cocoa butter molecules break down and become unstable. But with tempering, you can rebuild the cocoa butter crystals to give your chocolate treats that extra snap, shine, and sheen. There are several ways to temper chocolate and they can seem a little overwhelming. So we want to share a quick guide on our favorite and simplest way to temper couverture chocolate – in the microwave with seed chocolate. It is quick, requires the least amount of stuff, and gives you the most control over the tempering process. All you need is your couverture chocolate, a microwave-safe bowl (we recommend these silicone bowls), a spatula, and a digital thermometer.
Tempering Printable
Before getting started, you should check out this printable and keep it on hand. We still rely on this same sheet and use it as a reference for every chocolate class.
Tempering Chocolate Temperatures
| | | |
| --- | --- | --- |
| Flavor | Heat-to-Temperature | Use-at-Temperature |
| Dark | 115°-120° | 89° |
| Milk | 110°-115° | 86° |
| White | 110° | 84° |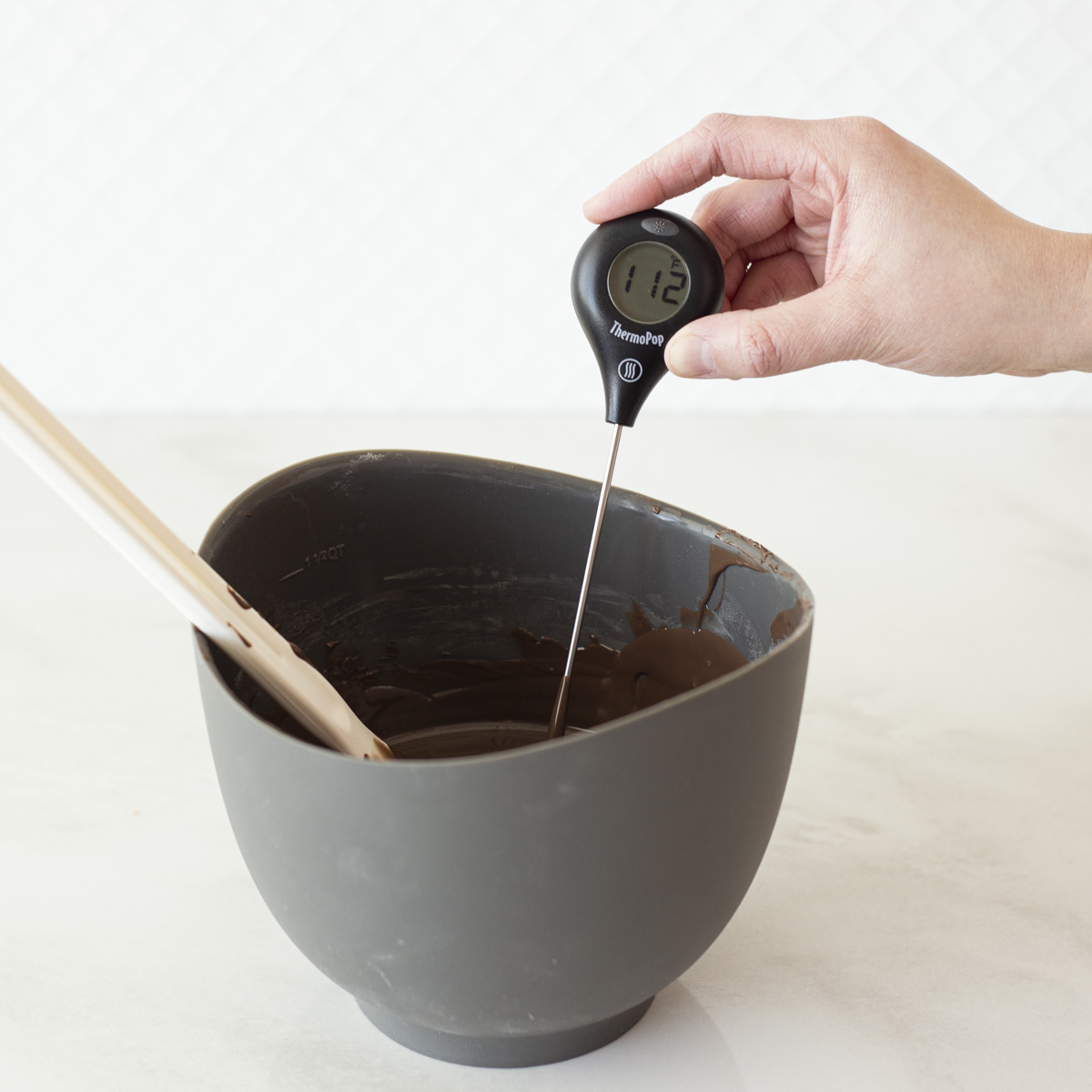 Steps for Tempering Couverture Chocolate
Step 1. Pour ⅔ of your chocolate wafers or pieces into the bowl and microwave on half power for 1 minute, then stir. Keeping at half power, continue microwaving the chocolate again for 30 seconds at a time, stirring in between each increment, melting to the proper heat-to-temperature (found in the chart above).
Step 2. Once it reaches the heat-to-temperature, add the remaining ⅓ of the unmelted couverture chocolate, called the "seed chocolate." The seed chocolate can be wafers or a large chunk off the block. Continue stirring the seed chocolate around in the bowl to help cool and agitate the melted chocolate until it reaches the proper use-at-temperature.
Step 3. As soon as the chocolate reaches the proper use-at-temperature, you can stop stirring, remove large pieces or chunks, and test it by dipping a tip of a knife or a small strip of parchment paper into the chocolate. Wait for 2-3 minutes for the chocolate to set and check for proper snap and sheen. Once the test strip is successful you can use your chocolate as you like.
Step 4. If the strip is not successful and doesn't set after a couple of minutes, you might need to test the temperature of the chocolate again. If it is too hot, add some more seed chocolate and stir to lower the temperature. If the chocolate is at the right temperature, you might want to try cooling the strip in the fridge to see if the chocolate is in temper. If chocolate isn't in temper you can just start the process over, heating in small increments until the heat-to-temperature and cooling with seed chocolate until the use-at-temperature. It won't hurt the chocolate to temper it over and over again! But any time you reheat the chocolate, be sure to test the temper before using it again.
Step 5. If the chocolate starts to harden while you are using it, you can heat it slowly, but you also want to keep it under the use-at-temperature to help keep it in temper. Some people use a heating pad or a double broiler to help keep it warm and at the right temperature.
| | |
| --- | --- |
| Properly Tempered Chocolate | Improperly Tempered Chocolate |
| Shiny/glossy surface | Dull finish |
| Even color | Spotted in color |
| Good snap | Poor snap |
| Smooth texture | Soft, uneven texture |
| Good contraction when removing from mold | Poor contraction when removing from mold |
| No bloom | Fat bloom (streaks) on surface |
If you run into some problems with your tempering, you can use this quick troubleshooting guide. If not, you did it! Now, get ready to enjoy some irresistible chocolate treats! Tempering couverture chocolate does not have to be overwhelming. The best thing you can do is to just get in the kitchen and start experimenting. 
If you're still a little uncertain about tempering chocolate, check out our video below. We'll walk you through every step of the process!