Prepare to double this, because these crescent dinner rolls will not last long. They always come out so soft and delicious – the perfect addition to any holiday meal. And we love this recipe because you can prepare the dough the day of and do the first rise at room temperature, or if you don't want to rush the process on the day of your feast, you can make it the day before and allow it to slow-rise in the refrigerator for 12 to 16 hours.
If you don't have our favorite Diamond Crystal Kosher Salt, now is the time to get it in your shopping cart. For this recipe you will also need a good rolling pin and baking sheets.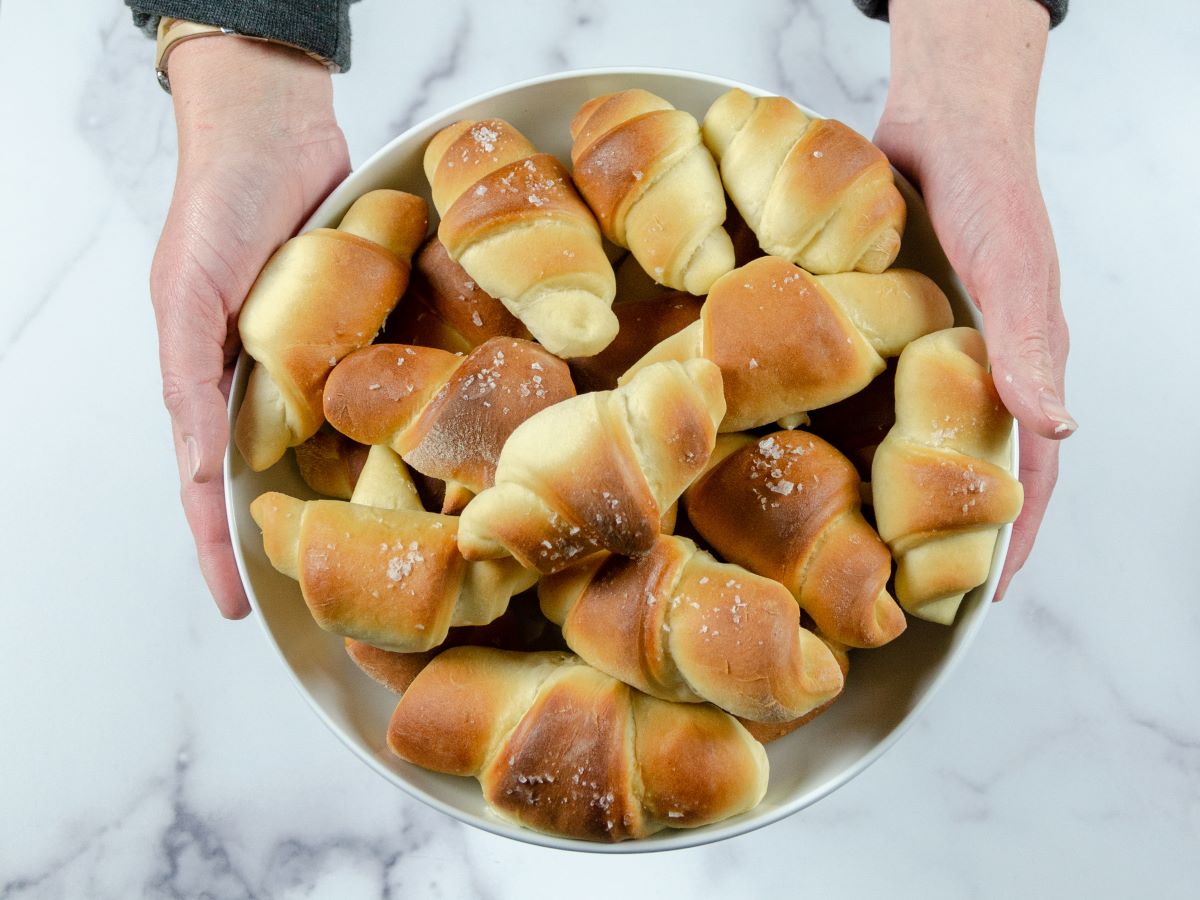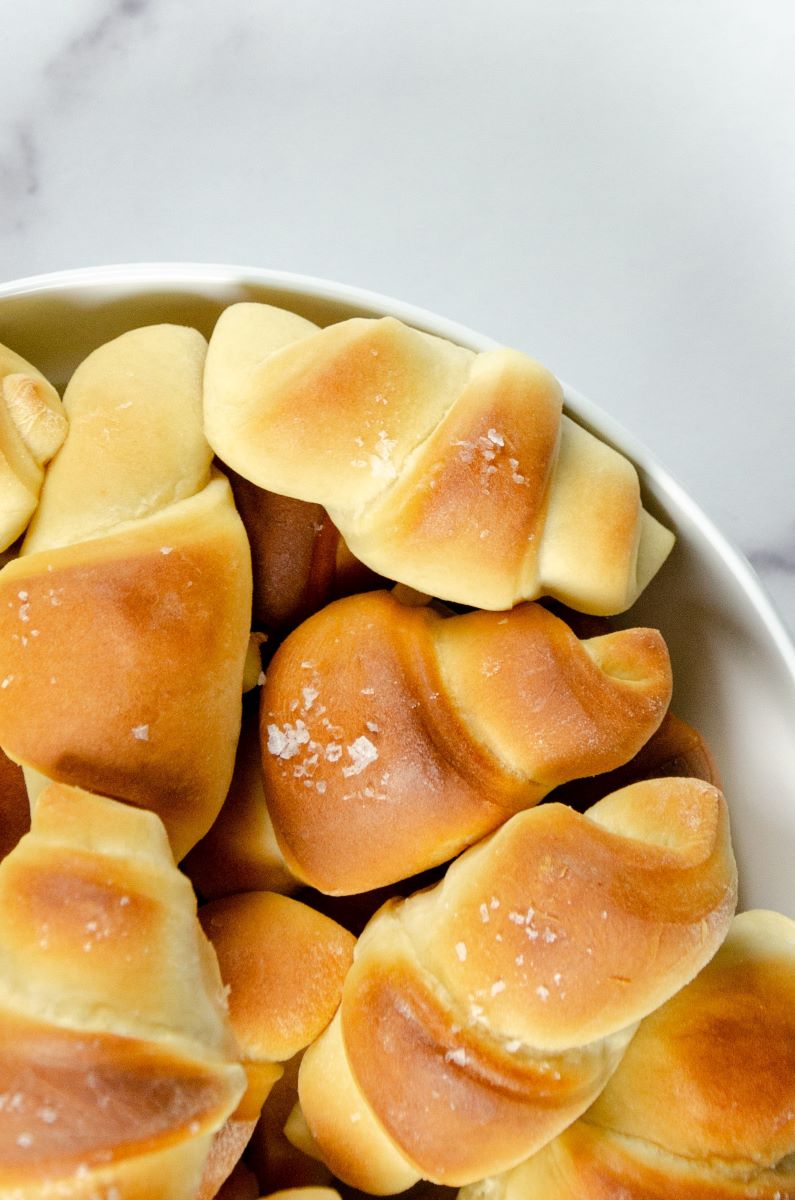 Print Recipe
Ingredients
2 Tbsp SAF instant yeast
1/4 cup plus 1 Tbsp warm (105-115℉) water
1 cup milk
3 eggs
1/2 cup sugar
1/2 cup vegetable oil
5 1/2 cups all-purpose flour (divided)
1 Tbsp kosher salt
3 Tbsp butter (for greasing the pan and finishing)
Finishing salt
Instructions
1

In a small bowl, combine yeast and warm water. Allow mixture to stand about 10 minutes until yeast starts to foam.

2

Warm milk in the microwave until around 110℉ (about 30 seconds, but do not scorch it).

3

In a large bowl, beat eggs, sugar, and oil with a whisk. Stir in warm milk and yeast mixture. Stir in 5 cups flour and salt until combined. Turn dough out onto a floured surface and knead to form a moderately soft, slightly sticky dough (2-3 minutes).

4

Spray plastic wrap with oil or cooking spray and cover the bowl. Allow the dough to rise for 2-3 hours in a warm place until it is sticky.

5

Lightly grease a full size sheet pan (12x18") with butter and set aside.

6

Punch the dough down to deflate. Then turn it out onto a floured surface. For handling, keep your hands floured and pat dough with additional flour when necessary.

7

Divide dough into three equal sections. Roll each section into a circle (about 10" in diameter).

8

Use a pizza cutter to make eight wedges by cutting once down the middle, then across the middle, then diagonally (the same way you cut a pizza). Working from the wide end to the point, roll up each wedge. Place the rolls point-side down on greased pan. Repeat with remaining sections (should be able to fit all the rolls on one pan).

9

Cover with a warm dish towel and let rise about 15 minutes until doubled in size.

10

During the last rise, preheat the oven to 400 degrees. Bake on the bottom rack for 5 minutes; move to the middle rack and bake another 5 minutes or until the tops of the rolls are light brown.

11

Remove rolls from oven, brush tops with butter, and sprinkle with finishing salt.
Notes
You can shape these dinner rolls any way you like, but we love the added elegance and texture of the crescent roll for our holiday tables.